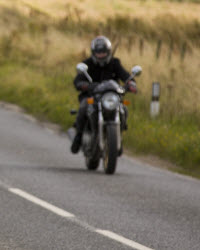 Statistics published by the Department for Transport on 01 August 2013 reveal that the number of motorcycle and bicycle accidents on Great Britain's roads has dropped since last year – something that can probably be attributed to the weather.
The Quarterly Provisional Estimates record how many road accidents occur in the four quarters of each year. Experts can then analyse year-on-year trends, helping us to understand what effect the weather has on the safety of our roads.
The most recent data makes for interesting reading because it shows the amount of motorcycle and bicycle accidents in the first quarter of 2013 (January to March) has decreased significantly from the same period in 2012. The number of pedal cycle casualties fell by 23% compared to the same period in 2012 while the number of motorcyclist casualties dropped by 27%.
So what was the reason for the reduction in the number of accidents?
The overall UK average temperature during the first three months of 2013 was 2.8°C lower than in the first three months of 2012. This is a significant year-on-year change by historic standards – the largest such change in first quarter temperatures for at least 30 years. It seems that the drop in temperature directly correlates to a reduction in the number accidents. More people left their bicycles and motorbikes at home, wishing to avoid the icy winds and treacherous road conditions.
This is good news given that it has resulted in fewer people being injured by the negligence of other road users or by unsafe road conditions. Consequently, not as many motorcyclists and cyclists have found it necessary to claim compensation for injury – which can often be "catastrophic" injuries in the case of such road users.
Of course, in the good weather we have been enjoying lately, cyclists and motorcyclists have been out on the roads again in droves. Accordingly, we urge you to take care when driving this Summer. Just because there were not as many accidents at the beginning of this year as we might have expected from experience, it does not mean the roads have suddenly become safer.
If you have been injured as a result of a motorcycle or bicycle accident, get in touch with us for free, without-obligation advice. All initial enquiries are free of charge. Complete the enquiry form on our Moray Claims website by clicking HERE or contact Peter Brash via peter@grigor-young.co.uk or 01343 564813.  We are keen to help in any way we can.