If you are unsure if you should claim compensation for personal injury arising from an accident, you are not alone.
We find it's a common concern for many injury victims who think they may have a claim.
Even if you think there's a good chance you could successfully claim compensation for an injury you have received as the result of an accident,  you wonder whether you want the 'hassle' of doing so. Or whether it is the 'right' thing to do.
Time limits apply to personal injury claims but, for most injury victims, time is not of the essence.
You don't have to finally make up your mind about claiming either today, tomorrow or even next week.
You can take some time to reflect and decide what's best for you.
It's not just about money …
Personal injury claims are about compensation. The law only values these claims in money terms.
In our experience, however, receiving compensation is just one element in a person's decision to claim for personal injury. For some people, the money is a minor consideration, compared to other reasons they might have.
If you have doubts about whether or not to make a claim for compensation, you might find it helpful to see what various clients of Grigor & Young / Moray Claims have said about their reasons for claiming.
Their comments may help you see that you are not alone in your reasoning or perhaps draw to your attention other relevant factors which you had not considered up to now.
Download our free eBook
This 16-page PDF document will help you get clear in your mind what your motivating factors are for making a claim – and whether your desire to claim is sufficiently strong to justify doing something about it.
What you will learn
You will learn about 5 common reasons for injured persons deciding to get legal advice about a possible claim for personal injury compensation – including –
Why the extent to which you are out of pocket as a result of the accident can be an important factor.
The role that accident prevention can play.
How your employer's attitude following an accident at work can influence your decision.
Why the degree of carelessness of the person who caused you to be injured might be important.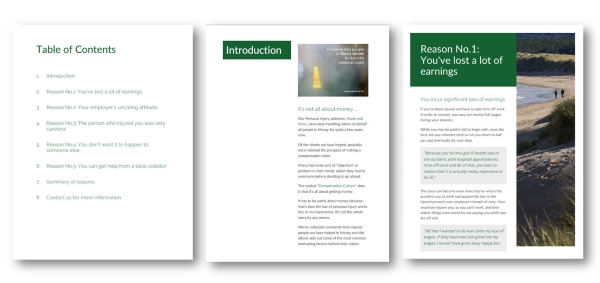 Click the cover image below to download the eBook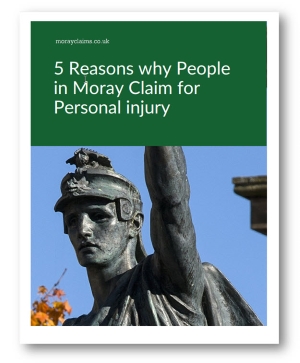 Note: When you click on the image, above, the download will begin immediately (PDF format; 3.3 MB).
You do not require to provide any personal information or an email address to us.
As set out below, we would be glad to receive any feedback, comments or questions you may have on the content of the eBook. However, there are 'no strings attached' here. We're not asking for anything in return for the download of this (we hope) useful information.
How we can help
If you have any questions you want to put to us about whether or not to make a personal injury claim – or anything else to do with personal injury claims – feel free to get in touch with us. Here are reviews/testimonials from some of the people we have helped – mostly local to Moray.
Receiving questions and trying to answer them helps us  –
to see where gaps exist in the information provided by us
to expand and improve the content on our website.
You can contact us by phoning 01343 544077 or by sending us a Free Online Enquiry.