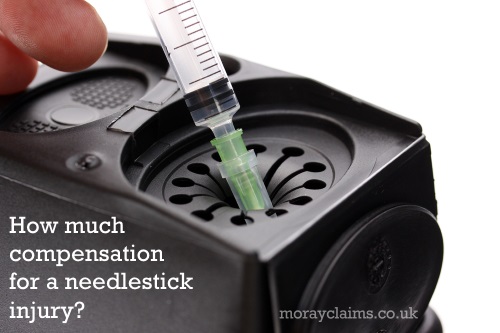 "I had finished cleaning the floor and was just doing a final check before going for my break. I noticed I had missed some scrunched up toilet paper lying on the floor in one of the cubicles. As I picked the papers up with my right hand, I suddenly felt a burning pain between my index finger and my thumb. When I looked at my hand, I could see there was a needle which had pierced my skin there. It must have been hidden in the bundle. I was stunned and felt physically sick. I was so shocked I had to sit down for 10 minutes until I got my wits back."
Needlestick injuries are one type of "sharps" injury.
A sharps injury happens when a needle, blade (e.g. a scalpel) or other medical instrument penetrates the skin.
It's a frightening injury because even a pinprick can have such significant consequences for your health.
Who is at risk?
This type of injury is an occupational hazard if you work in the health or social care sector, especially for those who directly handle sharps. In our experience, the risks also affect cleaners in a range of premises visited by the public (including betting shops and hotels) and even pre-school children visiting relatives in hospital. In other words, the risks extend to people inadvertently exposed to sharps which have not been stored or disposed of properly.
What are the risks?
If a sharp is contaminated with an affected patient's blood, there is a risk of transmission of blood-borne viruses such as hepatitis B and C, and HIV (human immunodeficiency virus).
Where you suffer a sharps injury, whether you will be infected depends on several factors, including your natural immune system. The number of injuries each year is high but only a very small proportion result in infection leading to serious illness.
In most cases, the physical part of a sharps injury is only a small part of the overall picture. Other factors are much more significant, such as:
stress and anxiety about the potential consequences in terms of infection, and
the unpleasant side-effects of the medicines prescribed post-exposure to help fight possible infection.
Self-help if you receive a sharps injury
HSE make the following recommendations for immediate action, if you are injured by a sharp which may be contaminated:
Do not suck the wound
Encourage the wound to bleed, holding it under running water if possible
Wash the wound with soap under running water
Do not scrub the wound while you are washing it
Dry the wound and cover it with a waterproof plaster / dressing
Get medical help as soon as possible
Sharps injuries as compensation claims
As recently as 2009, in the Northern Irish case of Fryers, a UK health authority was arguing (unsuccessfully) that a sharps injury was so trivial it did not justify a claim for compensation.
The claim succeeded on the basis that the injured person –
suffered a wound which bled for a short period of time
had to be assessed, receive prophylactic injections and follow up with blood tests
needed advice in relation to his intimate sexual relations and had to use barrier contraception during the time when an infection might appear.
It is well-established that you can claim for the physical and emotional consequences. You don't need to have developed a recognised psychiatric illness. You are entitled to be compensated for the worry and stress resulting from the incident.
Compensation levels
In considering how much compensation for a needlestick injury is appropriate, the 2013 Scottish case of McPake is probably a good illustration of a "basic" award in this type of claim.
Mr McPake was a driver for a clinical waste management company. He suffered a needlestick injury at work while moving a loose refuse bag from a nearly empty bin to a fuller bin. A needle in the bag pierced his upper thigh. He was awarded £3,500 for the "pain and suffering" element of his claim, which the court decided lasted a period of 7 months. This was the time during which he was waiting to find out if he had contracted any blood-borne virus.
The injury part of a claim will be worth more if, for example, the injured person develops a longer-lasting mental health problem. And where the person is unfortunate enough to develop one of the dreaded infections from the sharps injury, the claim value could be very considerably higher.
You can claim for other things too, such as any wage loss incurred following the incident.
How we can help
If you have any questions arising from this article or regarding any aspect of our personal injury claims services, please get in touch.
You can call us on 01343 544077 or send us a Free Online Enquiry.
All initial enquiries are free of charge and without obligation. We need to get basic information from you in order to be able to tell whether we can help you at all.