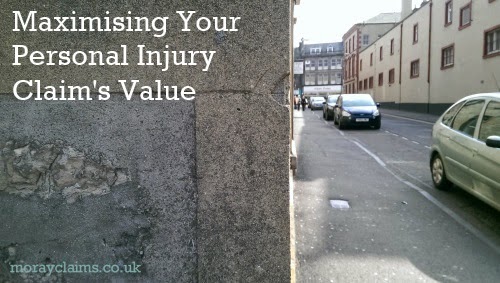 North Street, Elgin, Moray
Your personal injury claim is primarily about money.
It's true that other aims are possible – and often more important than just the compensation.
One example is maximising your level of recovery from injuries through rehabilitation provided as part of your claim.
Another possible driver is "trying to make a point" so the negligent party takes notice and changes their practice for the future, reducing the chances someone else will be injured in the way you were.
It's all about money
But personal injury claims are really about financial compensation.
The law tries to put you, as the injured person, back in the position you would have been if the accident had not happened – so far as that is possible in money terms.
Given the emphasis on money, the aim is to maximise your damages.
What are the main factors which have a bearing on how much money you receive (if any) at the end of your claim?
Factor 1: Whether your claim succeeds at all
If liability is not established, you won't get any compensation.
In some cases, it is arguable that having a solicitor will make the difference between winning and losing your case.
Factor 2: If it succeeds, whether there is a finding of contributory negligence against you
Contributory negligence results in a percentage reduction in the amount of money payable to you as compensation where your injuries were caused partly by your own fault.
Factor 3: Whether your case settles before or after going to court
Various studies have shown that in many cases the level of award you secure will be higher if you raise a court action than if you settle by negotiation before raising proceedings.
Factor 4: If a court action is raised, whether you beat any formal offer lodged by the opponent.
We explain about "Minutes of Tender", as these offers are called, more fully elsewhere.
Essentially, the scenario is that your opponent offers you £X to settle your claim.  You refuse, on the basis you think your claim is worth more than £X.
The case is eventually decided by the court.  The award is £(X minus £1,000).
You have not "beaten the Tender".
The court will very likely award the expenses (costs) of the action against you from the date of the Tender and this will impact on how much money you receive.
In the worst case, you may receive nothing.
Factor 5: How much of your compensation is paid to your solicitor.
This is a complicated matter because the variety of arrangements available is huge and, say, by viewing law firm websites, it is not always easy to work out exactly what deals they offer.
In many ways, this element is the "hidden cost" for injured persons making claims.
It may be the case that a particular firm of solicitors will "maximise" the value of your claim by any or all of –
winning it where another firm would have failed or refused to take the claim on at all (of course, this is a big "plus" in itself)
eliminating, or reducing the percentage of, contributory negligence
persuading the insurers to increase their settlement offer by raising a court action rather than settling pre-litigation
not over-estimating the value of your claim so you get stung by a Minute of Tender in any court action you raise.
But, when you know the final compensation level which applies in your case, there may still be a "significant" loss to you depending on the agreement you have made with your solicitor as to how he or she gets paid (and any advocates involved in the case on your behalf, in addition).
It is crucial that you make sure you know any "hidden" costs at the outset.
A solicitor who is prepared to guarantee you will receive 100% of any compensation due to you on conclusion of your claim (and they are out there!) is offering a better deal than one who is going to take 10%, 15%, 20%, 30% etc. of your money.
True, by maximising the claim value in the other ways mentioned above, the solicitor may "earn" what they take away from you at the end, so you don't actually lose out, but it's an important factor to bear in mind – and one which is probably overlooked by many injured people until it's too late.
How we can help
Get in touch with us if you have any questions about this post or any aspect of personal injury claims.
We will be pleased to help you as far as we can.  All initial enquiries are free and without obligation.
Contact Peter or Marie on 01343 544077 or complete and send us an online enquiry form – which you can also use to request a call back (please, make sure you include your phone number …).