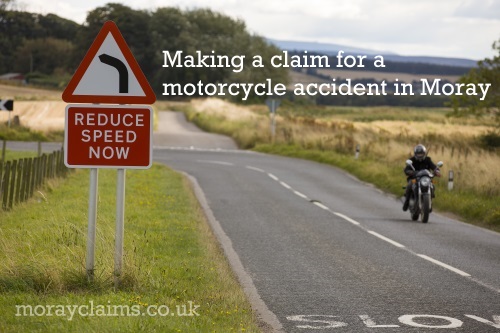 You get an amazing feeling of freedom when you ride a motorcycle.
You have the opportunity to enjoy the freshness and beauty of the countryside without being cooped up in a car.
We are lucky to live in such a beautiful part of the world as Moray and come the Spring, and more reliable road conditions, motorcyclists are to be found everywhere from the A96 to the smallest back road.
Along with the pleasure of motorcycle riding, however, comes the risk of an accident.
The most recent statistics show an increase in accidents involving more vulnerable vehicles, such as bicycles and motorcycles, which is a concern.
If you have an accident while out on your motorcycle and suffer injury, how do you go about making a claim?
Personal injury damages
The most important claim is for compensation for your injuries.
Motorcyclists are very exposed if there is any sort of collision and, as a result, injuries tend to be multiple, severe and, often, life-changing.
We have experience of motorbike accidents in Moray involving:
Facial injury requiring maxillo-facial reconstruction
Brachial plexus injury (resulting in the loss of use of the affected arm)
Amputation (especially affecting the lower leg)
In cases of serious injury, your claim also includes loss of earnings. You may be unable to work again. Your claim would then cover future loss of earnings as well as past loss of earnings.
You may need to have renovations to your home to adapt it to your needs. It may even be necessary to move to a specially adapted or constructed house. Such costs can be included in your claim.
Even where your injuries are less serious, you can claim for loss of wages during time off work while you are recovering. The recovery period can be long and arduous.
Property losses
Motorbikes involved in accidents are commonly damaged beyond economic repair. If that happens, you can claim back the value of the bike, less any scrap value.
If the bike is repairable, you can claim for those repairs, along with the cost of replacing your helmet.
While your bike is being repaired, you can claim back the reasonable cost of a replacement vehicle, though, of course, you may not in fact be well enough to drive any vehicle and take advantage of that option.
Where clothing or leathers have been damaged, you can claim for a new set.
Getting advice
As you can see, a multitude of issues arise following a motorbike accident and we recommend that you get advice from a specialist solicitor with motorbike claim experience so you protect your position and maximise your recovery – both physically and mentally, and financially.
For more information about the matters we have touched upon above or about any element of our accident and personal injury claims service, please call us on 01343 544077 or send us a Free Online Enquiry.
We are always glad to help in whatever way we can and there is no charge – or obligation – attached to initial enquiries.
We are best-placed to help you directly if you are based in or near Moray or have suffered a motorcycle accident in Moray. If we think your interests would be better served by consulting a solicitor elsewhere, we will tell you that.