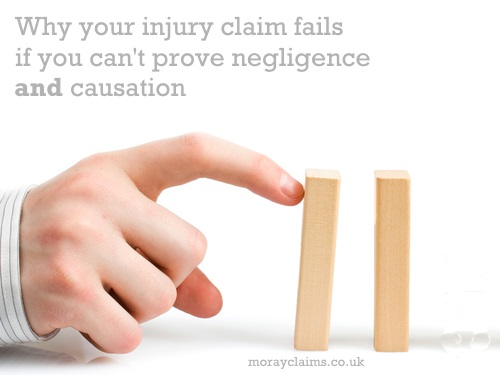 When Andrew Kay was 2 years old, he contracted meningitis. It is a dangerous medical condition, causing inflammation of membranes in the central nervous system, and affecting the brain.
On 28 November 1975, Andrew was admitted to Seafield Children's Hospital in Ayr, seriously ill. As part of his treatment, he received an injection of penicillin.
The problem was that, by mistake, he was given a massive overdose of penicillin – receiving about 30 (thirty) times the correct dose.
In such a quantity, the penicillin was toxic and it caused Andrew to suffer convulsions. He later developed paralysis down one side of his body, though it was short-lived.
Andrew recovered from his life-threatening illness, but he was left profoundly deaf. He also had significant learning difficulties.
A claim for compensation
From 1978, Andrew's Dad, partly conducting the case himself, made a compensation claim on behalf of his son, raising an action in the Court of Session.
Before the judge (in 1984), the claim was wholly successful and compensation of £102,000 awarded to Andrew. The Health Board, however, appealed the case to a higher level within the Court of Session.
In that court, and on further appeal to the House of Lords (now, the Supreme Court) in 1987, the value of Andrew's claim was drastically reduced – to just £7,275.
The Health Board had been negligent because one of their doctors gave Andrew a penicillin overdose. Why did so much of Andrew's claim fail?
Two essential ingredients for liability
In the general law of negligence, to establish a claim successfully, you have to prove two things:
Negligence, and
That the negligence caused the injury in question.
When two can seem like one
In many situations, negligence and causation are virtually simultaneous. This can give the impression that there is only a single hurdle to overcome to prove liability.
For example, if you are in your car and another driver runs into the back of you because he fails to stop in time, that is almost certainly negligence. The negligence being the cause of your resultant whiplash injury is self-evident.
Situations where negligence and causation are distinct
In other situations, however, especially involving medical negligence, there can be a clear separation between negligence and causation.
Andrew Kay's case is an example of a situation where it was possible to prove negligence but – to a significant extent – it was not possible to prove that that negligence probably caused the injury.
Andrew's difficulty was that, although he had received a huge overdose of penicillin, there were no documented examples of penicillin overdoses resulting in hearing loss. On the other hand, deafness was a well-known side-effect of meningitis.
The court had to make a decision on a balance of probabilities and decide which cause of deafness was the most likely. In the circumstances, that was meningitis and not penicillin.
The claim was not worthless but, in the court's view, Andrew's losses were limited to the convulsions and hemiparesis (both without any permanent consequences) from which he had suffered immediately following the overdose of penicillin.
The Health Board had been negligent but the negligence had not caused Andrew's deafness, which was the most valuable part of the claim.
Summary
In many personal injury claims, negligence is a requirement for success. It is also necessary to show that any negligence was the cause of the injury you are complaining about.
Sometimes negligence and causation are so intertwined that they can seem as if they are a single entity.
Andrew Kay's case is an illustration of a situation where even gross negligence could not lead to liability for consequences (deafness) which medical science did not recognise as a likely result of a penicillin overdose.
As Lord Ackner commented in the House of Lords:
"If sympathy alone could be a valid basis for awarding to Andrew Kay damages to compensate him for his many and serious disabilities, then this claim would have given rise to no argument."
As we have seen, not only was sympathy insufficient for Andrew's claim to succeed, negligence without causation was not enough either. It is perfectly possible, depending on the circumstances, that you can prove negligence but lose your claim.
How we can help
If you have any questions arising from this article or if you would like to enquire about any aspect of our personal injury claims services, feel free to get in touch with us. We would be glad to hear from you. All enquiries are free of charge and without obligation.
If we are not able to help you ourselves, we will probably know someone else who can.
You can contact us on 01343 544077 or by completing and submitting to us a Free Online Enquiry.