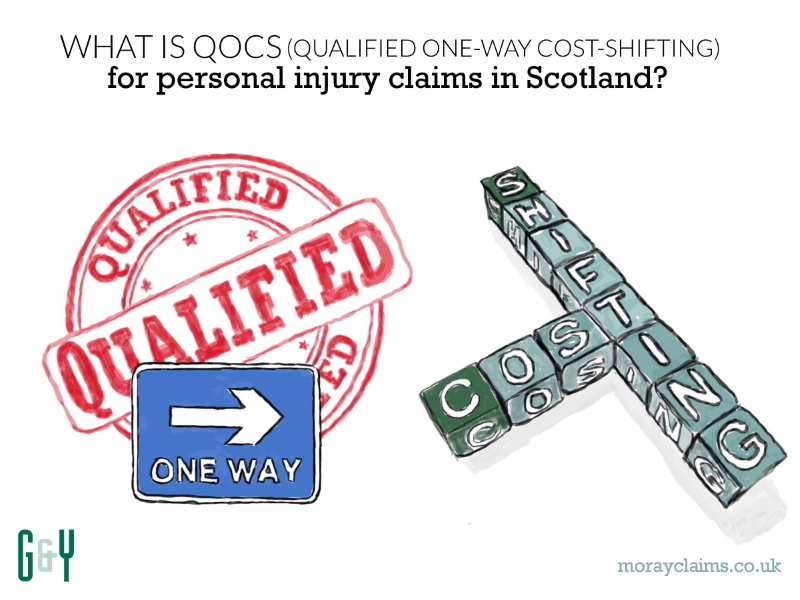 "Give me 10 men like Clouseau and I could destroy the world,"
These were the words of Chief Inspector Charles Dreyfus (Herbert Lom), long-suffering superior of the hilariously inept Inspector Jacques Clouseau (Peter Sellers) in the Pink Panther films of the 1960s and 70s.
Another crucial supporting role to Clouseau was that of Cato Fong (Burt Kwouk – pronounced "Kwok"), the Inspector's Chinese manservant, trained to spring regular surprise attacks on his boss to keep him alert and practised in martial arts.
A prime example of Clouseau's extreme destructive power is in one apartment scene where, with Cato's assistance, he destroys not only a four-poster bed and a TV set but also inflicts structural damage on the flat below, occupied by the hysterically twitching Dreyfus.
We could say that Burt Kwouk's role was crucial in support of Peter Sellers' performance. And, because we love a pun, we could also say that, in the context of personal injury claims, QOCS (which is pronounced "kwoks") is going to play a crucial supporting role in securing compensation for personal injury victims in Scotland.
'QOCS' stands for 'qualified one-way cost-shifting' and that requires some explanation.
QOCS rules in Scotland are effective from 30 June 2021.
In this article, we'll consider what qualified one-way cost-shifting is.
We'll break it down. What is cost-shifting? How is it 'one-way'? And how is it 'qualified'?
We'll consider how the personal injury compensation system in Scotland has operated up to now without QOCS. And, finally, we'll look at how QOCS is expected to make a difference to future Scottish personal injury claims and how that could benefit you if you are ever in the unfortunate position of needing to make a personal injury claim.
What is cost-shifting?
Under the non-QOCS system up to 30 June 2021, if a personal injury compensation claim ends up being decided in court, either side could lose and have to pay court costs (known as "expenses" in Scotland) to the other.
If the injured person's claim succeeds, they will receive their compensation and an award of costs which should pay for their legal representation.
If the injured person's claim fails in court, on the other hand, they will receive no compensation and the court will probably require them to pay the costs of the opponent. The opponent is usually an insurance company and for the rest of the article we refer to the opponent as the 'third party insurer'.
Various methods of 'insuring' against the risk of losing and having to pay costs to the third party insurer have sprung up. But the basic position is that each side will have to pay the costs of the other if they lose in court.
As a very rough guide, if you lose a personal injury claim in the Sheriff Court your costs to pay might be of the order of £20,000. In the Court of Session, Scotland's highest civil court where claims must be valued at £100,000 or more to be allowed in, costs can easily amount to £100,000 if the claim fails.
Under QOCS, the risk of having to pay costs shifts to the insurer.
The court must not make an award of expenses against the person bringing the claim. In other words, the court must not make an award of costs against the injured person.
How is cost-shifting 'one-way'?
The cost-shifting is "one-way" because the basic risk of having to pay costs falls on the third party insurer alone.
If you raise a court action for personal injury compensation under QOCS and it is successful, you will receive your compensation and in addition court costs (calculated on the appropriate court scale) from the third party insurer.
On the other hand, if your claim fails in court under QOCS, the starting point is that you won't receive any compensation but you won't have to pay the third party insurer's costs either.
How is one-way cost-shifting 'qualified'?
First of all here's what 'qualified' does not mean in this situation.
It does not mean 'certified'.
To put it another way, it does not mean 'officially recognised as fit to perform a particular job' – as in, for example, "Once you have qualified as a solicitor, in theory, you can buy and sell houses for people, write Wills for them or conduct personal injury compensation claims on their behalf."
It doesn't mean 'qualified' in the same sense as, say,
'Scotland qualified for the World Cup finals with an easy 5-0 victory over the Auld Enemy at Wembley'.
It does mean 'qualified' in the way it does in the following sentence:
"The statement that 'Scotland's men's footballers have enjoyed numerous successful World Cup campaigns' requires to be qualified."
One-way cost shifting is 'qualified' in that it is 'not complete or absolute'.
There are limitations to when one-way cost-shifting applies in practice.
In other words, one-way cost-shifting does not apply in all circumstances. 'QOCS' means there are situations which are exceptions and 'OCS' does not apply.
If QOCS is held by the court not to apply, the injured person loses their protection against paying legal costs to the third party insurer, so the 'qualification' aspect is rather crucial.
What are examples of one-way cost shifting being 'qualified'?
One example is in the types of claim to which QOCS applies. QOCS covers compensation claims for personal injuries or the death of a person from personal injuries.
The other example is where the injured person or their legal representative does not conduct the court proceedings in an 'appropriate' way.
The legislation defines examples of 'inappropriate' behaviour in connection with the claim or proceedings as including:
acting fraudulently,
unreasonable behaviour; or
abuses of process.
On the face of it, these are extreme actions or failures on the part of the claimant or their solicitor.
We don't know exactly how Scottish courts will interpret these provisions yet.
We can get some indications, perhaps, from England and Wales where QOCS has applied since 2013.
The extreme actions and failures which trigger a knock-out blow to QOCS protection in England and Wales are referred to as situations involving 'fundamental dishonesty'.
There, even where the injury is accepted by the third party insurer and the duty to pay compensation too, conscious misrepresentation of even part of the claim's value by the injured person can lead to the claim as a whole failing and full responsibility for costs falling on the injured person.
So, even where the claim put forward is 'mostly genuine', a significant untruth affecting only a part of the claim could lead to the whole claim being dismissed and the loss of QOCS protection for the claimant.
To take one example from south of the border, the largest part of a particular claim was supported by a dishonest witness statement by the injured claimant and fabricated invoices. As a result of a finding of fundamental dishonesty, the whole claim – valued at £26,000 – was struck out and the claimant ordered to pay the third party insurer's costs of the court action in full.
Summary
Qualified one-way cost-shifting should be beneficial to you if you've been injured in an accident in Scotland because QOCS will improve access to justice, generally.
The risk of having to pay the third party insurers' court costs is removed in most cases for injured claimants and this should mean an increased number of claims being pursued through the courts if they cannot be settled by agreement beforehand.
Just as Inspector Clouseau packed an outsized destructive punch, the 'qualified' nature of one-way cost-shifting means there is a huge potential sting in the tail for anyone claiming personal injury compensation through the courts who behaves 'inappropriately'.
Third party insurers are bound to examine claims closely for any sign of a 'fundamental dishonesty' weak point and claimants have to be aware of the wee risk with drastic consequences. There have always been risks for people who fabricate or exaggerate their claims but this is sharply focused under QOCS.
How we can help
If you have any questions arising from this article about qualified one-way cost-shifting for personal injury claims in Scotland, please get in touch.
QOCS is an important and influential topic. It's one we've looked at already on the Grigor & Young website and one we will return to here for sure. Your questions can help us improve the content on the website and that allows others to benefit as well.
If you have any questions about our personal injury claims services in general, please contact us – all initial enquiries are free of charge and without obligation – by phoning us on 01343 544077 or sending us a Free Online Enquiry.