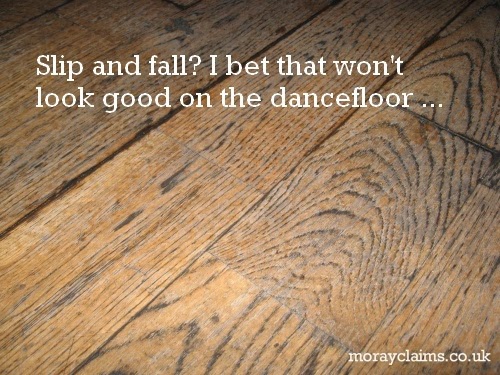 Dancefloors can be dangerous places.
The combination of spilt drink, variable lighting and alcohol consumption means that falls can easily happen.
Broken wrists are the most popular injury in our experience but leg injuries are also common.
Claims based on occupiers' liability
If you have been injured in this sort of situation, following a slip and fall, it may be possible to make a claim based on Occupiers' Liability.
The occupier – basically whoever has control of the premises – has to take reasonable care to see to it that people are not injured due to the state of the premises – which includes wet floors.
Wet surfaces are not necessarily slippery?
Unbelievable as it may seem, the courts have actually said that it is not self-evident that a wet surface is "slippery".
If liability for an accident is denied it can be necessary to get an engineer to carry out a slip-resistance test on the surface in question to provide a scientific measure of whether the floor poses a low, medium or high slip risk when wet.
Many premises with dancefloors have signs up and policies which prohibit drinking on the dancefloor but this is not always very well enforced and spills are often not cleaned up quickly or at all.
Photos of widespread drinking on the dancefloor can be helpful to a claim in this respect.
How we can help
If you have been injured as the result of slipping on the floor in a nightclub or pub, you may be able to make a claim for personal injury compensation.
Feel free to contact us for advice.  All initial enquiries are without charge or obligation.  Phone us on 01343 544077 or complete and send us a Free Online Enquiry.