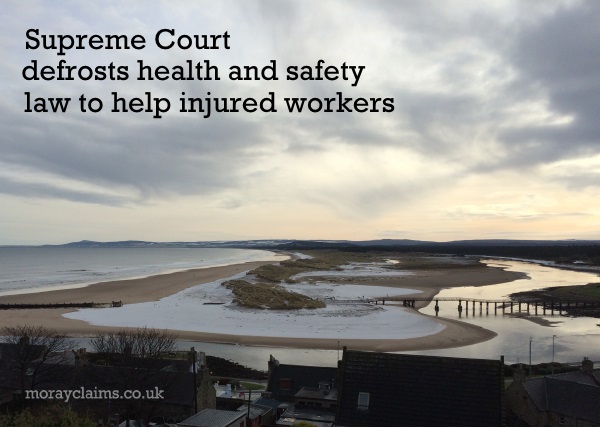 Imagine you're employed as a home carer in Scotland.
Your work requires you to go out at all times of day and in all kinds of weather to provide personal care to the elderly, vulnerable and terminally-ill.
One night in winter, with snow and ice lying on the ground, you slip and fall as you make your way to one of your client's homes. You break your wrist.
The flat boots you were wearing had ridged soles but their grip was not enough to keep you upright. It turns out that crampon-like shoe attachments were available at reasonable cost and they would probably have prevented your fall if your employer had given you them to use.
In other words, you can argue that your employer failed to take proper care for your safety, by failing to provide adequate personal protective equipment, so you have a right to claim compensation from them for your injuries and other losses.
On the other hand, periodic sub-zero temperatures are a fact of life in northern Europe, aren't they? Anyone who goes out in freezing conditions faces the risk of slipping. It does not matter whether you are at work or not; the risk is the same. Should the duty on an employer be any greater than that on a private individual going about their daily routine outside of work?
Kennedy –v- Cordia
This was one of the main themes in a long-running personal injury case which has gone through two stages of appeal before finally being decided by the Supreme Court in favour of the injured employee who raised the action.
The case is likely to be of considerable significance in relation to compensation claims for injuries arising from accidents at work, as we go on to discuss.
Tracey Kennedy was employed as a home carer by a company which provided services for Glasgow Council. During the extended wintry weather which affected Scotland from the end of November 2010 and into the following year, she slipped and fell in icy / snowy conditions, while she was at work and on her way to visit an elderly lady. She injured her wrist.
In the first court hearing in the Court of Session, before a single judge, she won. On appeal by the employers to a court of 3 judges in the Court of Session's Inner House, however, she lost (3 – 0). Miss Kennedy appealed to the Supreme Court in London, where the 5 judges (including the court's 2 Scottish Justices, Lords Reed and Hodge) found unanimously in her favour.
Health and safety regs –v- Common law
The claim was based partly on the common law of negligence and partly on health and safety regulations. Ms Kennedy only needed one or other of these to "stick" to be able to win her claim.
The common law has developed via decisions of the courts, in piecemeal fashion, since the end of the 19th Century.
Health and safety law (in Acts of Parliament and regulations) has been revolutionised by the influence of the EU over the last 20 years or so, with most developments benefiting injury victims.
For accidents from October 2013 onwards, however, a change in the law (via the Enterprise and Regulatory Reform Act 2013 – "Enterprise Act") appeared to make it much harder to use health and safety regulations as a basis for claims. This law change came too late to affect Miss Kennedy's claim but lawyers have been waiting for the Supreme Court's decision as an indication of how the law might develop post-Enterprise Act.
What the Supreme Court have said …
… about health and safety regs
The judgment of the court has emphasised that health and safety regulations are designed to improve the health and safety of employees at work. Risk assessment is fundamental. Logically, it is the first thing that employers have to do. The findings of a risk assessment provide the information the employer needs to deal with risk prevention.
The Supreme Court also highlighted the fact that, as an employer, you need to consider a hierarchy of measures in addressing risks:
You start with steps which will allow risks to be avoided completely, not just reduced.
If you cannot eliminate the risk, you should prioritise collective protection methods (e.g. scaffolding) over individual protection (e.g. a harness).
Just giving instructions to employees (e.g. telling them to "watch out") is poor quality risk reduction and only permitted as a last resort.
… about claims at common law
Turning to common law liability, the Supreme Court noted that the developments in health and safety law over the last 20 years had improved knowledge and experience in this field. This, in turn, affected the context in which the employer's performance of its common law duty fell to be assessed. When working out the content of an employer's common law duty in practice, we can't just pretend these developments never happened.
The Supreme Court explained that the Inner House had based their decision on law which was out of date. The fundamental principle is that an employer is bound to take reasonable care for the safety of its employees.
Referring to a decided case from 1909, the Inner House had restricted the employer's common law liability to situations where either they failed to take precautions generally applied in their industry or they failed to take precautions which were obviously required. In other words, the Inner House were willing to allow employers to be reactive in the way they approached risk reduction – looking to see what similar businesses did, and treating that as the standard, unless special risks were apparent.
The Supreme Court's approach is much more proactive. Again, risk assessment came up.
Lords Reed and Hodge said that there could be a basis for a claim at common law where there was, on the part of the employer, "a failure to seek out knowledge of risks which are not in themselves obvious". In other words, employers need to go looking for risks.
The benefit of a risk assessment is that it identifies the safety risks inherent in the work, some of which might not be immediately obvious. From this, the employer can see what can and should be done to eliminate (which failing, minimise) the risk.
The answer to the question we began with
The Supreme Court explained that people exposed to risks at work are in a different position to members of the public.
"Miss Kennedy was not … in the same position as an ordinary member of the public going about her own affairs.

It was her duty, as someone employed by Cordia as a home carer, to visit clients in their homes in different parts of the city on a freezing winter's evening despite the hazardous conditions underfoot.

Unlike an ordinary member of the public, she could not choose to stay indoors and avoid the risk of slipping and falling on the snow and ice.

Unlike an ordinary member of the public, she could not choose where or when she went. She could not keep to roads and pavements which had been cleared or treated.

She could not decide to avoid the untreated footpath leading to Mrs Craig's door.

Unlike an ordinary member of the public, she was obliged to act in accordance with the instructions given to her by her employers: employers who were able, and indeed obliged under statute, to consider the risks to her safety while she was at work and the means by which those risks might be reduced.

In those circumstances, to base one's view of the common law on the premise that Miss Kennedy was in all relevant respects in the same position as an ordinary member of the public is a mistake."
The wider implications
For accidents after 01 October 2013, most employees have to base their claims on the common law alone.
The Enterprise Act abolished civil liability for breaches of health and safety regulations.
The long-lasting importance of Tracey Kennedy's case may lie in the Supreme Court's direction that regulations will nevertheless continue to be relevant, in providing guidance as to what an employer ought to be doing when exercising reasonable care for the safety of his employees at common law.
How we can help
If you have any questions about the matters raised in this article, feel free to contact us. All initial enquiries are without charge or obligation. You can contact Peter or Marie on 01343 544077 or why not send us a Free Online Enquiry?
Make A Free Online Enquiry Now
Links you might like
In previous articles, we have discussed the First Instance decision in Kennedy –v- Cordia and also the implications of the changes brought about by the Enterprise Act.
Links to these articles are below:
Work Slipping Accidents in Ice and Snow: Why Employers Must Carefully Assess Options to Reduce Risks
Work Accidents: All Change, But Not For Public Sector Employees
If you live in Moray, our eBook Claiming Compensation for an Accident at Work in Moray may be useful for you. You can find out more about it and download it free via this page in the Accidents at Work section of the Grigor & Young website (Moray Claims is a trading name of G&Y).