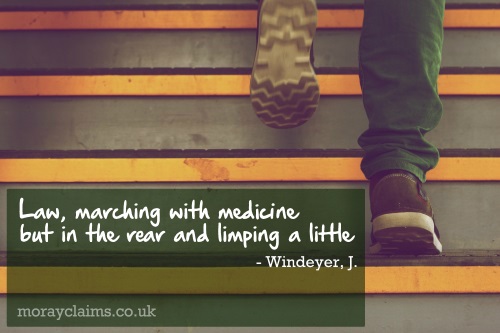 A Lanarkshire mother's 15-year quest to obtain compensation for injuries her son suffered during birth has ended successfully.
Her claim failed twice in the Court of Session but her second and final right of appeal – to the Supreme Court – found all 7 judges to be in her favour.
Her solicitor, Fred Tyler of Balfour & Manson, Edinburgh, described the Supreme Court's decision as "almost certainly the most significant medical negligence judgement in 30 years – a momentous decision which will affect the doctor-patient relationship throughout the UK."
Was he correct to describe it as the most important medical negligence case of the last 30 years?
In this article, we look at various ways in which the case of Montgomery –v- Lanarkshire Health Board is significant.
Facts of the case
Nadine Montgomery is diabetic and gave birth to her son, Sam, in 1999 at Bellshill Maternity Hospital in Lanarkshire.
Diabetic women are more likely to have larger-than-average babies and Mrs. Montgomery is of small build.
Statistics showed that, in these circumstances, about 1 in 10 babies delivered naturally could suffer shoulder dystocia. This is where the baby gets stuck because its shoulders are too wide to pass through the mother's pelvis.
Emergency procedures are in place to resolve any difficulties of that nature, but there was a known health risk to both mother and baby.
Mrs Montgomery had voiced her fears to her consultant that the baby may be too large for her to have a normal delivery.
The evidence from her doctor was that she did not generally advise diabetic women about the risk of shoulder dystocia, as it was a very small risk. Furthermore, the doctor was concerned that, if warned of the risk, women in that category would invariably choose to have a caesarean section, which the consultant believed was not in the mother's best interests.
Sam's shoulders became stuck during birth and, though the medical personnel were able to free him, he had suffered oxygen starvation and brain damage.
Mrs. Montgomery's evidence was that, if she had been advised of the risks by her doctor, she would have chosen to have her baby by caesarean section. The Health Board accepted that, had Sam been born by caesarean section, he would have been unharmed.
The Supreme Court decided that Mrs Montgomery had the right to be advised of the risk of shoulder dystocia. She also had the right to decide for herself what risks she was prepared to run, relative to the delivery.
Ways in which this case is important
A change to the law on informed consent to medical treatment
The Supreme Court has brought the law into line with longstanding General Medical Council (GMC) guidance to doctors on consent. "Good Medical Practice and Consent" is patient-focused in its approach and this is the legal test which now applies under UK law.
An adult of sound mind is allowed to make decisions about which, if any, of the available methods of treatment to undergo.
That person's consent must be obtained before any treatment interfering with their bodily integrity commences.
In reaching its decision, the Supreme Court took into account the right to self-determination set out in the Human Rights Act 1998.
Number of judges and counsel
Because Mrs. Montgomery could only succeed on the issue of consent if she overturned the previous law, it was necessary for the appeal in the Supreme Court to be heard by 7 judges rather than the usual 5.
It is notable that the 7 judges were in agreement on this matter. If necessary, cases can be decided by a majority of the judges.
The case was also unusual in that there were three counsel for Mrs. Montgomery. Two of them were Scottish advocates and the third was an English barrister. This highlights the fact that, although it was a Scottish case, it changes the law for the whole of the UK.
The Supreme Court also heard submissions from an advocate on behalf of the GMC. They argued that it was likely to benefit patient's recovery from treatment if they were actively involved in and informed about their treatment.
One of the GMC's roles is to achieve a high standard of patient care by working closely with doctors, their employers and patients, to make sure that the trust patients need to have in their doctors is justified.
In a case reviewing the state of the law on consent to medical treatment, it was useful for the judges to have an independent view, separate from the inevitably self-interested submissions of the parties.
The GMC argued that it was likely to benefit patients' recovery from treatment if patients were actively involved in and informed about their treatment.
(Possibly) Less need for expert evidence
The previous law on consent to medical treatment, which Mrs Montgomery's case has overturned, looked at what alternative treatments an ordinarily competent doctor would advise about.
It could be argued that the previous test was more doctor-focused than patient-focused.
The test of the "ordinarily competent doctor", under the old law, meant that courts often had to hear conflicting evidence from medical experts about whether a particular patient ought to have been told about other available treatments.
If there was a body of (reasonable) medical opinion in favour of withholding information about a particular treatment, it was unlikely you could persuade a court that the doctor had been negligent.
The new interpretation is that doctors must take reasonable care to ensure that patients are aware of any (non-negligible) risks associated with any treatment they recommend. They must also take reasonable care to ensure that they tell patients about the availability of any reasonable alternative treatments, and any risks relating to them.
Evidence of experts may still be needed to identify and explain the risks which existed, and any variations in treatment which could have been offered.
However, in the end, the decision about what a patient should or should not have been told is a matter for the court; it is not a question for medical experts or the medical profession to decide.
No change to the standard which applies in other types of alleged medical negligence
The standard of the ordinarily competent doctor, referred to above, will still apply in other areas of medical negligence, for example, where injury has resulted in cases of alleged –
The importance of legal aid
Sam was legally aided and his journey to the Supreme Court was not automatic.
He needed to convince the Scottish Legal Aid Board that the claim had sufficient merit.
He needed to be able to ask the Supreme Court to review the current UK law on consent to medical treatment, which has stood since a decision in 1985.
It is very difficult to see how a case such as this could have got as far as the Supreme Court without the benefit of legal aid and it is a good example of why legal aid is a "good thing".
Looking to the future
The Supreme Court acknowledged that their decision may not be welcomed by some healthcare providers.  But the judges pointed out that the reasoning of the House of Lords in Donoghue v Stevenson in 1932 "was no doubt received in a similar way by the manufacturers of bottled drinks."
We have to hope that this decision will have benefits for doctors as well as patients.
The GMC have had a clear position for many years in terms of what is expected of doctors to get consent from patients. The guidance is freely available on their website. The problem in practice is that the law has lagged behind.
This is not a new phenomenon.
As Justice Windeyer of the High Court of Australia put it, in the case of Mount Isa Mines –v- Pusey in 1970, what we often have is:
"Law, marching with medicine, but in the rear and limping a little".
In that context, he was recognising that the law was not keeping pace with advances in medical science.
Consent to medical treatment is a different area, but the law had not kept up with patient-centred improvements in the guidance given to doctors by the GMC.
The Montgomery case is significant because it has brought law and medicine to a point where they are marching side by side, at least in relation to the law on consent to medical treatment.
How we can help
If you have any questions regarding the content of this article or as regards our personal injury/medical negligence services generally, feel free to get in touch with us.
You can speak to either Peter or Marie on 01343 544077 or send us a Free Online Enquiry.
All initial enquiries are free of charge and without obligation. If we are not able to help you ourselves directly, we can probably point you in the right direction.
Image Source: Jake Hills via Unsplash.com