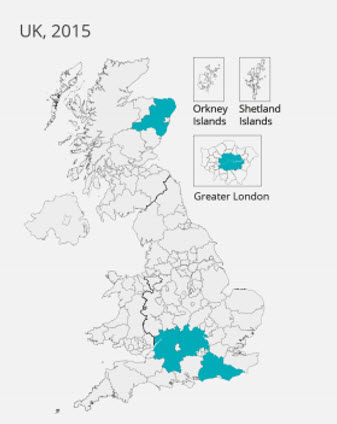 (EDITOR'S NOTE: This post and the downloadable resource list below have been updated as at 18 November 2021, though the post has not been 'republished' at that later date).
The map highlights the areas of the UK which have the five highest rates of internet use.
Figures from the Office for National Statistics (ONS) were published in May 2015. One of the areas is the North East of Scotland. It has the second highest rate of internet users in the UK. 90.4% of adults are internet users.
ONS also published a map showing the five areas of the UK with lowest rates of internet use. Highland and Islands is there in second place, with 16.9% of adults as non-users. But that still leaves 83.1% as internet users. So, even in the lowest areas of internet use, still more than 4 out of every 5 adults are internet users.
The lesson (as if you didn't know it already) is that you need to have a website.
This article considers 3 aspects of online marketing in the context of the evolution of Moray Claims as a brand. We will look at mistakes we have made (and continue to make, in some cases) along the way and lessons we have learned.
We will consider the following:
What sort of website should you have?
How can you attract people to your website?
How and where can you learn the skills required to be able to run and operate a website?
What sort of website should you have?
Moray Claims started in 2012. We had previously obtained claims from a national helpline but that came to an end, so we needed a way to generate leads for ourselves. We paid a bonny price for a pretty website from a website designer.
Each web page had an animated line of fluffy white clouds across the top, which drifted from right to left. The idea, as we were told by our designer, was that this would make the site very restful and enticing for people looking at each page, encouraging them to spend a lot of time reading and learning.
The problems we discovered with the website were that:
It had a bespoke content management system which meant that, though we had the ability to add content ourselves, we didn't have much flexibility if we wanted to make any minor structural amendments – we were charged for having those changes made for us and there were often delays in that.
There was a blog (or articles) section but it was effectively on a separate website so that, from the point of view of encouraging traffic to come to your website, it did not work very well.
It was not mobile responsive.
In 2014, as a result of these problems, we moved to another internet website designer and the website you are currently on is that website.
It works better and WordPress is a much friendlier content management system. If you are not familiar with it, it is a bit like learning Microsoft Word or any other word processing package. You can learn to input the information yourself and do a lot of manipulation of the appearance of the webpages as well, so it gives you a feeling of power and independence.
The blog articles that we write are on the same domain and this means that we get the benefit of any traffic that they generate from a search engine optimisation point of view.
A remaining problem we have with it is that it is not mobile optimised. It means that, on a smartphone or tablet,
the text is too small, which makes it hard to read,
the content is wider than the screen, so you'll quickly get frustrated having to size and resize the page all the time, and
the links are too close together, so you're liable to activate a hyperlink other than the one you intended.
How do you attract people to your website?
This is a large topic. I am skimming over the surface of it.
Statistics from Google suggest that consumers now make 70% of their buying decision before they first get in contact with a business whose product they may buy or services they may engage.
Historically, "Sales" was everything. All the magic leading up to a sale happened from the point someone came into your business or called you up on the phone. Now it seems that the bulk of the magic happens before you are even aware of the existence of the potential customer.
One definition of Content Marketing comes from Marcus Sheridan:
Content marketing is your company's ability, on your website, to be the best and most helpful teacher in the world at what you do.
His philosophy is: "They ask; you answer," where "they" are your customers and prospective customers. What are the questions that people are asking about your business or your field of expertise? How best can you answer those questions in the most helpful and informative way?
This all relates back to the 70% mentioned above. How can you make it easy for prospective customers to educate themselves about your product or service on your website? This builds their trust in you and increases the chance that, at the point of the buying decision, you will not only, at worst, be an option among several; you will be the only logical choice.
You produce content for your website which deals with those issues. This means you must listen to what people ask when they approach you to see if you can help them with something. It can be as much about questions people ask you where you have to say: "No, sorry, we don't deal with that kind of work" (because then, for example, you can write an article explaining why you don't do it) as much as things where it is an area of work that you do deal with. As solicitors in private practice, we find there are a lot of misconceptions about the areas of work with which we deal and don't deal, so it can be useful from that point of view.
Since 2012, I have written about 115 articles for the Moray Claims website (update: now approaching 300 articles as at November 2021). I have also created "badges" to go at the start of many of the articles – featuring things like cats, seagulls, views of our office, views of Moray, and so on. Some of them are based on stock photographs but a lot of the photos have been taken by me (the camera on your mobile is good enough), made by me or created using free online tools such as iPiccy or Picmonkey.
I'm not going to say that we dominate search in our niche. We don't. Personal injury is a very competitive field. The work we have put in has allowed us to show up highly in the organic search results for certain terms.
If you search Google for images using the keywords "Personal Injury Moray" (and probably not many people do!), you will see that we show up pretty well.
How do you learn the skills which are useful in this area?
The kinds of things that are useful to know about include:
How to write for the web
How to get ideas about what to write about
How to make best use of social media
Which methods of marketing work best, including combining online and offline marketing
A lot of high quality learning is available free of charge on the internet.
Most of the people I go on to mention offer a lot of free material, which is ultimately bait to get you to move on and buy some of their paid products. That's a standard content marketing technique.
In the last 2 years, I've become a big fan of audio learning and I listen to a lot of podcasts. Individual podcasts vary in length from 5 minutes up to over an hour. Some follow an interview or two person format; others are monologues; some make great use of background music. They are an ideal way to learn because you can fit them into your busy schedule. Even on a short journey, say, from Lossiemouth to Elgin, you may have time to fit in a podcast. You can easily store them on your smartphone or your MP3 player.
I recommend that you have a look at the following people / examples. You can find a bit more information about each of them via the downloadable pdf document at the end of this article.
Summary
What sort of website should you have? I suggest it should be based on WordPress and mobile-optimised.
How can you attract people to your website? Use content marketing strategies: the principle of "they ask; you answer".
Where and how do you learn the skills? There is lots of free education online and I recommend you to try out audio learning if you don't use it already. Listen to podcasts, read blog articles and you can immediately begin to put it all into practice.
Free Download
Download a free resource list in pdf format by clicking the 'excerpt' image. The document is entitled "Resources to help your business succeed online" (download begins automatically when you click the image). There are numerous hyperlinks in the document which will take you quickly to the various websites and resources recommended. (This document has been updated as at November 2021 from an original version dated June 2015).
It's a 2-page document and this is what page 1 of the original version looked like…  (The updated – Nov 2021 – version is similar in appearance).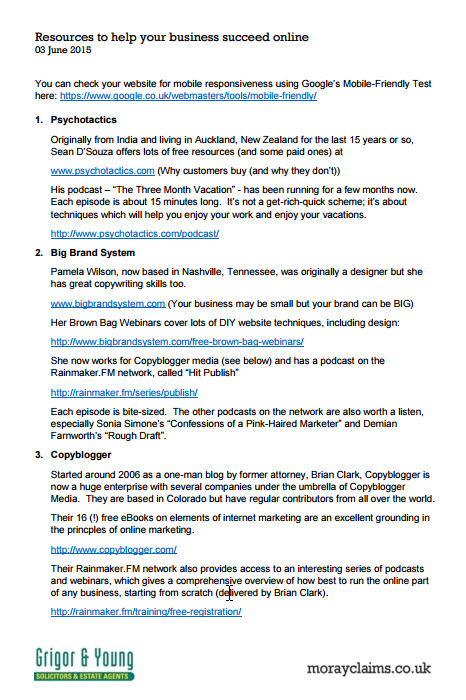 Get the free resource list, updated as at November 2021, by clicking HERE.
Good luck.
Peter
Extra bonus
P.S. Here's an extra bonus, courtesy of Sean D'Souza at Psychotactics (see above) – a free eBook: "Why Headlines Fail? And How to Write Headlines That Get Results Every Time".  Click HERE for immediate access to the book and its helpful copywriting advice, set amidst sumptuous illustrations, also by Sean.  It's a quick but valuable read, which normally retails for US$40. (I have no affiliate link to Sean and receive no commission or kick-back; I just think he's a great guy and really like his ideas and teaching methods).