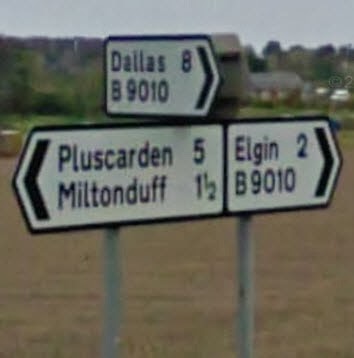 Accidents do not take any notice of national boundaries. An accident can happen whether you are in Dallas, Moray, or Dallas, Texas.
If you have been injured in an accident and need to make a claim for compensation, we recommend that you contact a solicitor with proven specialist knowledge in personal injury claims. We also suggest that you should deal with a solicitor who is local to you, if possible.
For accidents which have happened in Scotland, does it matter whether your solicitor is in Scotland? It does matter and we will explain why.
When a local-to-you solicitor can be a bad idea
Where you suffer injury in a road traffic accident in Scotland, you might be on holiday or on business at the time. You may have your home in another part of the UK. It can be tempting in that situation to consult a solicitor close to where you live, once you are sufficiently recovered, because it is the most convenient option.
The solicitor you consult will be reluctant to turn down the instructions, if it is a good claim. The law of negligence, which determines whether or not you have a viable claim in many situations, is the same across the UK. So, once your solicitor hears the facts of your accident, they may be confident it is likely to give rise to a successful claim.
Different legal systems within the UK
The problem is that it is not a good idea for a solicitor qualified, say, in English law to take on a claim based on a Scottish accident or vice versa.
The law covering the procedure for making a personal injury claim differs depending on which part of the UK you are in.
General rule: use the court for the place where the accident happened
Across the board, the general rule is that court actions in personal injury cases should be raised in the court covering the place where the accident happened. In Scotland, this means the local Sheriff Court or the Court of Session in Edinburgh, which has Scotland-wide jurisdiction.
English solicitors are not qualified to raise proceedings in Scottish courts and the same applies to Scottish solicitors relative to English courts.
Risk of weakening your bargaining position – or worse
Many personal injury claims settle by negotiation with no court action required. Nevertheless, the threat of court action is often a powerful driver towards claims settling at all and, beyond that, settling on the best possible terms.
If the person dealing with your claim does not have the ability to pursue it to the hilt – by raising a court action if necessary – you are going to be at a disadvantage.
Worse than that, there are some areas of personal injury law where the law of damages differs considerably as between Scotland and England. Claims deriving from fatal accidents are one example. A Scottish fatal accident claim settled by an English solicitor according to English legal principles would result in a considerable under-settlement of the claim.
Solicitor at a distance
We still recommend you to engage a local solicitor if you can, provided they have expertise in personal injury law and are qualified in the law which applies in the country where you had your accident.
But if you have to make your claim in a different part of the UK to where you live, you will be able to conduct most of the business remotely – via telephone, email and post. The only exception is that, if the case goes to a final hearing in court (in Scotland), you will probably have to be present in person to give your evidence.
Exceptions to the rule
In some situations, for example, in the case of injuries sustained abroad while on a package tour holiday, it is possible to raise proceedings in Scotland even though the accident did not happen here.
Contact your local personal injury solicitor for help
The best advice is to contact a local specialist personal injury solicitor for assistance following any accident. They will act in your best interests and point out the need for a solicitor in a different jurisdiction if that is what is required.
Many Scottish solicitors have contacts in law firms elsewhere in the UK and the Association of Personal Injury Lawyers (APIL) is always available to provide details of suitable solicitors throughout the UK, Ireland and beyond.
If you have any queries arising from this blog post or require help in connection with a possible personal injury claim, feel free to get in touch with us. All enquiries are free of charge and without obligation. You can contact us on 01343 544077 or by completing and sending us an online enquiry form by clicking HERE.  If we cannot help you directly, we probably know how to find someone who can.