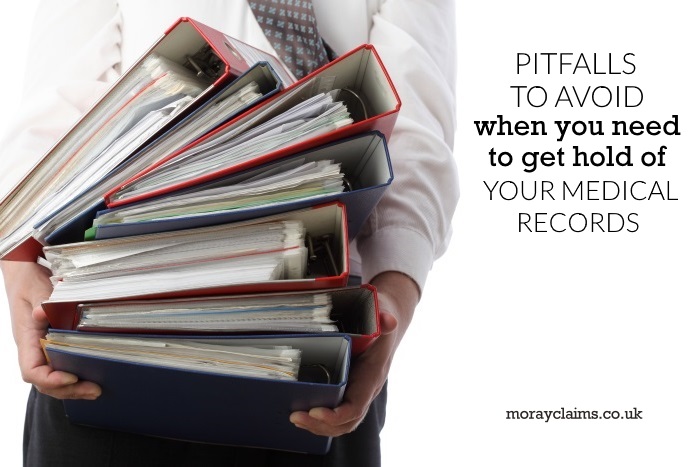 "Can he really play?"
"Heavens, no! He never played a note in his life"
That's the caption accompanying what is reckoned to be one of the most copied advertisements in history.
The headline?
"They Laughed When I Sat Down At The Piano – But When I Started to Play!"
This 1927 newspaper masterpiece by John Caples has become a prime example of how to sell to people by tapping into their emotional desires through storytelling. The long-form advertisement was to promote a (free) book entitled "Music Lessons in Your Own Home".
Even the legendary comedian, Bob Monkhouse, copied the format for one of his best gags:
"When I first said I wanted to be a comedian, everybody laughed. They're not laughing now."
Copying others' style can apply whether you are writing an advertisement or a joke. Copying can also apply to medical records – and that's what we're looking at in this article.
We'll consider three questions relating to medical records in personal injury claims.
Firstly, why do you need copies of medical records? Secondly, which records do you need copied? And, finally, how do you go about getting copies of your records and how much will it cost?
[Note that there is a podcast episode on this website which deals with similar issues – in case you prefer to listen rather than read about the subject. You can find the podcast here.]
Why do you need copies of your medical records for a personal injury claim?
If you're a solicitor who helps injured people claim compensation, you'll work out the value of most personal injury claims using a medical report as the starting point.
The medical expert who prepares the report needs two main ingredients:
Information from an examination of the injured person;
Relevant details from the person's medical records.
The expert takes these raw materials, analyses them and then weaves them into the form of a report.
The medical examination allows the expert to assess things like:
Continuing loss of mobility
Tenderness
Subjective pain levels
The medical records allow the expert to see things like:
How soon after the accident did the injured person first seek medical attention?
What were their symptoms at that time?
How does that compare to their symptoms now – in nature and severity?
How often have they had to return for medical treatment since the accident in relation to symptoms which may be related to the accident?
How often have they had medical treatment, generally, since the accident, whether that was for accident-related symptoms or not?
What ongoing treatment does the person have, if any, relating to symptoms from the accident?
Does the person have any relevant pre-accident medical history? (e.g. pre-accident back problems in someone who injured their back in the accident which forms the subject-matter of the claim).
Which medical records need to be recovered?
The medical records will usually include some hospital records, dating from the time of the accident onwards. Apart from that, the expert will usually expect to see the injured person's GP records.
There can be arguments about whether GP records should only be from the date of the accident or whether they should be for a pre-accident period as well. Typically, if you are claiming for future losses, as well as past losses, your pre-accident medical records will be relevant and should be recovered.
Other medical records – e.g. records of physiotherapy or osteopathy – may be relevant too. If in doubt, it's best to recover these records and let the expert see them too.
How do you go about getting hold of all these records, so you can send them to the medical expert?
You need to complete a consent form, with details including your full name, address, date of birth, date of the accident and names/addresses of all relevant medical practitioners.  Here's a link to the GDPR-recommended consent form, as published on the website of the Law Society of Scotland.
In Grampian Health Board area, prior to the General Data Protection Regulation (GDPR) coming into effect in May 2018, the Health Board normally asked for an initial payment of £10 as a search fee for records. If there were a substantial number of records to be produced, there was then a subsequent fee of £40 – in other words, a total of £50.
Likewise, with GP practices, although the charge in an individual case might be less than £50, the regime before GDPR put a cap on charges for copying GP records at £50, including postage.
The system has changed due to GDPR and, on the whole, it's cheaper than before to get hold of your medical records.
Under GDPR, the rule is that initial access must be provided free of charge (including postage costs). The only qualification is where the request is considered to be "manifestly unfounded" or "excessive" – in which case a "reasonable" fee can be charged.
It seems that GP practices, in particular, are finding it difficult to get to grips with the new requirements under GDPR and we continue to get regular requests for payment for copies of records. As we've said, the basic rule is that no charge can be made.
When will a request be "manifestly unfounded or excessive"?
There is some guidance provided by the British Medical Association on their website.
One example given is where the request is "repetitive". In that case, access could be refused or a fee could be charged. However, there is little further explanation given by the GDPR authorities. The BMA's advice is that it would be sensible to assume that it is a high threshold to be overcome for something to be manifestly unfounded or excessive. The BMA takes the view that requests should be refused on this basis only where the facts are "particularly extreme". This is also the BMA's advice in relation to charging for access to records.
The UK regulator under GDPR is the Information Commissioner's Office (ICO) and their guidance also suggests that a request will only be manifestly unfounded or excessive in fairly extreme circumstances. One example they give is where the person making the request makes it clear that they are only requesting the information in order to cause disruption to the organisation or if the person making the request makes completely unsubstantiated accusations against the controller of the information.
According to the ICO, if the requestor has some form of genuine intention in obtaining their information, it is unlikely that the request can be criticised as being manifestly unfounded. On that basis, it is difficult to see how a request for medical records against a background of a personal injury claim could be viewed as anything other than reasonable.
In one of the situations we have encountered, there had been multiple requests for access to GP records but the previous requests were not made by the patient personally; instead, they were made by a medical agency instructed by the third party insurers at a time when the injured person was representing their own interests in relation to their claim and they had not yet instructed a solicitor. In any case, the previous occasions when the records had been obtained were prior to May 2018 and so it could not reasonably be argued that the GDPR criteria could apply – it was not a "repetitive request under GDPR". Presumably, as the previous requests were pre-May 2018, the GP practice would have been able to charge a fee for provision of the copy records on those occasions.
What do you do if you are not happy with the response to a request under GDPR?
You should give the information holder an opportunity to comply with your request but, if you are not getting anywhere, you should not hesitate to make a complaint to the ICO. The relevant complaint form is available on their website together with guidance.
What to do if you are a GP
There is no doubt that GDPR puts an additional burden on GPs and Health Boards in requiring provision of copy records without payment of any fee where previously at least a modest fee was recoverable.
We would recommend GP practices to make sure they are properly charging for things which are chargeable. For example, where there is a request for a medical report (as opposed to access to medical records) a fee can be charged. From a cashflow point of view, make sure that any fee is payable up front and not only after you have sent out the report to the recipient.
Summary
If you need to recover your medical records, for just about any reason, you should be able to do that free of charge, as a result of GDPR.
The only circumstances where a records holder will be able to charge a fee to you – or even refuse to provide the records – is if you are in some way being extremely awkward or deliberately obtuse and unreasonable in requesting your records.
Is this "no fee" situation a good idea?
We have a lot of sympathy with medical records holders. The previous system was not perfect but they were able to a charge a fee for copying the records. £50 might be a reasonable fee or a poor fee in the circumstances, depending on the number of pages to be copied.
Perhaps we need to go back to the drawing board with regard to fee charging for copy medical records. Ironically, that provides another link to Bob Monkhouse. He famously asked: "When the inventor of the drawing board messed things up, what did he go back to?"
In the meantime, under this new "no fees" system, don't let anyone charge you for access to your medical records. If they try to do that and they won't be swayed from charging, your next stop should be the ICO.
How we can help
We hope that, based on what is contained in this article, when you need to get copies of your medical records – no matter what the reason – you will be aware of some of the potholes to avoid (especially financial outlays).
Please contact us if you have any questions about any matter we have discussed above or about any aspect of our personal injury claims services.
You can call our accredited specialist personal injury solicitors on 01343 544077 or send us a Free Online Enquiry. You can get a free case assessment from us by either route.
Make A Free Online Enquiry Now