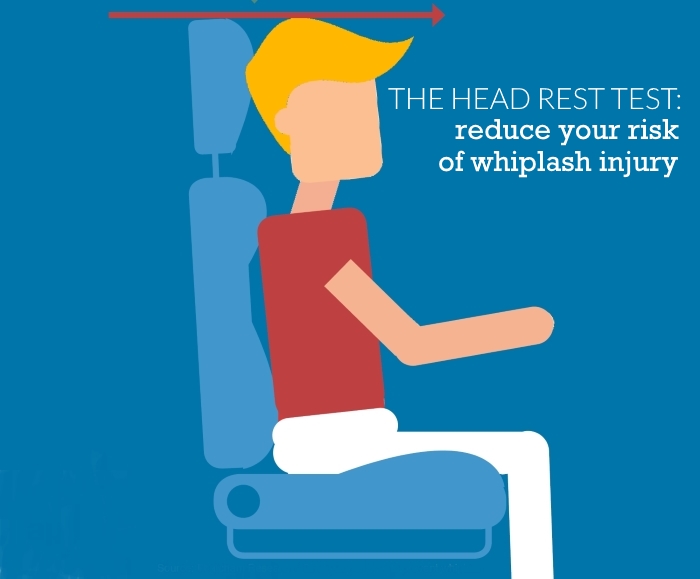 Whiplash gets a lot of negative press.
It is a type of injury where there is scope for people exaggerating their aches and pains to get more compensation or even inventing them completely. The Westminster Government is currently on a mission to weed out spurious claims.
On the other hand, if you have ever suffered a whiplash injury to your neck or back, you will know it is not something to be taken lightly. The injury is very real.
Whiplash can cause a considerable amount of pain and inconvenience to the injured person.
Everyone knows that prevention is better than cure and here's an idea for simple action you can take to reduce the risk of you being the victim of a whiplash injury. It all boils down to proper adjustment of the head restraints in your vehicle.
How best should you position the head rests in your vehicle?
It is not sufficient to have a head restraint attached to the top of your seat.
You must make sure it is adjusted to be in line with the top of your head.
A head restraint positioned too low will result in your head will being thrown over the top of it, if there is an impact.
Too high, on the other hand, and you will be in danger of colliding with the metal bars.
When the head rest is in line with your head, however, if you are unlucky enough to be involved in a road traffic accident, the head rest will stop your head "whipping" backwards and, as a result, the extent of any injury you suffer is likely to be reduced.
Studies have shown that as many as 60% of drivers fail to correctly adjust their vehicle's head rests.
It is likely that the percentage of passengers with incorrectly positioned head restraints is even higher.
We would urge you to consider this issue because a couple of minutes' action in adjusting your head restraint could save you a much longer period of unwanted neck and / or back pain.
How we can help
If you are one of the unlucky ones and are involved in an accident which results in a whiplash injury, please don't suffer in silence or alone.
Get in touch with us and let us explain your legal rights and options.
For more information about this article or any aspect of our accident and injury claims services, please call us on 01343 544077 or send us a Free Online Enquiry and we will be pleased to help you.
Note that there is no charge for an initial telephone discussion and, in any event, our overall personal injury service is usually free of charge anyway.
Make A Free Online Enquiry Now
Image credit: Added long after this post was originally written, the image for this article is from APIL's 2018 campaign for Injury Prevention Day (15 August 2018) – DO THE #HEADRESTTEST. See also Thatcham Research – Driver Zone: How to prevent whiplash