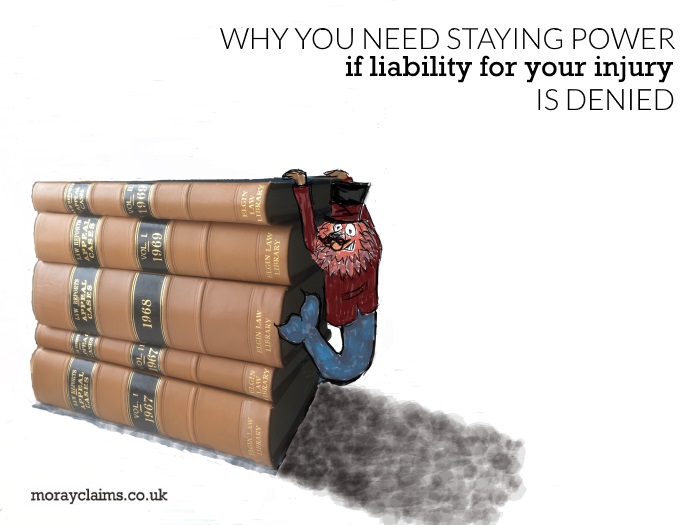 This is a case study of an injury claim arising from a pavement tripping accident.
We'll go through the stages of the claim from intimation of claim to the point where insurers admitted liability. It was not a straightforward process. In our experience, that is not unusual.
We hope this will give you an illustration of what can happen with a personal injury claim for tripping injuries.
The facts show why perseverance with a claim may be necessary.
Here's a photo of the pavement where the injured person fell.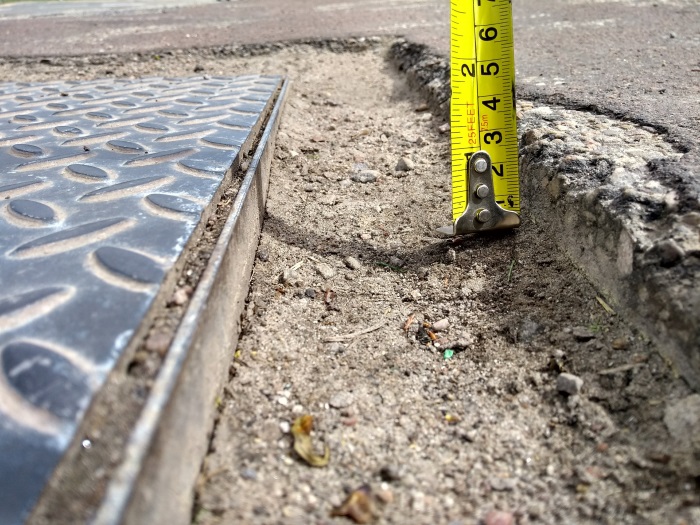 At the time of the accident, the injured person was walking into the photo (i.e. away from the cameraman). The injured person's left foot went down on the edge of hole at a point where it was about 3cm deep. This caused them to go over on their left ankle and suffer an inversion injury to it.
Scottish local authorities generally have a duty to repair pavement defects once they produce a height difference of more than 2cm (20mm). This is a height difference slightly less than one inch.
A one pence coin is almost exactly 2cm across (diameter).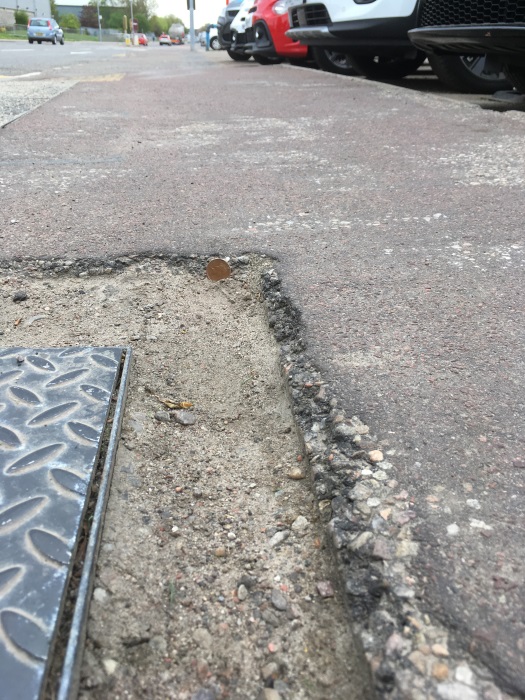 In our intimation of claim letter to the Council we alleged that
"there is liability on the part of the Council because the defect which caused our client to fall and be injured was "dangerous" as that is defined at common law and the defect in question had been present for a length of time which meant that a reasonable system of inspection by the Council ought to have discovered the defect, identified it as dangerous and arranged for it to be repaired (all prior to our client's accident)."
What are the two main issues in most pavement tripping accident claims?
As we have discussed in another article, they are as follows:
(1) Was the defect big enough to be classed as legally dangerous? Pavements do not have to be maintained at putting green smoothness and some defects are too insignificant to give rise to a legal duty to repair.
(2) How long had the defect been there before the accident? You're usually looking for a period of at least months beforehand. Otherwise, you cannot reasonably argue that the Council ought to have inspected the pavement often enough that there was time for the Council to identify the defect and repair it before the poor injured person fell on it.
In this case, with a height difference exceeding 2cm, we felt we had established a big enough defect.
The main argument here was likely to be about how long the defect had been present before the accident.
That's what proved to be the case.
The date of this accident was 05 May 2018.
The Council's insurers initially denied liability for the accident, as follows:


The position put forward on behalf of the Council did not make any sense to us and we replied to the insurers, saying that,
"To our mind, it's not reasonably possible that a "Priority 1" defect of this depth and area could have developed in a period of less than 3 weeks. On the face of it, it seems to us, there is overwhelming evidence that any inspection on 16 April 2018 must have been carried out negligently."
In other words, despite the clear presence of what could be described as a massive hole in the pavement, the Council wanted us to believe that this had "magically" changed from a danger-free defect to an urgently repairable defect in the space of 3 weeks. In fact, over 3 weeks in Springtime – not a time of year when you would expect there to be a lot of the kind of bad weather that erodes and worsens defects of this kind.
A few weeks later, the insurers wrote back to us to confirm that, in spite of the apparent illogicality of their position, liability remained in dispute.
In these circumstances, we continued with preparations to raise a court action.
Finally, an admission of liability…
Then, out of the blue, after a further period of about 2 months, we heard again from the insurers. This time, they were confirming an offer to settle the claim.

This was a much more measured and reasonable approach to the case.
An injured person who has tripped due to a defect in a pavement is always at risk of a finding of contributory negligence against them. 20% contributory negligence could be said to be the "going rate" for a case scenario of this type, though each case depends on its own circumstances.
Summary
We've told this story so you see an example of an insurer almost saying that "liability is denied because it's denied" – not giving any sensible reason for denying liability and yet appearing to stick to their guns when challenged, first of all.
If you are faced with a denial of liability of your claim, it's important that you don't give up without challenging anything the insurer says that does not make sense to you. Insurers rely on many injured people giving up easily if liability is denied. You need to stay composed and decide whether the denial of liability makes sense on the basis of the information they have provided. Often, it doesn't.
From the injured person's perspective, that's why staying power is important if liability for an accident is denied.
How we can help
We hope you have found this article helpful. We're happy to answer any questions you may have. Feel free to contact us on 01343 544077 or send us a Free Online Enquiry.
The same applies, if you have any questions about our wider personal injury claims services. All initial enquiries are at no charge and without obligation. (Here's an explanation of what that means for initial enquiries).