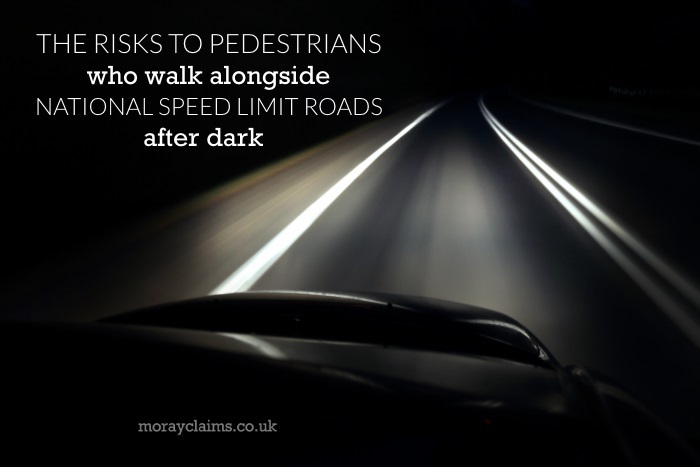 Most of us did this experiment in school Science class.
Using a 30cm ruler, one person holds it at the "30" mark and lets it hang down vertically. Their partner (person 2) puts the thumb and first finger of one hand at either side of the "0cm" mark on the ruler. Person 2's fingers should almost touch the ruler, but not quite.

Without warning, person 1 lets go of the ruler. Person 2 tries to stop the ruler's descent as quickly as they can, by closing their finger and thumb together.
You record the level (in cm), just above person 2's finger, where the ruler was caught. You repeat the test five times and work out the average "catch distance" for the person.
A conversion table allows you to translate the distance along the ruler into a reaction time, in milliseconds (thousandths of a second – i.e. one second is a thousand milliseconds). According to one such table, the first centimetre ("0cm – 1cm") equates to 50 milliseconds. It then increases by 10 milliseconds per centimetre. So, 2cm = 60 milliseconds, 3cm = 70 milliseconds; 4cm = 80 milliseconds, and so on.
As I recall, the experiment generated a lot of hilarity and messing about – and some (alleged) reaction time results (say, 0 – 30 milliseconds) that bordered on the clairvoyant.
What is the experiment meant to show?
Well, you wouldn't find this out in the school version but, generally, the older you are, the longer your reaction time (older people get a sore foot?). Also not in the school version: alcohol greatly increases reaction time.
The main things "Catch the ruler" shows as a school experiment are that:
your dominant hand has a faster reaction time, and
your reaction time improves if you are alert and paying close attention.
Another area of life where paying attention is important is when you are driving.
You need to be 'on the ball' in case you have to react to an emergency situation. You try to minimise distractions as far as possible but many things which affect your concentration on the road ahead are outwith your control.
A pedestrian in the road is a possible reason for you having to stop suddenly. Darkness is a factor which can complicate driving, from an attention point of view.
In this article, we will look at the safety implications for drivers and pedestrians during the hours of darkness in relation to national speed limit roads which have no street lamps.
Firstly, we will see what the Highway Code says about walking on national speed limit roads at night. After that, we will consider what the Highway Code says about driver reaction times and vehicle stopping distances. Finally, we will examine how this compares with the results of research into pedestrian accidents and what you can do to improve your safety if you have to walk along or cross a NSL road at night.
Moray's national speed limit ("NSL") roads all have a maximum speed of 60mph.
We have some roads with crawler lane sections but no dual carriageways (where 70mph would be the speed limit).
Some NSL roads in Moray have separate pedestrian / cycle paths alongside. The roads between Elgin and Lossiemouth, and Forres and Findhorn, fall into this category. There are ongoing attempts to expand this system (e.g. discussions regarding a path to link Lossiemouth and Hopeman).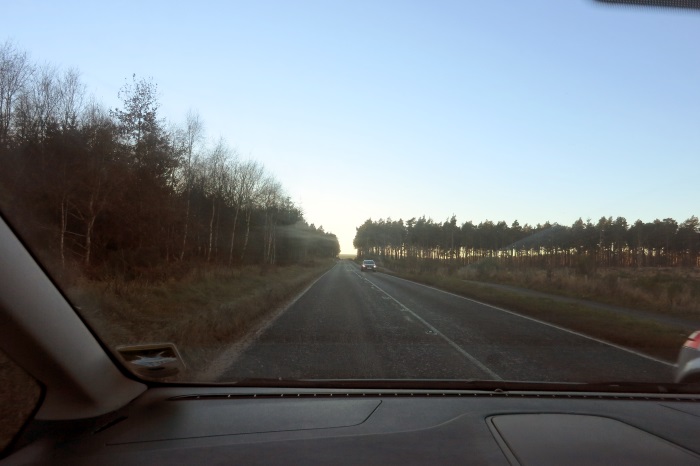 However, most NSL roads in Moray only have a single carriageway in each direction. Accordingly, pedestrians are forced to walk on the road, sharing it with fast-moving traffic.
What safety advice does the Highway Code give which is relevant to night-time pedestrians on unlit NSL roads?
According to Rule 2 of the Highway Code, if there is no pavement, as a pedestrian you should keep to the right-hand side of the road so that you can see oncoming traffic. You should keep close to the side of the road.
Rule 3 advises you to "Help other road users to see you". In poor daylight conditions you can do this by wearing or carrying something light-coloured, bright or fluorescent. In the dark, you need to make use of reflective materials. This can be in your clothing itself – e.g. jacket, waistcoat or footwear – or in an accessory such as a sash or armband. According to the Highway Code, reflective materials can be seen, by drivers using headlights, up to three times further away than non-reflective materials.
To be safe as a pedestrian, you need to be visible and drivers need to react to your presence appropriately and in time.
In the Highway Code, 0.68 seconds ("0.68s") is taken as the average driver's brake reaction time.
This is reflected in the "typical stopping distances" set out in the Highway Code. These have two components: thinking distance; and braking distance. The "thinking distance" is the time it takes your brain to perceive the hazard and translate that into hitting the brakes.
20mph is about 32km/h. If your perception-reaction time is 0.68s, you will travel 6m in that time. At 60mph, the distance is 18m.
At 20mph, the braking distance is 6m, so the total stopping distance is (6 + 6) 12m. At 60 mph, the braking distance is 55m, giving an overall stopping distance of (18 + 55) 73m.
The problem is that 0.68s is not always a good estimate of a driver's perception-reaction time.
Research has shown that, in some situations, drivers may react more quickly than the 0.68s "standard". One example could be where a driver has seen a potential hazard, such as a pedestrian at the side of the road, some way off. If the driver has covered her brake as a precautionary measure, reaction time decreases. This is because the limb movement time from the accelerator to the brake is significantly reduced. In such a situation, a driver's perception-reaction time is likely to be around 0.5s.
The overall picture from the research, however, is that average perception-reaction times of drivers are greater than 0.68s.
Some of the times are considerably higher than 0.68s.
Taking the example where a driver has perceived a potential hazard prior to the hazard developing – e.g. where a driver has seen a pedestrian at the side of the road and is looking towards the pedestrian at the time that the pedestrian starts to move into the road but has not already covered her brake – the driver's perception-reaction time is then likely to be in the region of 0.75s.
A perception-reaction time of about 1 second may be a better estimate in relation to a driver encountering a situation such as a pedestrian dashing out into the road from behind a parked car directly in the driver's field of view, when there is no other traffic about.
In traffic conditions where there is a lot going on, a driver has to monitor a number of potential hazards. As a result, she may not be looking directly towards the hazard which requires an emergency response. Here, the perception-reaction time may be between 1 and 1.5 seconds.
What happens when you add darkness to the mix?
It produces a situation where it may be difficult for a driver to perceive the hazard. As a result, the 1.5 seconds extends further still.
This could include the circumstance where a pedestrian in dark clothing is walking along, or crossing, an unlit road at night. We have seen opinions of road traffic accident reconstruction experts, expressing the view that, in such situations, a perception-reaction time of 2 seconds is possible.
Let's go back to our "thinking distance" of 18m at 60mph, according to the Highway Code.
Increasing the perception-reaction time from 0.68 second to 2 seconds changes 18m to 53m (almost 3 times the distance).
53m is about 175 feet or 13 car lengths. And that's just the time / distance it takes the driver to hit the brakes. You still have the "stopping distance" to take into account before you've actually come to a halt.
You might think this all seems unduly pessimistic in terms of assessing drivers' ability to avoid objects (including pedestrians) on the road in the dark.
If so, some further "proof" in that respect might help convince you.
Paul Olson is a leading expert and author in this area.
His research confirms the startling conclusion that the majority of drivers travelling along an unlit NSL road (whether the speed limit is 60mph or 70mph) will be driving at a speed which does not enable them to stop within the distance they can see to be clear (using dipped-beam headlights) .
On Olson's analysis, using a European vehicle with dipped headlights, for objects of low contrast viewed on roads where there is no street lighting, the maximum speed at which the vehicle can be driven for the driver to stop short of the point of impact is around 40 mph.
In real night-time driving conditions, however, the position can be even more complicated.
Any of the following additional factors might make even 40 mph an optimistic "safe-stopping speed":
The presence of oncoming traffic, which potentially generates glare, making it more difficult to see the object.
A wet road – again, likely to increase glare.
Water on the windscreen (glare again), necessitating the use of windscreen wipers.
From the assessment above, you've got to wonder if it can ever be advisable to walk along the carriageway of an unlit NSL road during the hours of darkness. The risks are considerable.
As we have considered in another article, if a vehicle strikes you at a speed of 35 mph or more, it will probably cause you fatal injuries.
If you have to cross such a road during the hours of darkness, the best policy is to regard yourself as "invisible" to drivers and take extreme care, accordingly.
Let's try to summarise what we've looked at in considering pedestrian safety on unlit NSL roads outwith daylight hours.
The Highway Code does not prohibit pedestrians from walking on the carriageway in such conditions. You should keep close to the verge, walk facing the oncoming traffic and wear reflective clothing or accessories.
In basing its stopping distance calculations on a driver reaction time of 0.68s, the Highway Code ignores the additional variable of darkness – and several other factors besides. Research has shown that depending on the weather and road conditions, reaction time for drivers during the hours of darkness will often be much longer than 0.68s, if they are reacting to the presence of a low-contrast object.
The dropped ruler experiment grades reaction times from "ultra-fast" (zero to 50 milliseconds) to "slow" (more than 250 milliseconds). Yet, as we've seen, driver reaction times of 2,000 milliseconds (i.e. 8 times longer than 250 milliseconds) are possible in our NSL road / darkness / pedestrian real world scenario. And these reaction times would be average, not slow, in the circumstances.
Few people would choose to walk along the carriageway of an unlit NSL road during the hours of darkness.
Often, the need to do that will be unexpected or unplanned. Maybe you've missed your lift and don't have the money for a taxi. You likely won't have high-viz gear with you; you'll probably have to make do with the dark, non-reflective clothing you have on.
If you've taken some alcohol, that may encourage you to think you're in less danger than you are. But even if you're in a sober condition, unless you've considered the research findings we've discussed above, you'd probably underestimate just how very dangerous it is to put yourself in that position as a pedestrian.
How we can help
If you have any questions about anything arising from this article, please feel free to get in touch with us. All enquiries are at no charge and without obligation. You can contact our specialist, accredited solicitors – Marie and Peter – by phoning 01343 544077 or by sending us a Free Online Enquiry.
Acknowledgements
We produced this article because of our concern that the public perception of the safety of a pedestrian walking on an unlit NSL fails properly to take into account what the always-developing  science of road traffic accident reconstruction shows about the true (i.e. very great) risks to pedestrians. We wanted people to understand why walking on national speed limit roads during the hours of darkness is such a bad idea. We would like to acknowledge the help we have derived from the knowledge base of the Association of Personal Injury Lawyers and from explanation and analysis (in lectures and expert reports) by one of the world's leading experts in this area, Peter Sorton (not that they are aware of having helped us in this way).