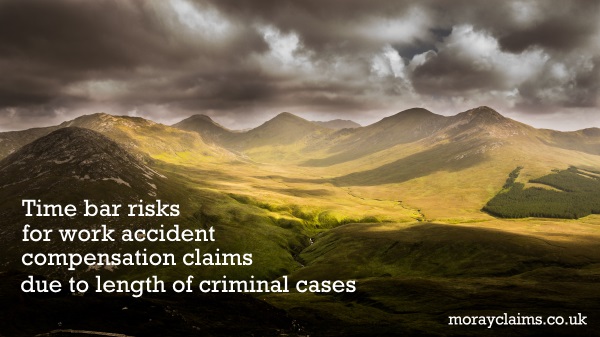 If a worker is fatally injured as the result of an accident at work, there will often be an investigation by the Health and Safety Executive (HSE).
Available options include:
the holding of a Fatal Accident Inquiry by the procurator fiscal;
criminal prosecution of the employer and/or any other business which might have been "in control" of the workplace at the time of the accident under the Health and Safety at Work Act.
Examples of employer prosecutions as the result of a fatal accident
HSE publishes a weekly email bulletin – to which anyone can subscribe – which gives details of the latest health and safety breaches which have given rise to criminal convictions for businesses.  The accidents involve life-changing injuries and some result in fatalities.
Using as an example the most recent bulletin, we find several reports of fines imposed on businesses for deaths of workers in a variety of circumstances:
A landscape gardener who fell under the wheels of a tele-handler;
A wind turbine technician, working at height, who came in contact with the rotating shaft of a gearbox;
An employee of a construction company who was crushed by a road roller;
A contractor, inspecting a loft boiler, who fell from a ladder and suffered head injuries.
Time limits for fatal accident compensation claims
Compensation claims are potentially available to members of the deceased's family, if it is demonstrated that the accident was caused, at least to some extent, by safety failings on the part of the employer or the business which controlled the workplace at the time.
Time limits apply to most personal injury claims and this includes fatal accident claims. You will usually have a period of three years from the date of death of a close family member in an accident within which to settle any compensation claim by negotiation. If any claim is not going to be settled within that period, you need to raise a court action to keep the claim alive beyond the three-year time limit.
Criminal prosecutions taking a long time to complete
In the recent past, there has been more than one example of a criminal prosecution and conviction of a business, arising from a fatal accident in the north of Scotland, where the length of time between the date of the accident and the date of the conviction has been much more than three years.
These examples come from Sheriff Courts within the Sheriffdom of Grampian Highland and Islands, which includes our local court, Elgin Sheriff Court.
In one case, the date of the accident was September 2009 and the date of conviction not until December 2015. In another, the date of the accident was July 2009 and the conviction was in April 2015.
We have no information as to why the time between accident and conviction was so long in each case. No doubt some investigations are lengthy because they require the understanding and explanation of complex technical details. Even so, 6 years seems a long time.
Time traps for the unwary
It is easy to fall into the trap of thinking that, if a matter is in the hands of HSE or the procurator fiscal, any right you have to claim compensation on the death of a close relative will only be confirmed if there is a conviction of whoever controlled their work or workplace at the time of their accident. That's not a correct assumption.
The civil standard of proof of "balance of probabilities" which applies to compensation claims, is lower than the criminal standard of "beyond reasonable doubt" which applies to prosecutions.
You don't need to wait for a successful criminal prosecution to "prove" that you have a valid compensation claim.
Taking into account the time limits for personal injury claims (3 years, usually) and the examples we have given of the length of time some prosecutions have taken (6 years), you can understand why it is a bad idea to delay taking any action towards claiming compensation until the criminal court matters are finished. You may be too late to claim compensation.
It is easy – and incorrect – to think that you will be safe in your right to claim compensation if your relative's fatal accident is still a pending criminal matter.
Criminal proceedings do not affect or suspend the time limits which apply to civil claims, so you need to take the initiative if you are considering making a claim for compensation arising from a relative's fatal accident.
Summary
In this article, we have highlighted concerns that work accident prosecution delays put compensation claims at risk where the prosecution takes longer than 3 years to complete.
Potential claimants may be lulled into a false sense of security by the fact that the criminal case is ongoing.  However, that will probably not save any compensation claim from being extinguished by the civil law rules we have described.
The moral is: if you think you may have a claim, don't delay in getting advice from a specialist (preferably, local) solicitor.
How we can help
If you have any questions arising from this article or about any aspect of our personal injury claims services, please get in touch with us.
You can contact our solicitors, Marie Morrison or Peter Brash, on 01343 544077 or by sending a Free Online Enquiry.
All initial enquiries are at no charge and without obligation.
Links you might like
The following other articles on the Moray Claims blog have content related to the article above and you may find them useful:
And from the Grigor & Young blog:
Post header image by Sylvain Guiheneuc via Unsplash.