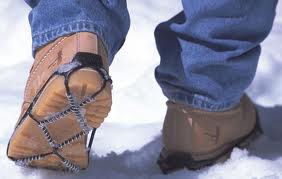 A recent Scottish court decision has potentially wide implications for you if you are an employer who requires your employees to work remotely in wintry conditions.  It illustrates why it is important that employers keep up to date with advances in equipment technology which might make work safer, especially if the equipment is available relatively cheaply.
Kennedy -v- Cordia (Services) – The Facts of the Case
The injured person, Tracey Kennedy, was employed by Cordia Services as a home carer. One night in December 2010, together with a colleague, she had to visit a terminally-ill, housebound person in Crookston, Glasgow. At the time, Scotland was experiencing an extended period of wintry weather. There was snow and ice on the ground. As she walked down a path towards the house, she slipped and fell, breaking her wrist.
She was wearing suede boots with a ridged sole. The boots were her own, not provided by her employer.
The Legal Basis of the Claim
The claim was based on the Personal Protective Equipment Regulations 1992. These regulations require employers to carry out and take heed of the results of risk assessments about possible personal protective equipment (PPE) that might be required in particular circumstances. The criticism here was that no adequate risk assessment had been undertaken. The employer had regarded the risk as "tolerable" but the judge concluded it should have been assessed as "substantial".
It was argued that a "suitable and sufficient" risk assessment would have identified the slip risk and that the risk could be significantly reduced if a "crampon-like" add-on to footwear was provided by the employer. A brand called "Yaktrax" was mentioned in this regard.  By 2010, such equipment was widely available and already provided for employees by a number of employers, such as Royal Mail. The failure to provide this source of extra grip amounted to a failure to provide suitable PPE in the circumstances.
Breaches of Regulations and Common Law – and No Contributory Negligence
The judge, Lord McEwan, decided that the employers were in breach of duty under the regulations. Not only that, he also found them liable under the common law. There was a clear risk of slipping in icy conditions, with potentially serious consequences. The cost of providing the additional grip for employees' footwear was modest and would have reduced the slip risk considerably.
The judge did not consider that Tracey Kennedy had failed in any way to take care for her own safety and he made no finding of contributory negligence. Accordingly, she was awarded the full value of her claim.
Could Such Equipment Help Prevent Accidents in Your Line of Work?
Many people have jobs which periodically require them to work outside in wintry weather, when the underfoot conditions can be slippery.  As Tracey Kennedy's case shows, even a job involving only relatively short walks to and from a vehicle was enough to trigger the employer's duty to provide the additional equipment.  If this could apply to you, why not point out the facts of this case to your employer and ask them to review their winter weather procedures?  Accidents are in no one's interests and this is an example of a simple piece of equipment which could benefit employers and employees by preventing accidents and injuries.
If you have been injured at work as the result of slipping or tripping, contact us for free and friendly advice, without obligation.  All initial enquiries are free of charge.  If we are not able to help you directly, we will do our best to find someone who can.  Complete an online enquiry form by clicking the link HERE or email Peter Brash at peter@grigor-young.co.uk or phone him on 01343 564813.