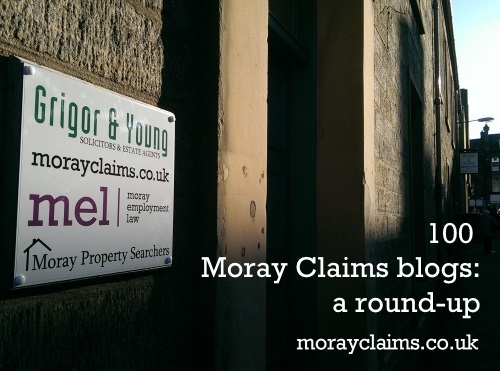 We launched the Moray Claims website in October 2012.
This is the 100th blog article.
So, as we reach the milestone of 100 Moray Claims blogs, what are the main themes which have evolved via the blog during the last 2 years?
They ask, You answer
I've looked to the "They ask, You answer" advice of Marcus Sheridan for guidance, even if most of the time it's meant predicting rather than knowing what you might want to know about personal injury law.
Moray Claims is a trading name of Grigor & Young and so we started off this blog describing Moray Claims  as "Not just another accident claims company". Probably a bit too cryptic as a headline.
Belatedly, months later, I realised it might be a good idea to explain what is Moray Claims and the purpose of the blog.
In the buzz-speak of the content marketing gurus online, I've tried to provide meaningful content, to a targeted audience (you folks in Moray and a bit beyond that) and be authentically helpful. Helping you in Moray to claim fair and full compensation for personal injury.
We've looked at the major FAQs
We've considered accidents in a variety of locations
We've looked at the different ways of funding personal injury claims
We've considered a variety of causes and victims of accidents
We've tried to inject some humour, where possible
We've explained specific technical aspects of the law applying to personal injury claims in Scotland
We've considered solicitors' involvement in personal injury claims
Pitfalls which can complicate personal injury claims
We have detoured into other areas
We've considered ways of preventing accidents and of speeding up your recovery after an accident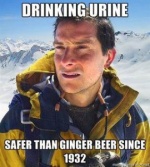 Donoghue -v- Stevenson
And, most importantly for this Scottish Personal Injury Lawyer who is also a ginger beer addict, we've celebrated the fact that the world's "modern" law of negligence was born in Scotland, via the case of Donoghue -v- Stevenson and the "Paisley Snail".
How you can help us to help you and others
Please feel free to contact us and ask a question – about this article or any aspect of our personal injury claims services. There's no charge and no obligation to take the matter further.
If you will be good enough to take the trouble to ask genuine questions about our area of law, we can maybe help you progress towards an answer. You help us by allowing us to create more detailed content on this website which will, in turn, benefit others in a similar situation to you.
You can phone us on 01343 544077 or send us a Free Online Enquiry.
Thanks for reading.
Peter