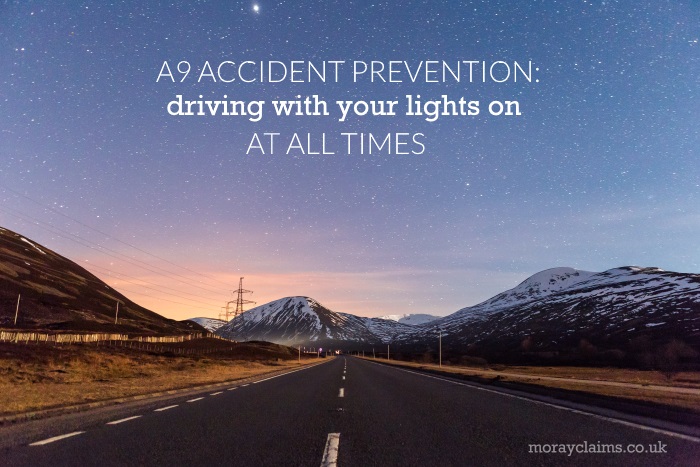 It's good to see
Del Amitri back on the road again for the first time in 12 years
. Their set list includes the song "
Driving with the brakes on
" – not about a stationary vehicle but instead another complicated Justin Currie relationship scenario.
Driving with the lights on is clearly a good idea at certain times of day or if conditions are poor. In this post, I'm making a more general road safety point – which is to suggest you consider driving with your lights on during the hours of daylight, at least on certain roads.
Scotland's "most dangerous" roads
Scotland has few motorways and none north of Perth. At the top end of the country, trunk roads are the arterial routes. Many of these have only a single carriageway in each direction but some have sections with dual carriageway or "overtaking lanes".
Roads such as the A96, A82 and, especially, A9 (Scotland's longest trunk road), have gained a reputation for frequent accidents. Between 2006 and 2010, the A9 claimed more lives than any other road in Scotland: a death toll of 67.
Having said that, an independent European assessment has classed the road as being "low to medium" risk and far from being Scotland's most dangerous.
Having lived in Moray for over 20 years and still having family and work-related business in Edinburgh, I am a regular traveller on the A9.
What are the danger features of the A9?
From a road safety point of view, the changes between dual and single carriageway sections are apt to be confusing, especially when many road users are first-time users such as tourists, often from abroad.
The A9 has an unusual feature at Drumochter Pass where the dual carriageway section has opposite carriageways which are not side by side or – at times – even visible to each other. This increases the risk of drivers mistakenly believing at other points on the road that they are on a dualled section when it is truly single carriageway each way.
A9 accidents
Over the years, many serious accidents on the A9 have happened at or close to the beginning or end of dual carriageway sections.
As you would expect, the design of the road does not necessarily play a role in all accidents (e.g. a collision resulting from a driver falling asleep at the wheel).
Queues of traffic behind slower moving vehicles are common on the A9.  Electronic signs (e.g. at Killiecrankie and Kingussie) alternate messages which include one advising that drivers should permit overtaking because frustration causes accidents. When the road appears to be clear of oncoming traffic, the temptation is to overtake several vehicles at once.
On days of heavy traffic on the A9, it is unusual to travel from Perth to Inverness without seeing a "near miss" where a motorist has tried to overtake one vehicle too many and been forced to cut in sharply in the face of oncoming traffic.
McInnes -v- Norwich Union
One A9 accident, which resulted in a court having to determine the relative fault of two drivers, occurred near Dalwhinnie in exactly that type of situation.
A van driver, heading north, overtook a BMW and two vehicles in front of it in a single manoeuvre at between 60 and 70 mph. Those vehicles, including the BMW, had to brake sharply to allow the van to return to the northbound carriageway due to the risk of a head-on collision between the van and a southbound Peugeot.
Unfortunately, a camper van immediately behind the BMW, faced with the BMW's sudden braking, could not stop in time. The driver of the camper van swerved to the right but clipped the offside rear of the BMW and ended up in the southbound carriageway. A collision occurred between the camper van and the Peugeot. Two of the occupants of the Peugeot were killed and at least one of the others suffered serious injuries.
The court found the drivers of the van and the camper van equally to blame for the accident. The van driver was at fault because he overtook at a point in the road where it was not safe to do so. He could not see far enough ahead. The driver of the camper van was negligent in not leaving a safe stopping distance between the camper van and the BMW. He had also failed to keep a proper lookout in that he should have been aware of the approaching Peugeot. The court further decided that, in the circumstances, he was at fault for steering to the right rather than the left.
The accident happened on an evening in March 2007. The report of the case makes no mention of whether any of the vehicles were displaying lights. They probably were not. The witness evidence to the court suggested that the weather and road conditions were good and even that it was "sunny".
Can vehicles displaying lights during daylight hours improve road safety?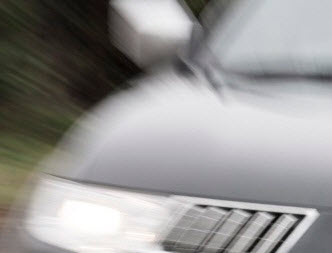 As a consequence of European legislation, dedicated Daytime Running Lights (DRL) have been a requirement on all new types of passenger cars and small delivery vans since February 2011. For lorries and buses it has been the law since August 2012.
DRL are low energy front lights which switch on automatically when the vehicle engine starts. Headlamps typically consume over 100 watts of power, whereas DRL might require less than 10W.
There is no retrospective duty to fit DRL on older vehicles.
DRL must be sufficiently bright to be clearly visible in daylight. They are too bright to be used in darkness: they will dazzle other drivers.
In some European countries, it is a requirement to drive with your headlights on all year round. Sweden, Iceland and Norway have had this as law since at least 1980.
Scotland occupies part of Northern Europe, like those Scandinavian countries, so their example is relevant for us to consider.
Pros and cons of daytime running lights
In favour of DRLs, it is claimed that they significantly reduce road deaths and serious injuries – which, in itself, is a powerful argument.
The contrary arguments include:
concerns about the constant glare of headlights
fears that motorcyclists would become less conspicuous and
increased fuel costs (because driving with lights on increases the power the engine requires to produce to drive the alternator).
EU Commission and UK Department for Transport studies within the last 10 years have confirmed that daytime running lights would produce a net reduction in accidents.
The UK study also concluded that DRL could improve the visibility of cars in dim light without affecting the relative visibility of motorcyclists.
Try switching your lights on
If drivers on the A9 did everything reasonably possible to highlight the presence of their vehicles at all times, this would reduce risk overall.
Many accidents have involved vehicles which were overtaking.  Often, the overtaking vehicle does not crash but it creates the dangerous situation where others' imperfect reaction in the agony of the moment leads to a collision.
As we have seen, on the A9 matters are made more complicated because drivers are not always sure whether overtaking runs the risk of meeting an oncoming vehicle at all.
Decisions whether to overtake – or continue once you are under way – are often split-second. An oncoming vehicle with headlights (or DRL) on is likely to be seen at a greater distance than otherwise. This will help deter unsafe overtaking and reduce accidents.
Transport Scotland plans to upgrade the A9 between Perth and Inverness to dual carriageway by 2025.
While we wait for that to happen, I suggest that, during the hours of daylight, drivers should consider driving with dipped headlights at all times on the A9.  The number of vehicles with daytime lights is only going to increase anyway now that DRL are a necessity for all new ones, which is good news for road safety and A9 accident prevention.
How we can help
If you have any questions about issues raised by this article or regarding our personal injury claims services in general, please get in touch with us.  You can call on 01343 544077 or send us a Free Online Enquiry.
Image credit (A9 at Drumochter): George Bohinucky via unsplash.com