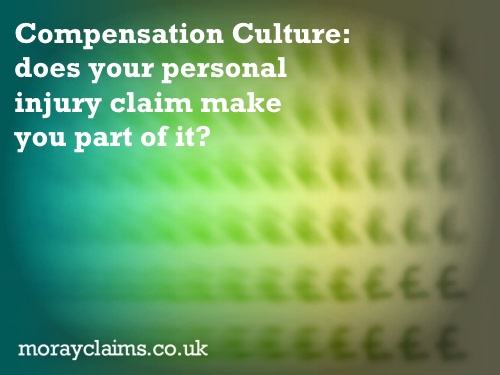 Fear of furthering a perceived Compensation Culture is deterring people from making Personal Injury claims.
We recently took on a claim for a man who had finally reached the decision, more than two years after his accident at work, to go ahead with a compensation claim for his injuries and other losses.
Here's what he told us:
"I have a concern over the "bandwagon" of what might be considered modern-day "compensation culture" and how that might seem – on the face of it – to be getting exploited for less-than-deserving cases. And that was maybe a wee bit of my issue in relation to starting this process."
So is there a Compensation Culture and what do we mean by the term, anyway?
A difficult thing to define
In some contexts, the term "Compensation Culture" is shorthand for the desire of one person to sue a second person where the first person suffered due to something which could have been avoided if the second person (or organisation) had done things properly.
However, this definition does not bring out the negativity people usually wish to convey when referring to Compensation Culture.
Wanting to sue someone who has caused you loss due to their fault or breach of duty is not unreasonable: it is the basis of the Law of Negligence.
If you have suffered an accident, you will not be able to make a successful compensation claim in all circumstances.
You may not be able to prove negligence or breach of duty.
Even if there is someone else to blame for your injuries, that person may not be insured and may not otherwise be in a position to pay compensation.
So, where Compensation Culture becomes a more dangerous perception is when it promotes the (false) ideas that –
for every injury, someone is at fault
for every accident, someone is to blame, and
for every claim, there is someone to pay compensation.
A cultural shift in the UK?
We hear – especially in the press – that a change in mindset has occurred in the UK.
A willingness to claim compensation for the slightest thing is supposedly replacing our former accepting, sometimes fatalistic approach to life.
This, in turn, places an ever-increasing burden on employers, schools, the NHS, and local and central government.
Health and safety regulation has reached excessive levels and we are having to eliminate beneficial activities for fear of the consequences if things go wrong, as the following examples show:
But is that true? What evidence is there for a Compensation Culture?
Empirical evidence of a Compensation Culture
You would expect to find an increasing number of Personal Injury claims year on year if a Compensation Culture exists.
Sheriff Principal Taylor's "Review of Expenses and Funding of Civil Litigation in Scotland" (The Taylor Review), carried out at the request of the Scottish Government and published in 2013, contains recent statistics about the experience in Scotland.
He noted a declining level of civil litigation generally in Scotland's courts.
Over 85,000 civil actions were raised in 2011-12 but that was a decrease of about 35% from 2008-09, when the figure was 131,633. Even claims resulting from road traffic accidents had fallen by almost 20% between 2009-10 and 2011-12.
Another measure of claim numbers is through the Compensation Recovery Unit (part of the Department for Work and Pensions), with which all personal injury claims must be registered.
In the 3 years from 2008 to 2011, the CRU recorded an increase in claims in England from about 728,000 to about 892,000 – an increase of about 23%. In the same period, in Scotland, the increase was only by 7% – from about 36,000 to about 39,000.
The Taylor Review pointed out that, in comparison to England, the number of claims in Scotland was considerably lower than might be expected for a country with about a tenth of the population of England (5.2 million compared to 51 million).
Looking at specific accident types, for example, over that 3-year period, the total number of claims for road accident liability in Scotland was one twenty-fourth of the total for such claims made in England (76,740 compared with 1,904,298).
In other words, Scottish claims made up only about 4% of the total, where you would have expected them to make up something around 10% of the total.
Two UK Government Reports published in the first decade of this century looked specifically at the Compensation Culture issue and neither concluded that such a thing existed.
Indeed, the earlier of the two Reports concluded that the very idea of there being a Compensation Culture was a myth.
Summary
In answer to the question posed by this article, we would say:
"No, you don't become part of the Compensation Culture by making a personal injury claim, because there isn't a Compensation Culture in the first place."
Nevertheless, the media seem keen to promote the idea that as a claims society we are becoming more like the United States.
Increased awareness of the possibility of claiming compensation for personal injury – through adverts on television and radio – may have increased perception that large sums of money are readily to ease the pain of injury.
That's not the reality, of course, but we need better education – such as HSE's Myth Busters campaign – so that we don't make silly decisions misguidedly in the name of health and safety.
The evidence for existence of a Compensation Culture is generally weak and it is considerably weaker in Scotland than in England.
On a personal level, if you are injured and there is a possible compensation claim for personal injury available to you, be aware that there is no Scroungers' Charter you can rely upon, you won't be over-compensated and you'll only have a claim if there is a legal basis for it.
Our experience is that most people think long and hard before making a claim. It is often a last resort born out of financial necessity or frustration that lesser attempts at "compensation" (e.g. getting your employer to pay your full wages to you while you are off after an accident at work) have failed.
How we can help
We are happy to discuss any aspect of this article or of our personal injury claims services in general.
Feel free to get in touch with us for a chat. All initial discussions are free of charge and you are not obliged to take things further with us.
Peter Brash and Marie Morrison can be contacted via 01343 544077.
Alternatively, why not send us a Free Online Enquiry – either with full details of your question or simply to request a call back?