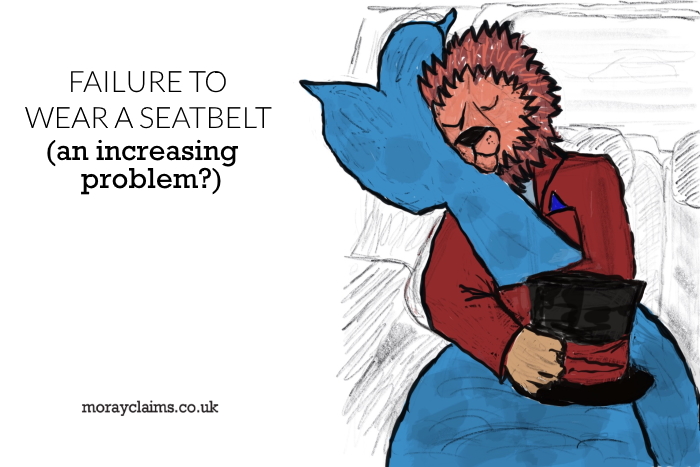 The all-time best-selling album of piano music is The Köln Concert by Keith Jarrett.
It was recorded at Cologne's Opera House on 24 January 1975 before an audience of about 1400 people.
It's the best-selling solo album in jazz history (with sales of more than 3.5 million). An astonishing display of improvisational melody and musicianship.
Yet it almost did not happen.
The piano provided for the late-night performance was sub-standard. Its bass notes were muffled and its high notes tinny. Jarrett himself was suffering from flu.
He almost drove off into the night, leaving the first-time, teenage concert promoter, Vera Brandes, to "face the music" of a disappointed and possibly irate public.
But he didn't.
Taking pity on Vera – "doing it just for her" – he took a chance and produced one of jazz's most iconic performances.
Risk-taking does not always have good consequences, of course.
Failing to wear a seatbelt does not cause a collision but, if a collision occurs, wearing a seatbelt is the single most important safety factor for vehicle occupants.
You'd think that people would be convinced of the benefits of seat belts enough by now that their use would continue to increase, or at least hold steady. This article has been prompted by a 2019 report (by the Parliamentary Advisory Council for Transport Safety) which shows that a substantial minority of fatal road traffic accidents involve victims who were not wearing a seatbelt.
Why might so many people be taking the chance of not wearing a seatbelt?
In this article, we will consider the history of seat belts and safety legislation. We'll go on to look at the findings of a recent report as regards numbers of deaths among non-seat-belt-wearing vehicle occupants. And we'll close with a look at some of the reasons why people still choose not to wear seat belts.
It's sobering to start with a look at road casualty statistics and seatbelt factors.
About 1.3 million people die on the world's roads each year. In the UK, the annual figure for road deaths is over 1,800.
A recent study of the effectiveness of seatbelts found that they reduced both fatal and non-fatal injuries by 60% for front seat occupants and by 44% for rear seat passengers.
Additionally, where those in the rear use their seatbelts, that halves the fatality risk for belted front seat occupants. Without the restraint of a seat belt, in a collision situation, rear seat passengers can become deadly crushing weights on those in the front.
It first became a legal requirement to wear a seatbelt in the front seats of vehicles in the UK in 1983.
At that time, annual road death numbers in the UK were of the order of 7,000.
From 1991, wearing a seatbelt was a legal requirement in all vehicle seating positions. At that time, wearing rates were higher than 90%.
It seemed that the road safety message regarding the good sense in wearing seat belt had been received loud and clear.
However, there are signs that we may be slipping back into bad habits.
The message about seatbelt wearing may have begun to be forgotten.
In Europe, there has been only limited progress in casualty reduction since 2010. In the USA, injury and death rates have been increasing.
Let's move on to part two of this article and consider the statistics about seatbelt wearing that have been causing concern.
Since 2013, data has been published showing the percentage of people who were not wearing a seatbelt when they died in cars on UK roads.
It's not always possible to be sure about whether a person in an accident was wearing a seatbelt. But the 2017 stats for those who died in cars – and are known not to have been wearing a seatbelt – are startling. 27% were not wearing a seatbelt.
This suggests that, in 2017 alone, about 212 people who died in road traffic collisions were not wearing a seatbelt.
Of the order of 1,000 people are seriously injured each year through failure to wear a seatbelt.
Unlike other motor offences, breaking the seatbelt law does not carry the threat of penalty points.
What are some of the reasons people give for not wearing a seatbelt?
A 2010 study by Musselwhite and others (Road Safety Research Report No. 111: Understanding Public Attitudes to Road User Safety) found that reasons given by those who don't use a seatbelt include:
Only driving on a very short journey (41% of respondents);
Feeling seatbelts are uncomfortable (14%);
Feeling they should not have to wear a seatbelt (8%);
Being very careful anyway (5%);
Feeling they crease clothes (5%).
In July 2019, the Daily Express reported that the Westminster Government was considering introducing penalty points (as opposed to a simple fine) as punishment for failing to wear a seatbelt.
This might have a greater effect in encouraging us all to wear seatbelts because motorists in the UK can lose their driving licence for accruing 12 penalty points within a 3-year period.
Summary
The history of seatbelt wearing in the UK has been a gradual realisation by vehicle occupants and lawmakers that it's a good idea – and that we should have rules and 'encouragements' about wearing our seatbelt when we travel.
The message seemed to be received and understood by the early 1990s but there are now signs that we may be forgetting seatbelts as a personal road safety priority.
In 2017, 27% of those who died in cars were not wearing a seatbelt (in cases where seatbelt status was known).
The 2019 report by PACTS discusses who these people are, their reasons for not wearing seatbelts, and the effectiveness of possible additional measures in increasing seatbelt wearing and reducing the number of fatal road accidents.
It's one thing to risk playing a dodgy piano, where the worst consequences might be a dull performance and disappointing reviews; it's quite another to run a risk where the worst consequence could be death (as against only a minor injury, if you wear a seatbelt – which is often the case for a person ejected from a vehicle in a crash).
How we can help
We hope you found this discussion about matters arising from failing to wear a seatbelt of interest.
If you have any questions at all, please get in touch. We would like the information on this website to be as comprehensive as possible. Your questions help us to keep the information on this website under review, so everyone benefits. You can contact us by phoning 01343 544077 or send us a Free Online Enquiry.
If you want to enquire about our personal injury claim services, you can get a free case assessment from us by making contact in the ways set out above.
Where a Free Case Assessment is something that might be helpful to you – and you think we would be local, specialist solicitors from your point of view – please make a Free Online Enquiry via this website.
We can then get started on the process of investigation and consideration of your claim.
You can call us on 01343 544077 or send us a Free Online Enquiry.
Make A Free Online Enquiry Now
Links you might like
One of the main consequences of failing to wear seatbelt is that, in most – though not all – situations, it brings into play the concept of Contributory Negligence. These articles discuss other aspects of 'seatbelt cases', including contributory negligence: