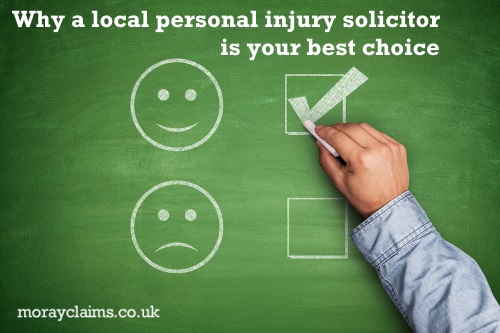 No one enjoys filling in forms.
If your work involves form filling, while you may not like it, you do at least become familiar with the sections of forms you have to fill in regularly. For us, Civil Legal Aid forms and Motor Insurers Bureau (MIB) forms fall into that category.
The problems are greatest where you have to fill in a form which you have never seen before. Most people making a personal injury claim are 'first timers', so any forms you have to fill in will be new to you. The Legal Aid and MIB forms mentioned above are much more difficult for you to complete than for us; so are any forms generated by solicitors acting on your behalf, as the injured person.
In a previous article, we have considered the factors to take into account when selecting a solicitor. Whether the solicitor's office is close to you is one of the matters we suggest you consider. In this article, we look at a specific reason why it might be a good idea to have a solicitor you can easily meet in person.
Where forms cause problems
A recent English Court of Appeal decision has illustrated the problems which can arise where solicitors rely on the completion of forms by their clients to gain information; in other words, where they do not have any face-to-face meetings with their client – or even speak to them over the telephone.
Mr Procter's case
Mr Procter developed a condition called 'vibration white finger' (VWF). It is an industrial injury caused by excessive use of vibrating hand-held work equipment. Common symptoms are tingling or numbness in the affected fingers. In Mr Procter's case, it was the result of prolonged use of power tools in his work as a miner.
The Department for Trade and Industry had set up a tariff-based compensation scheme because this was a widespread problem amongst former miners.
Mr Procter consulted a firm of solicitors to help him with his claim. During the time that they represented him, they did not ever meet him face-to-face. Instead, they advised him and took his instructions by means of three standard letters, which enclosed forms for him to give his replies by ticking appropriate boxes.
When Mr Procter agreed to settle his claim for the sum of £11,141, it was on the basis that it comprised:
an amount for his pain and suffering from his injuries, and
an amount to reflect his future disadvantage on the labour market.
The missing claim for services
The standard letters had advised Mr Procter of the possibility of a claim for 'services': compensation to reflect help he had received from relatives with domestic tasks, where the assistance was required because of his disability from the injuries.
He had not ticked to indicate that he wanted to make a claim for services. Although his wife and son were covering the household tasks he could no longer manage, he had mistakenly assumed that he needed to be paying for such assistance in order to be able to make a claim for it.
The consequences of under-settlement
When he realised that his original solicitors may have settled his claim for less than it was worth, Mr Procter consulted other solicitors. He claimed that the negligence of his first solicitors meant he had under-settled his claim for VWF by £11,079.
Mr Procter wins at first instance …
In the court of first instance, the judge found in favour of Mr Procter. The 'tick box' approach adopted by the solicitors was unsatisfactory. The judge ruled that the solicitors should have consulted with Mr Procter to make sure that he understood the advice they were giving him.
In any event, the medical report they had obtained as part of the claim ought to have alerted the solicitors to the likelihood of Mr Procter having a services claim. The Court awarded Mr Procter £5,539.50 for his loss of the chance to pursue a claim for services in the original claim.
… and on appeal
The original solicitors appealed to the Court of Appeal, arguing that their failure to consult directly with Mr Procter was not negligent.
The Court of Appeal dismissed the appeal.
They said it was reasonably foreseeable that Mr Procter might not fully understand what claims he was entitled to make when faced with lengthy, standardised letters where he was expected to tick the correct boxes to indicate his instructions. It was a situation which demanded some kind of verbal exchange – even a short discussion over the telephone – to ensure that Mr Procter properly understood the circumstances in which he could make a services claim.
Bad news for all concerned
The outcome was obviously bad news for Mr Procter's original solicitors, in that they were found to be professionally negligent and due to pay compensation to Mr Procter.
However, the situation was far from ideal for Mr Procter. He ended up having to make two claims for compensation – firstly from the DTI and, secondly, from his solicitors.
Face-to-face meetings easy with a local solicitor
The Court of Appeal did not say that it could never be legitimate to settle a personal injury claim by getting instructions based on tick-box forms alone. For that to work, though, the explanatory letters would have to be very clear indeed.
The benefit of speaking to your solicitor and, especially, meeting them face-to-face is that it significantly reduces the risk of misunderstanding the advice your solicitor is giving to you. That can only be a good thing. It is stressful enough to have to make one personal injury claim; the last thing you want is to find that you are going to have to do it all over again.
If you are able to entrust your personal injury claim to a local specialist solicitor you have reassurance that, if anything is ever unclear in the advice you have received, you can easily 'doorstep' your solicitor to get the clarification you require.
How we can help
If you have any questions about this article or any element of our personal injury claims services, please get in touch with us.
We will do our best to help you – whether that is directly or by referring you on to someone better placed to assist you than us.
All initial enquiries are free of charge and without obligation.
You can contact us on 01343 544077 or send us a Free Online Enquiry.