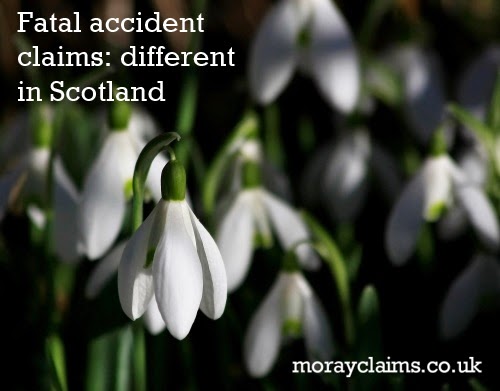 On 16 July 2009, Peter McGee fell down the stairs at his home in Springburn, Glasgow.
Two days later, he died in hospital as a result of complications from his injuries.
His wife, Catherine, and other family members raised an action in the Court of Session against RJK Building Services Ltd, who had carried out joinery work at the property on the instructions of Glasgow City Council, Mr and Mrs McGee's landlords.
In an Opinion issued on 18 January 2013, Lord Drummond Young found that RJK were to blame for Mr McGee's injuries and death because they had been negligent in the way they fitted a handrail on the stairs.
The handrail had come loose from the wall as Mr McGee descended the stairs, causing him to fall.
A lengthy marriage
At the time of his death, Mr McGee was 71 years old.
His wife was a few months younger than him.
They had been married for 36 years.
An area of personal injury law where Scotland is different
Personal injury law is applied identically or virtually identically across many types of claim throughout the UK.
One example of this is in relation to accidents at work, where EU directives and regulations have had a big influence, especially over the last 20 years or so.
One area where the law differs considerably, however, as between Scotland and the rest of the UK is in relation to claims arising from the death of a relative.
In England and Wales, the statutory bereavement award available to certain close relatives is £11,800.
Under Scots Law, the equivalent award used to be known as "loss of society" but is now termed a "Section4(3)(b) award" under the Damages (Scotland) Act 2011.
Courts have a discretion about the amount to award and the levels of damages have been influenced to a great extent over the last 15 years or so by decisions of juries in such cases in the highest civil court in Scotland, the Court of Session.
Whilst no amount of money can ever fully compensate the loss in this type of scenario, these jury decisions had collectively shown that the level of damages in fatal accident cases had fallen far behind the public's expectations.
The awards of compensation to the McGee family
The McGee case was a decision of a judge rather than a jury but the influence of previous jury awards is there nevertheless.
Mrs McGee was awarded £80,000.
Other awards were made to Mr McGee's three children and four grandchildren, varying from £35,000 to £12,000 each.
The judge refused to find that there had been any contributory negligence on the part of Mr McGee, so full damages were awarded to each family member.
How we can help
If an accident has resulted in the death of a relative or other close family member, you need help from a solicitor with expertise in this area of law.
Moray Claims have sympathetic accredited-specialist accident claim solicitors who can provide you with free advice.
You should not hesitate to contact us for help.
Remember that all initial enquiries are free of charge and without obligation.
Peter Brash can be contacted via peter@grigor-young.co.uk or 01343 564813.
Alternatively, you can complete and send us a free claim enquiry form by clicking HERE.
Make A Free Online Enquiry Now
Links you might like
Further developments in relation to compensation for relatives who have lost a loved one as a result of a fatal accident are reported in an article entitled: "Bereavement Damages at Record Level in Scotland", on the Grigor & Young website.