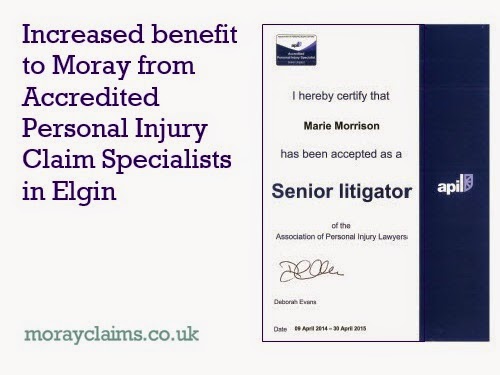 Marie Morrison of Grigor & Young / Moray Claims has gained a further Personal Injury Accreditation
Do you live in Moray or the surrounding area?
If you live in Elgin or Forres (or anywhere else in Moray) and have to make a claim for compensation for personal injuries suffered as the result of an accident – on the roads, at work or elsewhere – you need a specialist, accredited solicitor to handle your case.
You need to know that the person you are trusting to get the best outcome possible for you has the necessary experience and expertise.
In the jungle of claims companies and solicitors firms which promote their personal injury services online and via other media, it is not always to know at first glance whether a particular organisation or person has the credentials to deal with your claim properly.
Why accreditations are important
Along with things like testimonials from previous satisfied clients, specialist accreditations can help you, as the consumer, gain confidence that you are dealing with people who know what they are doing.
First accreditation: Law Society of Scotland
We recently reported that Marie Morrison had gained accreditation from the Law Society of Scotland as a Specialist in Personal Injury Law.
Second accreditation: APIL
Now, Marie has added a second accreditation in the shape of acceptance by the Association of Personal Injury Lawyers (APIL) as a Senior Litigator. This means that both Marie and her colleague, Peter Brash, hold dual accreditation from the Law Society and from APIL.
Grigor & Young LLP / Moray Claims are the only firm in Moray to have any accredited personal injury specialists at all, let alone two.  The next closest accredited specialists are in Inverness and Aberdeen. Marie and Peter are both based in Grigor & Young's Elgin office.
The APIL Consumer Charter
APIL members are committed to providing the very best service possible to you, as an injured person.
As reassurance about the level of service you can expect, all APIL members sign up to a Consumer Charter, which includes provisions about being charged a fair price, with no hidden costs. The Charter also includes an assurance that APIL members will tell you if you will have to pay anything to pursue your case and, if so, how much.
A service which is usually 100% free
At Grigor & Young / Moray Claims, for most clients local to Moray, there is usually no charge for the service.
If the claim fails, there is no cost to pay. If the claim succeeds, you receive 100% of your compensation, without deduction. Some exceptions do exist – which we can explain, if necessary – but most of the time our clients receive all their compensation.
Get in touch for help
To quote from the APIL Consumer Charter again, as APIL members and accredited specialists, we will put your best interests first and provide clear, impartial, honest advice about your case. Your welfare is our concern.
What this means is that, whilst Grigor & Young / Moray Claims is run as a business, we do not want the business of your personal injury claim at all costs.
If we do not think we are able to take on your claim for whatever reason, we will tell you promptly and we will do our best to find other ways you can take the matter forward. We may be able to recommend another solicitor who is better-placed to deal with your claim. It's true to say that it is never to early to call your solicitor and we are glad to deal with any enquiries.
All initial contact is always free of charge (and usually all later work in personal injury cases – see above) and without obligation. Get in touch for a chat and see if we can help.  You can contact us via 01343 544077 or submit an online enquiry form.