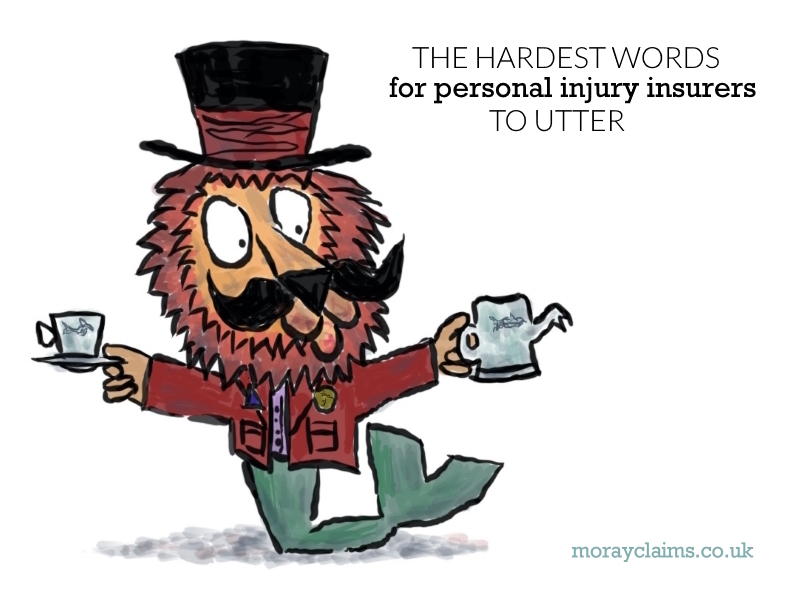 If you like words and plays on words, the internet is a mine of nuggets.
For example, in India, "Sari" always seems to be the hardest word.
If you're looking for "alternative" definitions of words, the Uxbridge English Dictionary (from BBC Radio 4's I'm Sorry I Haven't A Clue) has examples such as:
Cardiology – the study of knitwear; and
Faculty – cockney for "there's no more Scottish Blend"
Words are not always what they seem. The "plain meaning" of a word is rarely a given. The meaning of words can be twisted or ignored.
In this article, we'll consider 3 words / phrases which insurers in personal injury claim situations will avoid using if they can and will twist as far as possible if they cannot be avoided.
What are these "unforgivable" words / phrases?
We'll get to them in a moment. First, we need to understand the context in which the problematic terminology arises.
Your personal injury solicitor wants to achieve for you the highest level of compensation reasonably possible, as soon as reasonably possible.
There are various tactics your solicitor can employ and, at a relatively early stage in the process, there is a point where potentially some pressure can be applied on your behalf. This is the point where the opposing side (usually insurers) should confirm their position on liability.
In Scotland, most claims proceed according to a framework provided by the Compulsory Pre-action Protocol.
In this way, your solicitor will intimate your claim in writing to the party against whom the claim is to be made. Their insurers then have up to 3 months to investigate the merits of the claim. At the end of that time, they must give their decision: do they accept that the claim should be settled or do they deny responsibility for paying compensation? In other words, is liability admitted or denied?
It's not necessarily "black and white". Liability can be fully admitted or fully denied. But it can also be partially admitted. This is what is known as contributory negligence. Where your injuries were partly the fault of the other party and partly your own fault.
In terms of the protocol, by the end of 3 months from intimation of the claim, the insurers should confirm in writing the following:
Is liability admitted?
If liability is admitted, is it admitted 100 per cent?
If liability is admitted, is it a binding admission of liability?
1. Is liability admitted?
By one online definition, "admitted" means "confessed to be true or to be the case".
The fact it's a "confession" brings out the feeling that it's against your interests. It's an agreement that's being dragged out of you.
That's often how it feels with insurers. The pill of admitting liability is too bitter to swallow.
So, you get insurers saying things like: "We are prepared to negotiate settlement of this claim".
Or even: "We are prepared to consider this claim."
Neither of these is good enough. You need the insurer to confirm that liability is admitted.
2. Is liability admitted 100 per cent?
Of course, 100 per cent means "completely" or "entirely".
We need to hear that liability is admitted 100 per cent.
Or – at the very least – we need to hear that liability is admitted, say, 75 per cent – i.e. subject to 25 per cent contributory negligence. In that case, the insurers should also be explaining why they say you were partly to blame for your injuries and disclosing any relevant documents (e.g. accident reports, training records and risk assessments).
You need to know if liability is admitted 100% or what percentage the insurers say should apply in the circumstances of your accident.
But more often than not the insurer will just say that liability is admitted, not mentioning any percentage and not mentioning the third of our three "forbidden" terms.
3. If liability is admitted, will you be bound by the admission?
The word "binding" – when applied to an agreement or promise – means that it involves an obligation that cannot be broken.
Where your word is your bond.
Insurers prefer to gloss over this element and avoid using the word "binding" or any of its variants.
So you might get confirmation that liability is admitted 100 per cent but no mention of whether it is binding or not.
But, again, that's not good enough.
Why does it matter if you don't get an admission of liability that's clear as to percentage and bindingness?
It will come back to haunt you.
If the insurers are not tied into an agreement about liability (assuming it's acceptable to you), the risk is they will have a nasty surprise for you later on.
The "admission of liability" will turn out to be, say, an admission of only 10% liability (i.e. 90% contributory negligence).
An admission of 100 per cent liability will later be withdrawn for some reason – e.g. "new information has come to light".
Such developments can present a serious tactical problem for your claim if, by that time, you've disclosed your medical evidence and the insurers have a good idea of the likely full value of your claim.
If you had pressed the insurers to be explicit on these 3 points at the right time you would have avoided these difficulties. You would know exactly where you stood on liability, with absolute confidence. Had the insurers refused to confirm liability, percentage and/or willingness to be bound, you could have legitimately raised court action at that time.
What does a typical exchange about liability look like in correspondence between insurer and solicitor?
Insurer: We are prepared to admit liability in the circumstances and look forward to receiving your medical evidence and valuation.
Claimant: Please confirm that liability is admitted 100 per cent and that the admission is binding.
Insurer: We admit liability 100 per cent. We look forward to receiving your quantification of your client's claim
Claimant: We need you to confirm that your 100 per cent admission of liability is a binding admission.
Insurer: We have already admitted liability 100 per cent.
Claimant: You are in breach of the protocol as you have not confirmed you will be bound by your admission of liability. If you do not confirm your position within 7 days we will have to advise our client to raise a court action.
Insurer (17 days later): We confirm that our admission of 100 per cent liability is binding.
Summary
"Sorry" may be the hardest word, in general. "Liability is admitted bindingly and 100 per cent" may be the hardest sentence for personal injury insurers, containing the 3 most choke-inducing words/phrases:
Admitted;
Bindingly; and
100 per cent.
How we can help
We hope you have found this to be useful insight into words and phrases which personal injury claim insurers have tried to erase from their vocabularies.
If you have any questions at all, please don't hesitate to contact us. See the article HERE, if you would like to understand more about what will actually happen if you get in touch with us about making a personal injury compensation claim.
If it turns out that we are not the best people to help you directly, we'll do our best to give suggestions for a suitable alternative specialist legal adviser (or the best way to find one).
We aim to help people in Moray to claim fair and full compensation for personal injury in such a way that it costs you nothing, whether your claim succeeds or not. We are specialist, accredited solicitors at Grigor & Young LLP, Elgin.
Give us a call on 01343 544077 or send us a Free Online Enquiry.