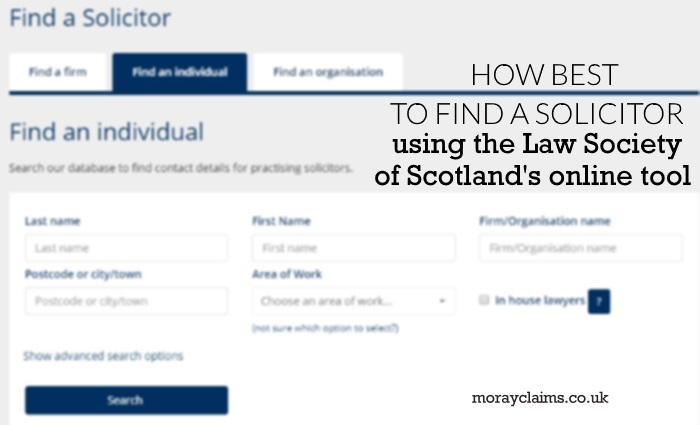 (NOTE: This post contains a screencast video, below, with a walk-through of how best to use the Law Society of Scotland's "Find a Solicitor" Online Tool to locate a specialist personal injury solicitor who is local to you).
You don't have to use the solicitors your insurers may tell you to use for your personal injury claim.
We recommend you to get help from a solicitor who meets two main criteria:
They should be local, and
they should be specialised.
1. Local solicitor
We recommend you to engage the services of a local solicitor, if possible.
What do we mean by local?
Ideally, a solicitor who is local to you and local to the location of the accident.
Even getting a solicitor who is local in only one of these two ways is probably better than a solicitor who is neither close to you nor the place where the accident happened.
2. Specialist solicitor
These days, all solicitors are specialists to some extent.
Personal injury law is a complex area and you need to know that the solicitor you engage has a proven track record in this area of work.
The Law Society of Scotland's accreditation scheme gives recognition to solicitors who have developed specialist knowledge during their careers. Importantly, it also helps you, as a member of the public, to choose a solicitor with the necessary expertise, particularly in more complex types of case.
The above-average skill and quality of accredited specialists under the scheme is recognised throughout Scotland. More than five hundred solicitors are accredited specialists.
Used properly, the Law Society of Scotland's Online "Find a Solicitor" tool is your friend.
It can identify those Law Society of Scotland accredited specialist personal injury solicitors who are closest to you.
And it enables you to carry out a search with the least amount of time and effort.
The screencast video below talks you through the process:
How we can help
We hope you have found this a useful explanation of how best to find a personal injury solicitor using the Law of Scotland's online tool – so you have the right person to help you make a compensation claim successfully.
If you have any questions about the content of this article – or the video – please get in touch with us. All enquiries are free of charge and without obligation. Let us help you understand what rights you have in your particular situation, so you can make an informed choice about whether making a claim is the right way to go for you.
You can contact either of the accredited specialist personal injury solicitors at Moray Claims / Grigor & Young LLP (Marie and Peter) on 01343 544077 or by sending us a Free Online Enquiry.