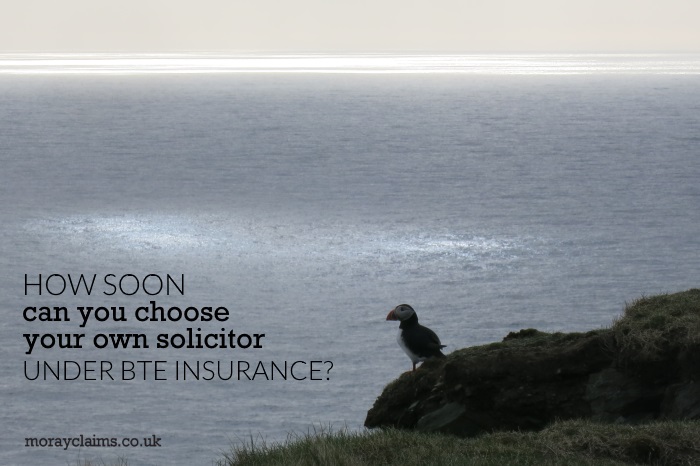 We've covered the topic of Before the Event insurance in other articles.
Before the Event (BTE) Insurance is legal expenses insurance you can choose to take out.
It means that if, for example, you are injured in an accident, the insurance covers the cost of legal advice on the prospects of claiming compensation. It's an alternative to other funding methods such as no win-no fee and legal aid.
One of the friction points of BTE Insurance is that you usually have to use the BTE insurer's own panel solicitor for legal advice in the early stages.
The justification most commonly given is that BTE insurers prefer to use their own panel solicitors for valid commercial and quality-control reasons.
You can't use, say, your own local, specialist solicitor for advice under the policy in the initial stages of advice. (You can still use them for advice, it just won't be under the policy – which may not be a problem, in fact).
The situation changes if it becomes necessary to raise a court action to press home your claim.
The BTE insurer must accept your reasonable choice of solicitor from that point.
The "news" is that the Financial Ombudsman Service (FOS) has changed its guidance about how soon your own choice of solicitor can be covered by BTE insurance.
From the end of 2017, there has been a shift in their position as to the exact point that "raising a court action" cover applies.
You can find the guidance here.
It used to be that cover only came into operation once court action was raised and served.
The solicitor had to do all the preparatory work for court action without the safety net of the insurance.
Ideally, you want to have comprehensive medical evidence in place before you raise court action. You can get away with that, however, because you only have to lodge medical reports which you intend to rely on, at the outset of a court action – and you can't do that if you don't have any formal reports yet. Also, if you are still a long way from being fully recovered when court action is raised, it might not be realistic to get a full medical report yet anyway.
The change in guidance seems to indicate that preparatory work for court action should now be covered by BTE insurers for non-panel, "own choice" solicitors.
In other words, from the point where it's clear that negotiations have broken down – because, say, liability is disputed or an unreasonably low settlement offer has been made – the solicitor you choose (rather than the one the BTE insurer chooses) should be able to be officially "on cover" under the policy.
FOS say that BTE policyholders should be permitted to choose their own solicitors from the point that legal proceedings need to be started. In their words, that is "when negotiations have failed and it has been decided by the lawyers involved that it will be necessary to issue proceedings to progress the legal case."
The guidance from FOS is that they would usually expect the policyholder's own choice of solicitor to be covered to do work involved in preparing necessary court paperwork and any other work needed to raise court action.
Summary
Along with Legal Aid and After the Event insurance (no win – no fee), BTE insurance remains an important method of funding personal injury claims in Scotland.
Each funding option has advantages and drawbacks.
Whilst the point discussed in this article is a narrow one, it is important, as a consumer, to be aware of your right to choose your own solicitor to deal with your personal injury claim under BTE insurance.
How we can help
If you have any questions as a result of this article, please get in touch with us. Likewise, if you have any questions about the personal injury claims services offered by Grigor & Young LLP / Moray Claims.
All initial contact is always free of charge and without obligation.
You can contact our accredited specialist personal injury solicitors – Marie and Peter – via 01343 544077 or send us a Free Online Enquiry.
Make A Free Online Enquiry Now