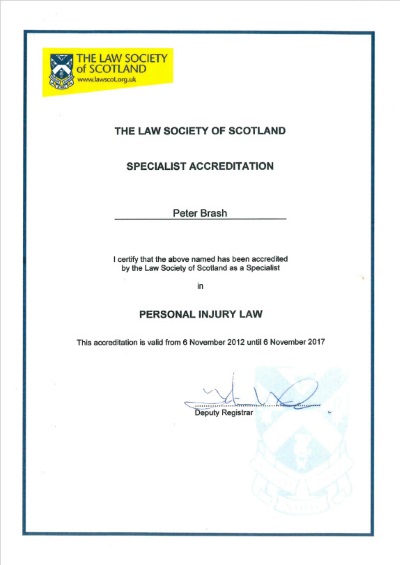 In another article, we saw how proven specialist knowledge in a particular area of law is probably the most important factor when you are looking to get help from a solicitor – assuming you do not already have a solicitor or a good recommendation from a close friend or relative.
In this article, we discuss how best to go about choosing a personal injury solicitor in Scotland.
How to establish a solicitor's 'proven specialist knowledge' in relation to personal injury claims
If you have been injured in an accident and need to make a personal injury claim in Scotland, how do you go about finding a solicitor with the necessary specialist knowledge?
Lots of solicitors' firms – and others who are not solicitors – claim to have the necessary experience and expertise to handle your compensation claim, so what you need is an independent benchmark of excellence to give you confidence that you are trusting your claim to a safe pair of hands.
Law Society of Scotland specialist accreditation scheme
One such independent standard is provided by the Law Society of Scotland's Specialist Accreditation Scheme.  This has been running since 1990.  It is designed to offer recognition to Scottish solicitors who develop specialist knowledge during their careers.  It is also an excellent point of reference for helping you to choose the best-fit solicitor for your claim type, particularly in more complex cases.
There are now around 450 accredited specialist solicitors in the scheme and 28 different specialisms under which solicitors can be accredited (e.g. Employment Law, Family Law and Pensions Law).
The accreditation process for the solicitor involves completing a detailed application form, which includes information about approximately 15 complex personal injury cases which the solicitor has handled in the previous 5 years.  The application is then assessed by a panel of experts and, if successful, the solicitor is awarded the accreditation for a period of 5 years.
Solicitors accredited as specialists in personal injury law
As of December 2013, there were 67 solicitors accredited by the Law Society of Scotland as Specialists in Personal Injury Law. (Medical Negligence Law is considered to be sufficiently different that it has its own category of specialism, separate from Personal Injury Law.)
Some accredited solicitors do not represent claimants, only insurers
Not all solicitors who are accredited as Specialists in Personal Injury Law represent victims of injury.
Some of them are with solicitors' firms whose main personal injury business is to represent the insurance companies against which compensation claims are made.  Firms in this category are: Brodies, Burness Paull, DAC Beachcroft Scotland, Ledingham Chalmers, Mackinnons, Morton Fraser, and Simpson & Marwick.
There are 20 Personal Injury Law accredited specialists with these firms, meaning that there are 47 accredited specialist solicitors for claimants.
Who are the accredited specialists who take on personal injury claims in behalf of injured people?
The firm of solicitors which has the most accredited specialists in personal injury law is Digby Brown, which has a total of 14 spread over 5 offices.  Next come Balfour & Manson and Thompsons with 4 apiece. Thorntons have 3 accredited specialists in personal injury law.
The following firms each have 2 solicitors who are accredited as specialists in personal injury law: Allan McDougall, Anderson Strathern, Harper Macleod, Irwin Mitchell and Lawford Kidd.
These firms each have one solicitor accredited as a specialist in personal injury law: Blackadders, Compensation Lawyers (Scotland) Ltd, Dallas McMillan, Drummond Miller, Grigor & Young, MacLeod & MacCallum, Maxwell Alves, Parabis Scotland, Peacock Johnston, Stronachs and The McKinstry Company.
Most of the accredited specialists in personal injury are concentrated in firms in larger centres of population, such as Aberdeen, Dundee, Edinburgh, Glasgow and Inverness. Indeed, the smaller places with an accredited personal injury specialist – Ayr, Elgin, Kirkcaldy and Livingston – each have only one such specialist per town.
Caution: other indicators of expertise are available
Though it is a helpful method by which you can check whether a particular solicitor or firm probably has the experience and expertise to handle your personal injury claim, the Law Society of Scotland (LSS) accreditation scheme is not the only one.  For example, the Association of Personal Injury Lawyers (APIL) runs a similar scheme – which we intend to discuss in a future blog – and it is fair to say that it is as highly-regarded as the LSS scheme.  APIL is a not-for-profit organisation which helps accident victims by campaigning and lobbying on their behalf.
For whatever reason, some notable Scottish personal injury solicitor firms appear to have decided to ignore the LSS scheme – for example, HBM Sayers on the insurer side and Bonnar Accident Law on the claimant side.
Contact us for help
If you have any questions arising from this blog or need advice in connection with a possible personal injury claim, please get in touch with us.
All initial enquiries are free and without obligation. If we don't think we are the best people to help you, we will tell you and we will do our best to recommend an alternative contact or course of action.
You can phone us on 01343 544077 or send us a Free Online Enquiry. The online enquiry form is a way you can use to ask us to call you back by telephone.
Related Blog Posts