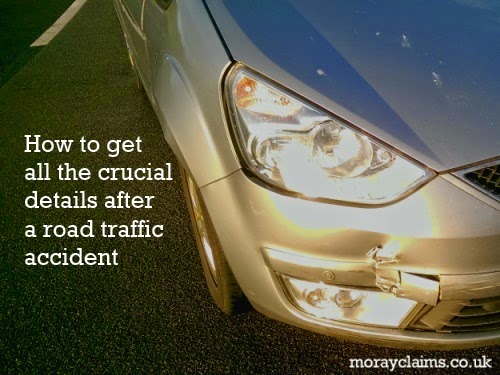 If you're involved in a RTA, there's crucial information you need to get
We were on the main road south.
We had not even made it out of Moray on our journey to Edinburgh.
Accident
A car approached from a minor road which formed a T-junction with our road, on our left.
It should have given way to us but it didn't; instead, it pulled out right in front of us and I could not stop in time.
The front of our car hit the driver's side of the other car, at the rear wheel arch.
I had not been going fast and our speed at impact was probably less than 20 mph.  Nevertheless, it was enough to cause the other car to spin right round, so it ended up facing into the junction it had come out of.
What we did immediately after the accident
I switched off the engine.  I didn't remember to switch on the hazard warning lights but my wife, in the passenger seat, did.
I got out of the car and found the other driver was already out of his car.
We established that both vehicles were damaged but probably still driveable.
In that position, his car was obstructing the road. We were lucky that no heavy lorries, many of which are on distillery-related business, had come on the scene. We agreed he should move his car into the mouth of the junction, where it would be more out of the way.
I had time to take a photo of our car in its post-accident position but the other car had moved before I could include it in the picture.
Two ladies from a nearby house had been in their garden, enjoying the dry, sunny evening. They had heard the bang. They came out to see we were all okay.
No one had any obvious injuries at that time.
I got a bit paper and a pen out of our car and swapped vehicle registration number, name and address with the other driver.
We then each went on our way.
Any important information we missed?
The main thing was that we got the registration number of the other vehicle.
On the other hand, we had another two and a half hours of travel in which to realise we were each a bit sore round our necks and shoulders and to think of other things we ought to have done immediately after the accident, before we left the scene.
I had not got a photo of the cars in the way they were positioned immediately post-accident.
We'd also forgotten to ask either of the ladies if they would be witnesses and, if so, to get their details. (They didn't see the collision happen but they did see the cars in their post-accident positions).
Contacting the insurers
I phoned our insurance brokers the next morning to report the accident.
Their view was that the accident was the fault of the other driver.
We have comprehensive insurance.
Our brokers gave us two options:
Approach our own motor insurers and ask them to take on the repair of the vehicle.Under this option, while our car is being repaired, we will get a courtesy car which will probably be smaller than our own car.Other possible drawbacks of this option were that: we incur the policy excess (£100) and will have to claim that back separately; and, if the policy comes up for renewal before our insurers have claimed back their outlays from the other driver's insurers and the claim is concluded, we may have a higher premium to pay for renewal than otherwise; or
Ask the other driver's insurers to carry out the repairs, in which case we would get a hire car equivalent to our own vehicle while the repairs are being done.
We decided to go for the first option, mainly because, if you deal with your own insurers, you have a much better bargaining position if anything goes wrong.
For example, if you're not happy with the quality of the repairs, you can tell your own insurers that, if they don't sort it out to your satisfaction, you won't be giving them your business when you renew your policy – which you can't use as a negotiating point if you're dealing with the other party's insurers.
Going through our own insurers, we probably get a smaller car than our own while it's being repaired but we reckoned that was not a big enough issue for us to choose the other option.
Action point
This experience highlighted for me that even if, in theory, you "know what you are doing" and what information you should get after an accident, you won't remember everything.
It's a good idea to keep in a handy place – perhaps the glove compartment of your car – a list of the important details you will have to get if you are involved in an accident.
Contact us for further help
If you have any questions about any matter raised by this post, or about any aspect of our personal injury claims services, please get in touch with us.
You can phone us on 01343 544077 or complete and send us an online enquiry form.
All initial enquiries are free of charge and without obligation.