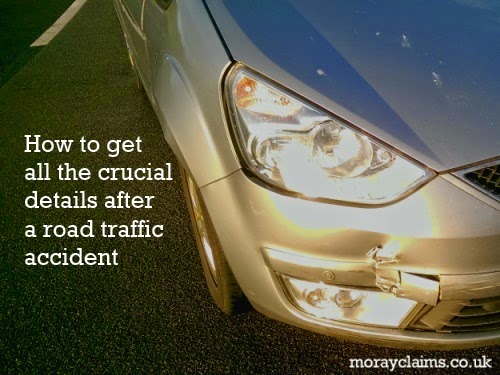 You have been involved in a road traffic accident with another vehicle, which was not your fault.
You have suffered injury as a result.
You need to make a claim for your injuries and other losses.
Motor insurance is compulsory and so the aim will be to make the claim against the insurers of the third party driver. What are the details you need to get from the other party involved in the accident?
Aside from the situation where you are not able to get the information at the scene because you or the other driver is so seriously injured, it can be helpful if you can manage to get:
(most important of all) the registration number of the other vehicle
the make, model and colour of the other vehicle
the name and address of the driver of the other vehicle
the name and address of the insurers of the other vehicle
the policy number or claims reference number for the other party and their insurers.
If the police attend the scene of the accident, do not take their word for it that they will voluntarily pass on to you any of the above details they obtain from the other driver.
Police Abstract Accident Reports
Our experience is that they will often tell you later that they cannot disclose the information other than through "official channels" – which usually means it is necessary for you or your solicitor to write to the Insurance Release section of the Police and pay a fee (typically around £80) for release of what is fairly basic information in a Police Abstract Report.
The cost of the abstract police report is not the main problem.  It can be recouped from the third party insurers if your claim is successful.  The drawback is the delay – with the wait for production of an abstract report at least several weeks and sometimes months.
Why the registration number alone can sometimes be enough
Your solicitor can often track down the insurance details of the third party even with only their vehicle registration number (via the online MID Database), so make a point of trying to get that as a minimum if you are involved in a road traffic accident.
If you have any queries regarding a personal injury following a road traffic accident, please contact us and we will do our best to help you. We are glad to have an initial chat with you, free of charge and without obligation. Get in touch via peter@grigor-young.co.uk  or phone Peter Brash on 01343 564813.