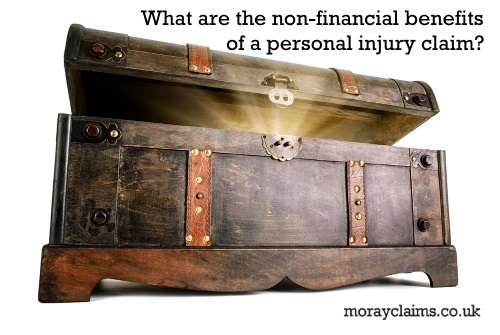 What are the non-financial benefits of a personal injury claim?
Personal injury claims are about compensation for loss. The law measures that loss in money terms, even though some losses cannot easily be valued financially.
It's straightforward to work out the wages you've lost from being off work as a result of your accident. Well, it is compared to valuing your injuries. And how can you put a fair value on a broken arm, let alone the death of a relative, anyway?
In making a personal injury claim, money may not be the most important factor for you. For some people, it's of no importance at all.
The law looks at personal injury claims in terms of money but there are non-financial benefits associated with personal injury claims and it is worth considering them. They might be what persuade you to proceed with a claim where, otherwise, you might decide not to bother.
Better understanding of your injuries, present state of recovery and prognosis
In cases of serious injury, certainly any involving broken bones, your solicitor will get a report from a suitable medical consultant. The medical expert will examine you and have access to your hospital and GP records before preparing the report. The discussion in the report will include:
the nature and extent of your injuries,
the treatment you have received to date,
your present level of recovery, and
what the future probably holds.
If you see a consultant at an NHS clinic, the meeting will be brief and you will not gain much insight into these issues – issues which will be covered in a personal injury claim medico-legal report over the course of several pages. (Some expert reports run to more than 20 pages of A4).
Medical reports obtained as part of your personal injury claim will not necessarily be simple to understand but you can read and re-read a report until it sinks in. You can ask your solicitor about any parts of the report which you find difficult. And your solicitor can go back to the expert for clarification, if necessary.
Access to treatments you might not otherwise have been able to get at all (or within a reasonable period)
As part of your personal injury claim, you are entitled to help with rehabilitation.
Physiotherapy is available on the NHS but waiting times can be lengthy. The overall benefit you get from physiotherapy tends to decrease, the longer you have to wait from the point of injury before physiotherapy starts. Through your personal injury claim, you may get access to private physiotherapy treatment, which can start much sooner that it would on the NHS.
Some treatments are difficult to obtain at all, if not privately.
If you need cognitive behavioural therapy (CBT) or eye movement desensitisation reprogramming (EMDR), as a result of psychological injury, that can be awkward to obtain via the NHS. If your medico-legal expert's view is that you need such treatment in order to get better, you will be able to recover the cost of private treatment as part of your claim.
The same applies in cases of dental injury. If you need reconstructive dentistry or orthodontic treatment, it's not available on the NHS and it will typically cost many thousands of pounds.
One client review we received, containing thanks for a non-financial benefit of a dental injury claim, was:
"Thanks for getting my teeth back for me – it's all I ever wanted."
Avoiding the feeling you get when you wait too long to make your claim and it becomes time-barred
Here's an example.
Ruth (not her real name) suffered a serious knee injury in an accident at the riding school where she worked, when she fell from her horse. She thought she was keeping the three-year time bar period in mind. She was swithering anyway about making a claim, because the operations she had on her knee seemed to be returning her to full fitness. She did not want to fall out with her former boss.
However, when she went to join the armed forces and discovered that her injury precluded her from that career, she decided that that loss was too great to bear and she would claim after all.
She gathered together documentary and witness evidence for the solicitors she instructed. It appeared to be a strong claim on liability.
It looked as though the time bar date was close at hand and her solicitors recovered her medical records as quickly as possible, so they could confirm the accident date. Unfortunately, Ruth was a few months out in her recollection of the date of her accident and it meant that, by the time she consulted solicitors, the claim had already time-barred.
You could say this is about avoiding the financial "penalty" of a lost opportunity to claim but isn't avoiding a feeling of extreme frustration a worthwhile non-financial benefit too?
How we can help
If you have any questions about this article or anything to do with a possible personal injury claim, please get in touch with us.  Initial enquiries are free of charge and without obligation.  We're happy to discuss both the financial and non-financial benefits of a possible claim with you.
Give us a call on 01343 544077 or send us a Free Online Enquiry.