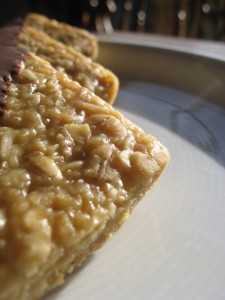 The hysteria that goes along with the so-called "Compensation Culture" is generally nowhere more misplaced than in relation to accidents to children at school. Parents who instruct solicitors to pursue claims for damages for injuries to their children sustained in school will usually only experience disappointment.
That's not say that these claims can never succeed but "health and safety gone mad" tends to crop up a lot in this context.
The standard of care expected of a school is that of the reasonable parent.
Castle View School in Canvey Island, Essex, has reportedly banned triangular flapjacks after a student was struck in the face by one at break time.
Canteen staff have been instructed that in future they must cut flapjacks into squares or rectangles.
A spokesman for the school said: "I can confirm that the texture and shape of the flapjacks were reviewed following an isolated accident last week."
A spokesman for the Health and Safety Executive said, pointedly:
"We often come across half-baked decisions taken in the name of health and safety …
… but this one takes the biscuit."
Critics have pointed out that the new shapes will have an extra corner and so pose an even greater risk of injury. In addition, careful nibbling will still allow production of one of the banned triangular forms (meaning you could eat half and throw half – thus having your cake and eating it). Even worse, cunning students will simply cut their four-cornered missile along the diagonal to produce two weapons for the price of one.
Amidst calls for consumption of flapjacks only to be permitted in future in specially constructed "flapjack cubicles" – and even insistence that porridge is the only solution – the School's website now carries an open letter explaining that it has all been a misunderstanding: "We wouldn't have been silly enough to impose a ban on triangular flapjacks, nor was there ever a food fight."
Local concerns in Moray are bound to centre on the laceration risk from shards of shortbread.
On a more global scale, vegetable samosas are in the spotlight and the mind boggles at the carnage a Toblerone could cause.
Perhaps we just have to accept that everyone loves a cute angle.
How we can help
Injuries resulting from school accidents are often not straightforward. To have the best chance of a claim succeeding, you need to get advice – preferably from a local, specialist solicitor.
If you have any questions arising from this article or regarding any aspect of our personal injury claims services, generally, please get in touch. All initial enquiries are free of charge and without obligation.
Call us on 01343 544077 or send a Free Online Enquiry via this website.