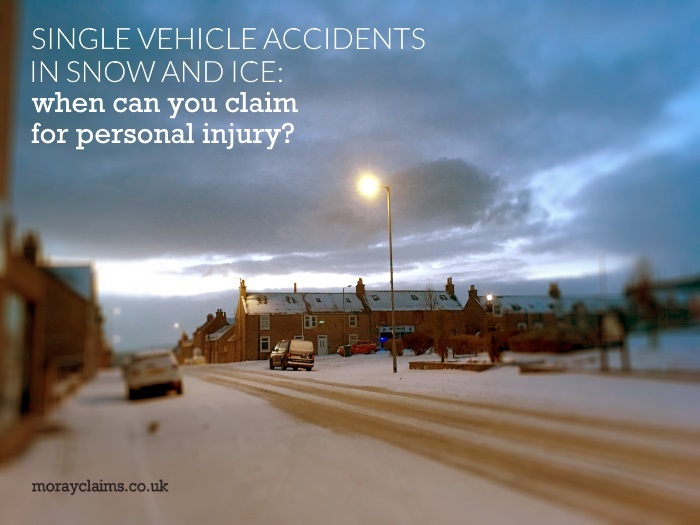 We are back to that time of year when the roads in Moray and the North of Scotland are regularly icy or snow-covered.
In this blog, we are looking at the chances of making a claim for personal injury where, due to the road conditions, you lose control of your vehicle on ice or snow and have an accident.  The fact is these are very difficult claims to make successfully, if you were the driver of the vehicle.
Difficulties for drivers in claiming successfully …
As you will see from what follows, under Scots Law the relevant highway authority will virtually never be to blame for an accident caused by a vehicle skidding on ice or snow.  This puts the onus very much on you as the driver to take great care when driving in such conditions – and even to think carefully about whether you should make your journey at all.
… Though not for passengers
If you are a passenger in a single vehicle accident of that type, you will almost certainly have a claim against the insurers of the driver of your vehicle.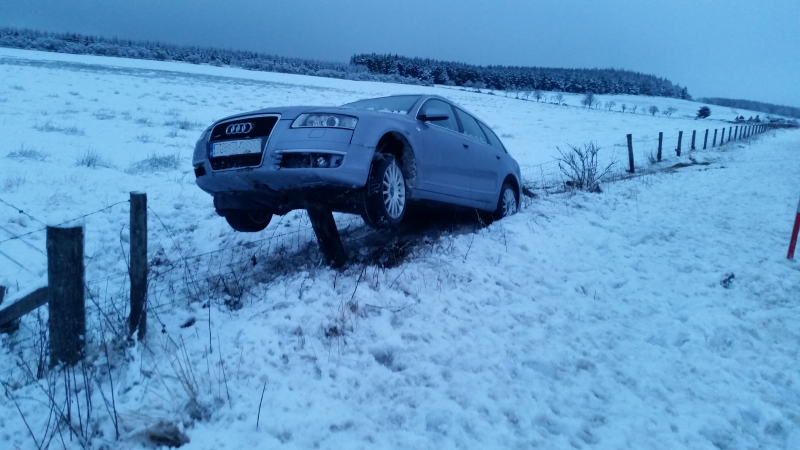 Many people think the roads authority must be at fault if the road was slippery
However, when injured people approach us following an accident in this category, their first complaint is often against the local authority or the body responsible for winter maintenance treatment of the road in question.
Local authorities such as Moray Council or Highland Council are generally responsible for all roads in their area with the exception of trunk roads, which are currently the responsibility of Transport Scotland.  Examples of trunk roads in the North are the A9 (Stirling to Scrabster) and the A96 (Aberdeen to Inverness).
A typical example: Ryder –v- Highland Council
This is a decision of Lord Tyre in the Court of Session from June 2013.
Anne Ryder (36) was driving to her work at Tesco in Wick on the A99 road from John O'Groats on the morning of 09 December 2009.   Sometime before 6am, she lost control of her car when it skidded on a patch of ice.  The vehicle left the road and ended up on its roof in a field.  Anne Ryder suffered fatal injuries in the accident.
The action was raised by her 17-year-old son, Danny.  He claimed compensation in terms of the Damages (Scotland) 2011 (i.e. for grief and sorrow caused by his mother's death and for the loss of such non-patrimonial benefit as the pursuer might have been expected to derive from the deceased's society and guidance if she had not died).
The claim alleged fault on the part of Highland Council on a number of grounds.  Firstly, there was criticism of the Council's failure to pre-grit the road on the evening before the accident.  Secondly, though the A99 was a Priority 1 route in terms of the Council's winter maintenance policy (i.e. "top priority"), that policy did not provide for treatment of such roads between 9pm and 6am.
Danny's claim was unsuccessful.
The judge took the view that Parliament had given councils such as Highland Council a discretion as to how they allocated their limited resources to things such as winter maintenance treatment.  The Court was not prepared to second-guess the operational decisions taken in good faith by Council employees in the circumstances or say that it was unreasonable for the Council to have a system which left Priority 1 routes untreated between 9pm and 6am.
This decision was in line with a case (Taylor –v- Smith) decided in 2003, which involved a claimant with serious personal injuries following a single-vehicle accident due to icy conditions on the A96 just west of Fochabers, Moray.
No one else is responsible but you, if you drive in wintry conditions
No one sets out in wintry conditions expecting to have an accident but there seems to be a perception that, if you skid, crash and are injured, you will be able to make a claim against the relevant roads authority.  In fact, this is far from the truth in most cases.
The law reports are littered with failed attempts by drivers (or their relatives) to claim compensation for injury and death.
If you are faced with the decision whether or not to drive in wintry conditions, be aware that you are unlikely to be able to blame anyone else if you lose control of your vehicle due to the state of the road.  The wisest decision may be to postpone your travel until conditions improve.
The most dangerous time of day is likely to be between late evening and morning rush hour because even arterial routes might not be treated during that period.
Get in touch with us for advice
We hope you have found this article – about the personal injury claims aspects of single vehicle accidents in snow and ice – to be helpful.
If you or a relative have been affected by a road traffic accident involving a single vehicle skidding on ice or snow, get in touch with us for advice.  All initial enquiries are cost-free and there is no obligation on your part to take things further.
Though these cases are difficult, as explained above, every fact situation is different and we can only advise you on your chances of success if we get full details.
Contact Peter Brash or Marie Morrison via 01343 544077 or complete and submit an online enquiry form to us by clicking HERE.