What is APIL Accreditation?
The Association of Personal Injury Lawyers (APIL) is a not-for-profit organisation which fights for the rights of injured people.
It was founded in 1990 by a group of barristers / advocates and solicitors who wanted to see a more co-ordinated approach to the improvement of services for personal injury victims.
APIL has about 3,800 lawyer members, who are committed to acting in your best interests at all times.
They will always give clear and honest advice, keeping your welfare as the top priority. This will include consideration of the best forms of rehabilitation for the injury you have suffered – so you maximise your chances of making a full physical and mental recovery.
Accreditation – recognising experience and expertise
Over the last couple of decades, APIL has become one of the leading lights in the promotion and accreditation of expertise and specialism in personal injury law.
There is an independent Academic Quality Council which oversees the accreditation process. It is well established now, having begun in 1999.
APIL-accredited solicitors are specialists. They are required to undertake continuous training in order to retain their accreditation. This means you can have confidence your solicitor will be up-to-date with the latest developments in the field of personal injury law, often a fast-changing area.
If you don't see your solicitor displaying the APIL logo, you may want to reconsider whether the person or organisation you have consulted is going to be the best choice for you.
It's a bit like the government-backed Trust Mark scheme for tradesmen – a independent quality checker to give you reassurance.
Different levels of accreditation apply to APIL lawyers, depending on their experience and any specialisation within personal injury law (for example, brain injury). The 4 levels of classification are: litigator; senior litigator; fellow; and senior fellow. Only the 3 higher levels (i.e. excluding "litigator") are classed as accreditations.
Marie Morrison and Peter Brash of Grigor & Young, Elgin office, are both accredited by APIL as Senior Litigators.
Corporate accreditation of firms by APIL
Moray Claims is a trading name of Grigor & Young, which has offices in Elgin and Forres.
The Elgin office of Grigor & Young has applied for and been accepted for corporate accreditation by APIL.
Only accredited practices are allowed to display the APIL logo.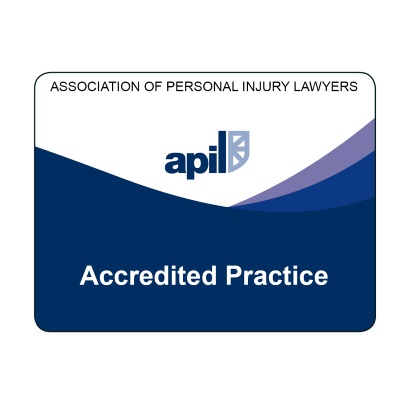 The accreditation process is quite involved and our success in getting corporate accreditation means you know we are both qualified and specialist personal injury claims service providers.
How to get in touch with us for help
If you have any questions about issues raised by this article or about our personal injury services, generally, please contact us.
We – Peter and Marie – are available via 01343 544077 or you can send us an online enquiry form via the Moray Claims website.
Enquiries are free of charge and you are not under any obligation to take matters further.
We will be happy to help – either directly or by referring you onto someone else better-placed – if we can.
Don't forget that –