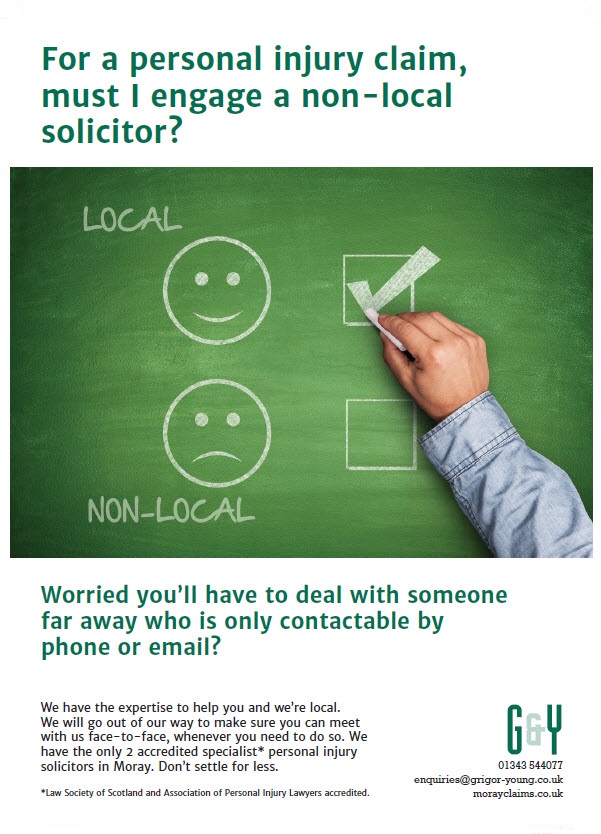 For a variety of reasons, a local solicitor – provided they have the necessary experience and specialism – is the best person to handle your personal injury claim.
If you have suffered a personal injury accident in Moray or if you live in Moray, we can help you.
If you have any questions about any element of our personal injury claims services at Moray Claims / Grigor & Young, feel free to contact us.
You can send us a Free Online Enquiry via this website (it's an online method of sending us an email). Alternatively, you can  phone us. Our accredited specialist personal injury solicitors – Peter and Marie – are on (Elgin) 01343 544077.
We'll help you directly if that's what seems to us to be in your best interests.
But we might refer you on elsewhere, if we think that's an option that's more in your best interests. Our priority is to make sure all people with valid claims get access to the justice they deserve through a solicitor who is best-placed to help them – in terms of location, expertise and experience.
Can a Moray Solicitor help with a Personal Injury Claim?
Yes, we can help you.
Get in touch with us, if we are in the "local" category for you.