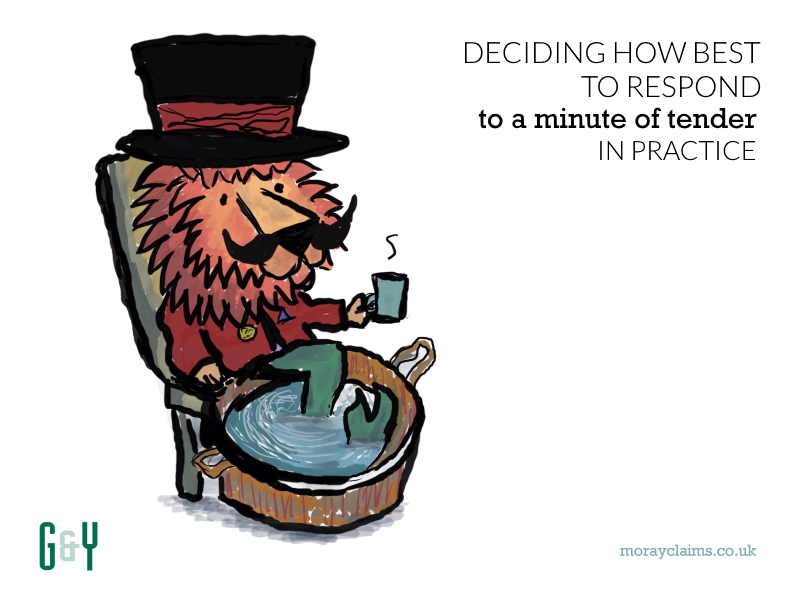 Tea drinking is a national pastime in Nepal.
They have all sorts of teas – sweet, butter, hot, cold, black, white.
The ritual with tea is that, when offered tea, you decline it and your host insists that you have some. No matter how much you say no, they still insist that you have it. So you drink it.
In other words, it's a situation with drink consumption where "no" means "yes". With personal injury court actions, as the claimant, if your opponent offers you settlement via a Minute of Tender, you want to say "no" (because you always want them to make you a better offer). Unfortunately, you might find that however much you say "no", depending on the level of offer, your legal adviser may have to insist that you say "yes" and accept it.
It's one of the situations that can happen with Minutes of Tender.
You think your personal injury claim's worth £20,000 but you've got a formal offer (Minute of Tender) in your court action to settle at £10,000.
Should you accept the offer?
What could possibly go wrong if you don't accept it?
In another article, we've considered what Minutes of Tender are in Scottish personal injury practice.
That included a look at how a well-judged Tender from an insurer can 'destroy' your personal injury claim by drastically reducing the amount of compensation you will receive.
The new regime of Qualified One-way Costs Shifting (QOCS) in Scotland does not provide injured people with a means to bypass the effect of a Tender. You can still expect to face negative costs consequences, if you fail to beat the Tender under QOCS.
In this article, we're going to try and get practical about how you weigh up a Minute of Tender 'in the field'.
Firstly, we'll look at the types of situation where deciding whether or not to accept a Tender is most difficult. Secondly, we'll discuss why Tenders are a great equaliser when it comes to the different ways of funding personal injury claims. Thirdly, and finally, we'll provide a decision framework you might find helpful in getting advice from your solicitor on a Tender – and then deciding the best course to take
1. When is a Tender liable to find your tenderest, most vulnerable spot?
The problem with Minutes of Tender is most acute when you have not only a dispute on the value of the claim but also a dispute about liability.
It might be that the opponent does not accept any responsibility for your injuries at all and therefore their position at a final court hearing would be that your claim should fail completely. The fact that they are offering you settlement via a Minute of Tender reflects the risk that they might be wrong in their assessment and have to pay some compensation to you after all.
Even if it is only contributory negligence which is in issue, this can have a significant destabilising effect.
In some cases, contributory negligence levels are fairly predictable, even 'fossilised'. For example, failure to wear a seatbelt in a road traffic accident collision will not usually result in a finding of contributory negligence of greater than 25% and may even not justify any contributory negligence at all (i.e. you still succeed with your claim 100% even though you were not wearing a seatbelt).
But, in more unusual accident scenarios, where contributory negligence is a possible factor, it can be very difficult to assess whether a judge would put that percentage at, say, 10% or 50% – or higher.
Let's take an example in the hope of making this all a bit clearer.
Consider a hypothetical scenario where the pursuer (the injured person) considers the fair value of their claim to be £20,000.
Say that the defender (insurer) considers the reasonable value to be £15,000 and they lodge a Minute of Tender in court for £15,000.
The range of possible outcomes based on these best and worst values (and other values are available to the judge, of course) could be put into a table like this:
| | | |
| --- | --- | --- |
| 100% Valuation of claim | Percentage Contributory Negligence | Compensation actually awarded |
| £20,000 | 10% | £18,000 |
| £15,000 | 10% | £13,500 |
| £20,000 | 50% | £10,000 |
| £15,000 | 50% | £7,500 |
These are just examples. Other 100% valuations and other percentages for contributory negligence are available, of course.
But we hope you can see how, taken together, the effect of uncertainty in what the 100% valuation should be and uncertainty in what the level of contributory negligence should be gives a wide range of possible outcomes (£7,500 to £18,000) for a relatively small difference in top line 100% valuations (£15,000 to £20,000).
A well-judged Tender is most likely to cause you maximum stress and uncertainty in case where both liability/contributory negligence and the valuation of the claim are in dispute,
2. How the funding method for your claim doesn't really matter once a Tender is lodged
These days, most personal injury claims are probably funded by some form of "After the Event" insurance. Even with legal aid backing, however, once a Minute of Tender is lodged, the considerations are just about the same for all personal injury claimants and their legal advisers.
This is because the question your solicitor is constantly having to revisit throughout your claim is whether reasonable propsects of success exist.
In most cases, "reasonable prospects" are chances of the claim sicceeding of 51% or more.
When there's no Tender in the action yet, the question is whether there are reasonable prospects of you get some compensation as opposed to losing. This is the question that would have been asked before deciding to go ahead with a court action at all, in most cases, so probably nothing has changed.
Once a Tender is lodged, the question is whether there are reasonable prospects of you getting more than the amount tendered if the claim is determined by the court.
If it's a claim worth £20,000, a Tender of £1,000 may not cause you to suffer any doubts that the court would award you more; but if the Tender is for £15,000, while it's still possible you may beat the Tender, it may not be likely. And if it's not likely, your solicitor cannot reasonably advise you to continue with the claim in the light of the Tender.
3. A rough decision framework for categorising the type of Tender you face.
If a Tender has been lodged against you in a court action for personal injury compensation, you may be in one of three situations in the light of the Tender.
The Tender is "too low" and based on your adviser's assessment of the value of the claim and the risks on liability and contributory negligence the offer lies below the likely worse case scenario.
The offer is "in the middle". In this situation, your adviser may say to you that, on a bad day, the court would probably not award you more than is in the Minute of Tender. However, your adviser does not consider that the offer is so high that it means that there are now no reasonable prospects (generally prospects greater than 50%) of beating the offer and therefore they are not going to "force" you (see below) to accept the offer.
The offer is at such a level that it is a "no brainer" to accept it. This would be the situation where your adviser assesses that, in the light of the amount that has been offered in the Tender, the chances that you will beat that offer by means of a judge's decision following a court hearing are less than 50%. As the adviser will have a duty to some other organisation apart from you (e.g. After the Event insurer or the Scottish Legal Aid Board), they will have to advise you to accept the offer. If you are not prepared to accept the offer, it is likely that your adviser will have to withdraw from acting on your behalf.

If that happens, your adviser will have to notify the court and the other party's solicitor that they have withdrawn from acting. The court will give you some time to try to find alternative representation but probably not more than a couple of months at the maximum. Given that you will be trying to get the services of another solicitor in a case where a court action has been raised and a Minute of Tender has been lodged, you will almost certainly find it very difficult to get someone else to take the case on for you. The amount of work involved for them and the risk factors are simply too great in most cases.
Let's move to a summary of what we've discussed in this article.
Summary on Tenders
Remember that in personal injury claims, once a court action has been raised, probably the single most powerful weapon of defence (and counter-attack) that the opponent insurer has is that of the Minute of Tender.
This is an offer which is made to you as the injured person in writing. It offers a definite sum of money for your compensation. It makes it clear whether the offer is inclusive of repayable state benefits or not (usually it is exclusive of these benefits and so the insurer pays back the state benefits in addition to what is paid to you as compensation). It also carries with it an offer to pay the expenses/costs of your legal representatives, as agreed or as assessed according to the court scale which applies to the case (and if not resolved by agreement, the expenses are determined by the court through the Auditor of Court).
The risk to you if you do not accept the offer and you proceed with the action and are subsequently awarded compensation by the court which is less than or equal to the amount in the Tender is that you will be found liable for the court expenses from the date that the Tender ought to have been accepted right up to the conclusion of the case. As the bulk of court expenses accrue in the later stages of the case when there is the preparation for and the taking place of the final court hearing, even though some of the expenses earlier in the action may be awarded in your favour, there will almost certainly be a net deficit in expenses which you will have to pay.
Predicting the actual financial outcome in practice where a Minute of Tender has not been beaten for the claimant is extremely difficult to do in the abstract. It is enough to say that it is a bad outcome and can be a disastrous outcome, financially.
This is why a Minute of Tender is such a powerful weapon for insurers.
In just about all cases, the situation is made more complicated for the claimant because their solicitor must take into account not only their interests but also the interests of whatever organisation is funding or underwriting the claim against the risks that it will fail and there will be a contrary finding of expenses. In no win-no fee cases, this other entity will be an After the Event insurer. In legally-aided cases in Scotland, it will be the Scottish Legal Aid Board.
If you are discussing a Minute of Tender with your solicitor, you need to know clearly what your position is in relation to liability and whether there are any complicating factors because liability is denied or because contributory negligence is alleged. You also need to know what your solicitor thinks is the "realistic" valuation of your claim if it goes to court. It's only by knowing these two factors and "multiplying them" that you can work out where the offer in the Tender lies on the continuum between your best and worst case outcomes. This then gives you and your solicitor a basis upon which to assess whether the offer in the Tender is one which needs to be accepted or not. Get yourself a strong cup of tea and carefully ponder the offer and the legal advice you have received in order to come to what is hopefully the right decision.
How we can help
Tenders are a difficult topic and they're not east to explain in the abstract. It can be much easier to explain in the face of a concrete example appearing in your court action. But that's a bit late in the day to learn about Tenders from scratch. That's why we wanted to give this explanation so you know about them – even just the basics – well in advance of when it actually matters.
If anything in this article is unclear, feel free to contact us. We'll be glad to answer your questions. All initial enquiries are at no cost and without obligation.
If you have any questions, you can call us on 01343 544077 or you can send us a Free Online Enquiry.