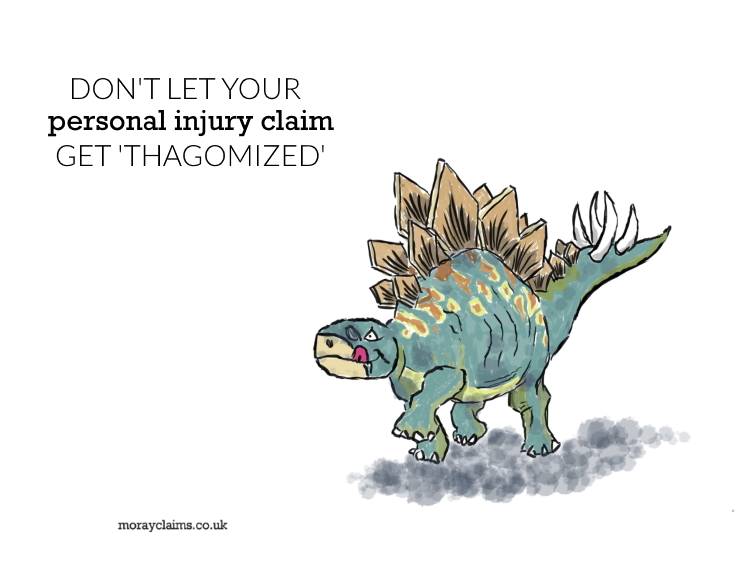 Do you know what a thagomizer is?
The thagomizer is an arrangement of 4 to 10 spikes on the tails of dinosaurs such as the Stegosaurus.
The pointy bits provided a defensive weapon against predators.
Stegosaurus was a herbivore.
With a toothless beak and small teeth, it was not designed to eat flesh.
Legendary cartoonist, Gary Larson, coined the term 'thagomizer' in his 1982 image of a caveman giving a PowerPoint presentation to colleagues and telling them it was so-called "after the late Thag Simmons".
Poor Thag.
'Thagomizer' has come to be adopted as an informal anatomical term. It's used on the Stegosaurus display at the Smithsonian Institute in Washington D.C.. Clearly, Stegosaurus had a mighty sting in the tail, if required.
Personal injury claims can have a sting in the tail too, if you don't watch out. The cruel defence is one of 'delay'.
Wait too long and your claim will become unenforceable and lost forever.
As we have discussed elsewhere, the usual time limit for personal injury claims is 3 years from the date of injury but it can be less than that. We're writing this article under lockdown conditions but the general message about delay never changes. It's never too early to call your solicitor about a personal injury claim but it can be too late.
We'll consider 3 reasons why you should get advice now and not delay any longer if you think you might have a claim. Firstly, there's the available time you may have now. Secondly, there's the available time your solicitor may have now. And, thirdly, there's the time you and the solicitor may not have later. (That's maybe 4 reasons).
1. The time you may have to do something now.
You may be off work at present. Perhaps you're furloughed or on reduced hours. You may have the time to do something about a possible personal injury claim now, if you've been putting it off.
Doing something sooner rather than later makes sense. What happened to cause your injury will be fresher in your memory. There's more time now before the time bar than if you wait longer to get advice.
2. The time your potential solicitor has now.
Solicitors are usually working flat out. The lockdown is not necessarily leaving them with nothing to do (yet) because there's a fair bit of catching up to do with outstanding work.
Nevertheless, many solicitors will have more time than usual. This is a good time to get in there with your case and get it looked at.
The current social isolation conditions may make some aspects of accident investigation more difficult or even impossible. But if you consult a local solicitor, their local knowledge may be more than enough to get the ball rolling.
Road accident circumstances can be clarified using screenshots from Google Streetview, for example. If your solicitor has local knowledge, they'll easily understand which vicinity you were in at the time and the appropriate locus photos from the internet can help to fill in the details.
3. The time you won't have later.
Eventually, we will get back to normal – maybe a new 'normal'. But we'll all have less time on our hands.
Personal injury solicitors deal with civil court work. The Sheriff Court system is log-jammed at present. When things start moving again, there will be a backlog to clear and it will become overwhelmingly busy for solicitors again. We're in a trough at the moment but, at the tail end – like with the Stegosaurus – there will be a 'spike' (a spike in activity).
You'll be busier and have less capacity to move a personal injury claim forward. So will the solicitors who might otherwise take on your claim.
Here's an example of how this can play out in practice.
We spoke to a lady from the North East of England days before lockdown. She made an enquiry via our website. We could not help her directly because her road traffic accident had happened in England. By the sound of it, she had a strong case. The other driver involved in the accident was the one to blame.
She'd already spoken to several other solicitors. No one was taking on her case. There was desperation in her voice. The third anniversary of her accident was less than a week away. The courts were already moving towards reduced service. It was too risky for any solicitor to take the claim on because of the lack of time to investigate it properly and the solicitors' likely fear that the claim might time bar in their hands.
We gave her a few ideas for local solicitors she could try – all listed in the APIL membership directory. But she was probably too late.
You don't want to be in the same position as the lady we spoke to.
It's gutting for a solicitor to see a perfectly good claim destroyed by a delay in getting advice.
How much more devastating is it for the injured person who does not get the compensation they need, for example, to make good the wages they lost, recoup their out-of-pocket expenses and help get their life back on track?
How we can help
We've been encouraging you here to take the first step in getting advice about a possible personal injury claim sooner rather than later. In particular, try to see what's going on in the world just now as an opportunity to get things moving when others may be stalling.
Should you have any questions at all, please do not hesitate to get in touch with us. We are keen that the information on this website should be as full and clear as possible. Questions help us to keep the information on this website under review, for everyone's benefit. You can contact us by phoning 01343 544077 or send us a Free Online Enquiry.
If you want to enquire about our personal injury claim services, remember that you can get a free case assessment from us by making contact in the ways described above.
Where a Free Case Assessment is something which would be helpful to you – and that we would be local, specialist solicitors from your point of view – please make a Free Online Enquiry via this website or phone us up.
Let a local, specialist personal injury solicitor get started on the process of investigating and formulating your claim. Don't let your personal injury claim get thagomized!
See th article HERE, if you want to understand more about what will actually happen if you get in touch with us about making a personal injury compensation claim.
You can call us on 01343 544077 or send us a Free Online Enquiry.
Make A Free Online Enquiry Now
Thank you to Moose Allain on Rule of Three Podcast for providing the inspiration for this article.