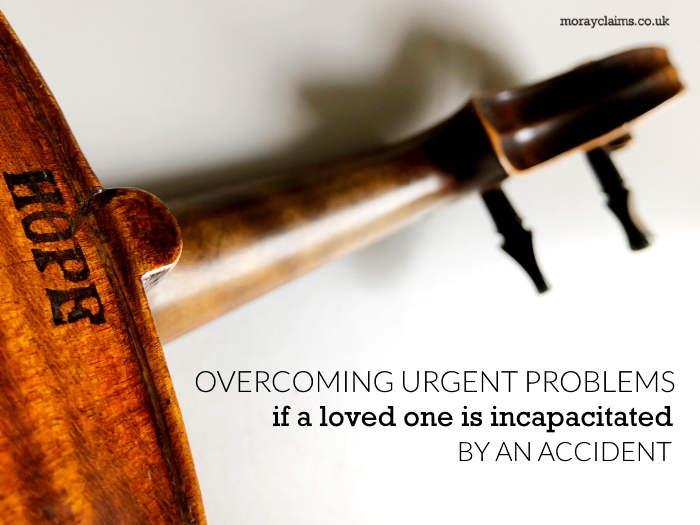 When someone is seriously injured in an accident, the effect does not stop with that person.
In order to get a person's life back on track after an accident, their family may need a lot of support too.
Problems can pile up quickly.
If the injured person is incapacitated – maybe in a coma – the rest of their family may soon be in crisis. How are your bills going to be paid? How are your children going to cope?
Particular issues which can cause overwhelming strain include the inability to get access to the incapacitated person's bank account in order that the day-to-day running of the family household can be maintained.
These are problems you can plan for.
And, even if you have not planned, there are still things you can do to overcome the difficulties.
In this article, we'll look at what you can do to plan for unexpected events such as this. We'll then go on to look at what options you have to recover the situation if you need to try to sort things out after such a drastic event has happened.
Planning ahead for sudden incapacity is easy to do.
In Scotland, what you need is a power of attorney.
You can grant a power of attorney at any time from age 16.
There are two types of power of attorney.
A continuing power of attorney relates to the property and assets or financial affairs of the granter.
A welfare power of attorney relates to the personal welfare of the granter.
A power of attorney may contain both continuing and welfare powers.
Granting a power of attorney can mean that families will avoid the difficulties that can arise when an individual loses capacity. In such circumstances, if no power of attorney is in place, the financial and business affairs of the client can be impossible to manage.
If a loss of capacity is permanent then the family of that person will have to go through the complicated, long-winded and potentially expensive process of having a financial guardian appointed. This can be avoided if the person has granted a power of attorney.
The granting of a power of attorney allows quick and appropriate intervention on behalf of the person.
The granting of a power of attorney is a protective step. It provides protection against the type of incapacity that can emerge suddenly as the result of an injury.
The document need not come into effect immediately and can be postponed until the granter has lost capacity. Where required, a clause to that effect can be included in the power of attorney itself.
A power of attorney can contain very wide powers.
In general, you should not appoint another person to act under a power of attorney unless you fully trust the attorney, so there is no point in giving only restricted powers to the attorney from the outset.
Sorting things out if there's no power of attorney in the circumstances.
In most cases, there won't be a power of attorney to fall back on.
So what can you do if someone close to you is incapacitated as a result of an accident and this has a knock-on effect on the management of their affairs – and possibly your affairs too?
If you are experiencing difficulties in getting access to money, it can be helpful to speak to the bank or building society directly.
Banking institutions have teams which are devoted to assisting customers and their families with unexpected events, including illnesses, debilitating injuries and bereavement. For example, Halifax and HSBC.
But this may not be enough.
And if the injured person's incapacity looks like it will last for the longer-term, you may need to apply for a guardianship order.
You could say that the main purpose of granting a power of attorney is to ensure that the family of a seriously injured adult are not forced to resort to applying for guardianship.
Guardianship involves court proceedings in the Sheriff Court.
It is long-winded and can be expensive (though legal aid is currently available for guardianships where there is a welfare element, without reference to the parties' means/finances).
Guardianship is the least favourable way of seeking to secure intervention in the finances or the welfare of an incapable adult but for many people it is the only option.
Where an application is made for guardianship and the sheriff considers that the lesser remedy of an intervention order would be appropriate, he or she may grant an intervention order instead of a guardianship.
An intervention order lasts for as long as it takes the intervener to conclude the matter authorised by the court to be carried out on behalf of the adult. Intervention orders are designed for specific and short-term actions. Where an intervention is likely to continue for a longer period of, say, a year or more, a guardianship order will be more appropriate.
A power of attorney is a much better option than having to rely on the guardianship procedure.
A guardianship is reactive, in the sense that it is put in place only when it is too late to do anything else. A power of attorney is proactive in anticipating incapacity in the future – and it is done under the control of the adult themselves.
Getting help from a solicitor.
We hope this article will help you see options for overcoming urgent problems if a loved one is incapacitated by an accident.
With many of the worries we've mentioned relating to finances and support, a solicitor can help you sort things out.
If necessary, as discussed above, a solicitor can help you with applying to be appointed the decision-maker for an injured person.
Also, if the injured person's injuries were caused by someone else, you might be able to start a claim for compensation for the injured person and get an early ('interim') payment of compensation to help with immediate life expenses and 'running costs'.
The Association of Personal Injury Lawyers has a Severe Injury Help Hub on its website which covers many of the matters we have discussed in this article.
If you have any questions, you can call us on 01343 544077 or you can send us a Free Online Enquiry.
The article HERE has more information, if you want to understand more about what will actually happen if you get in touch with us about making a personal injury compensation claim.