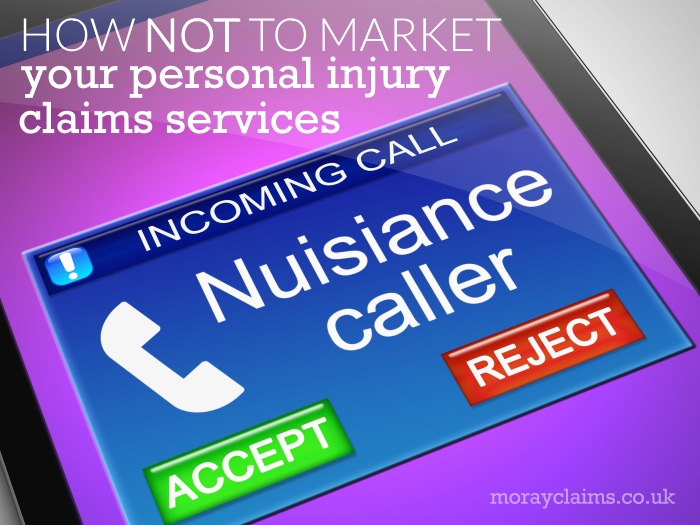 That's right.
You don't spell it "nuisiance".
But spelling mistakes in stock photography are not regarded as a nuisance at Moray Claims. They brighten our day.
Anyhow…
Like all businesses, law firms must market their products and services.
In the end, it all comes down to trust. Having a website with a wide range of educational information is part of the process of encouraging you to get to know, like and trust the solicitors (or other legal services provider) marketing their services to you online.
Beyond that, the first impression you get – when you pluck up the courage to contact a solicitor – will be important to you.
Most websites have contact forms you can fill in and submit.
Should you choose to make contact by phone, however –
How long does it take for the telephone to be answered?
How long will it take for your call to be transferred to a solicitor who might actually be able to deal with your case?
One thing which comes up repeatedly in advice to solicitors about having welcoming front line staff adds the following question to the above:
How aggressive is the receptionist in dealing with your new client enquiry?
Believe it or not, that question is for real. How confrontational is your receptionist's manner?
Aggression – or, at least, impatience – can be the impression you get, for any number of reasons.
For example –
because you don't have an existing client reference number,
because your enquiry is not easily categorised or
because there is not a solicitor immediately available to speak to you.
Clearly, no law firm wants you to have a negative experience – especially a negative first experience – if you get in touch with them. (We don't consider our receptionists at Grigor & Young / Moray Claims to be capable of aggression).
But at least you're in control of the situation to the extent that you're making the choice to contact them. They're not cold calling you; solicitors do not cold call.
Many solicitors campaign against cold-calling of possible personal injury victims.
We've reported elsewhere on The Association of Personal Injury Lawyers' ongoing "Can the Spam" campaign.
When you consider how undesirable aggressiveness is, in a marketing context, the decision of the Information Commissioner's Office (ICO) in the case of Oaklands Assist (a Claims Management Company – i.e. not solicitors), dated 26 September 2018 is an eye-opener.
Oaklands Assist, based in Manchester, first came to the attention of the ICO in 2017.
They were making cold calls to people who thought they had opted out of this spamming by registering with the Telephone Preference Service.
Details from the complaints referred to the caller being "extremely abusive".
They also mentioned the caller using "profane language when hanging up".
Another person who complained said that the caller had refused to give any information about how they could make a complaint about being continually subjected to these nuisance calls. The caller "said I lived a sad life if I wanted to complain about him trying to help me!"
We could scarcely believe the next complaint, it's so extreme.
One complainer explained the three options their cold caller had given them in order (possibly) to bring the barrage of calls to an end –
Say they had suffered an injury and use Oakland Assist's personal injury claims services
Change their phone number, or
Continue to be harassed by them.
The ICO's investigations revealed that approaching 250,000 cold calls had been made from Oakland Assist's telephone number in a period of just over 2 months (May to July 2017). Over 60,000 of these calls were made to people who had registered with TPS. There was a total of 59 complaints to TPS/ICO.
The ICO decided to impose a monetary penalty in this case.
The Commissioner considered that the making of unsolicited direct marketing calls is a matter of significant public concern.
Accordingly, she wanted the level of fine to act as a deterrent against non-compliance. It was important that businesses understood the importance of only telephoning consumers who are willing to receive such calls.
The fine was in the sum of £150,000. (The maximum fine the ICO can impose in these circumstances is £500,000).
This report illustrates that the ICO will take definite action against businesses which indulge in aggressive direct marketing in the personal injury claim space.
It seems that Oakland Assist were obstructive as regards the ICO's investigation. No doubt seeing the way the wind was blowing, the company ceased trading and the ICO had to take steps to prevent the company being struck off the register of companies before the fine was imposed.
If you want to report spam texts or nuisance sales calls…
You can do that via the ICO website.
How we can help
We try to follow best practice advice in marketing our personal injury claims services by providing information and explanations about the whole range of issues associated with personal injury compensation claims.
It's not reasonable – or permitted – to ambush potential claimants and then "persuade" them to claim by beating them into submission. Apart from anything else, that approach will only rarely work, if ever, so what's the point?
If this article has raised an questions for you, we'd be glad to hear from you. All initial queries are at no charge and without obligation. In many cases, our services are completely free of charge anyway.
Remember that it's our aim to make the content of this website as comprehensive and helpful as possible. Your questions help us to identify ways in which we can review and improve the quality and breadth of the information on this website. Please get in touch and ask!
You can contact us by telephone on 01343 544077 or send us a Free Online Enquiry.