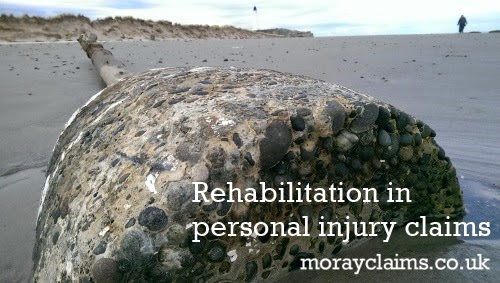 Rehabilitation can help you recover more completely and more quickly following an accident
Personal injury claims are about money.
The purpose of the process is to put you, the injured person, back in the same position you would have been in if the accident had not happened – as far as that is possible through money alone.
We know from research that, in many cases, rehabilitation can help injured people recover more quickly, improve their quality of life and get them back to work more quickly.
This means that rehabilitation can be a key factor in getting an injured person back to the state they would have been in were it not for the accident.
Where rehabilitation has to be paid for, the cost can generally be recovered as part of the compensation, provided it is reasonable.
When is rehabilitation appropriate?
It can be helpful in relation to both physical and psychological injuries.
If you have a whiplash injury, you may benefit from a course of physiotherapy.
In more serious cases, for example, involving loss of a limb, rehabilitation may include the need for a prosthesis.
Psychological injury can include things like travel anxiety following a road traffic accident, clinical depression and Post-Traumatic Stress Disorder (PTSD).
Treatments such as Cognitive Behavioural Therapy (CBT) and Eye Movement Desensitisation and Reprocessing (EMDR) can be helpful here.
Where there has been a traumatic brain injury, that person may struggle to live an independent life and rehabilitation may allow them to learn new skills and coping strategies.
Help may be required for the family and friends of the injured person in having to adapt to a "new" loved one, perhaps with reduced physical capacity or altered personality, so they can assist in maximising the benefits of rehabilitation.
The Rehabilitation Code of Practice
The Rehabilitation Code, intended to place rehabilitation at the forefront of the claims process, first came out in 1999, following a joint initiative between the insurance industry and groups representing the interests of claimants, including APIL.
The aim of the current version – the 2007 Rehabilitation Code – is to encourage "rehabilitation and early intervention in the compensation process so that the injured person makes the best and quickest possible medical, social and psychological recovery."
That objective remains number one, irrespective of the severity of the injuries.
By setting out a collaborative approach between the injured person's solicitor and the compensator (usually, an insurance company), the aim is to make sure that any need for rehabilitation is considered and acted upon as a matter of priority.
The Scottish Voluntary Pre-Action Protocol contains style "first" letters for solicitors to use when making personal injury claims and these contain a section in which the solicitor is meant to identify whether the client is still recovering from the effects of the injuries and, if so, whether they might benefit from rehabilitation.
This alerts the insurer to the possible need to address rehabilitation issues at the earliest possible stage.
When is rehabilitation provided?
In practice, whether an insurer will provide access to privately-funded rehabilitation will often depend on the severity of the injuries and an assessment of liability.
If the insurer does not accept liability to pay compensation for the injuries, they are unlikely to be willing to pay for a needs assessment by a private rehabilitation provider and any recommended rehabilitation treatment.
Your solicitor will try to get the insurer to pay to have you assessed and treated, if possible, but you might have to rely on your GP and the NHS to provide the help you need, at least in the first place.
Clearly, this is not ideal, given that it may be several weeks after a whiplash injury before your GP decides your recovery has stalled and needs some external help and, once a referral for physiotherapy is made, you could wait many more weeks for treatment to start.
All the while, your whiplash symptoms are not improving and, with the delay, any treatment, once started, is likely to be less effective in helping you recover than it would have been if it had started earlier.
Contact us for help
Get in touch with us if you have any questions about rehabilitation or any other aspect of personal injury claims.
We'll be glad to deal with your enquiry – all initial contact is free of charge and "no obligation".
You can contact Peter Brash or Marie Morrison via 01343 544077 or by sending us an online enquiry form.