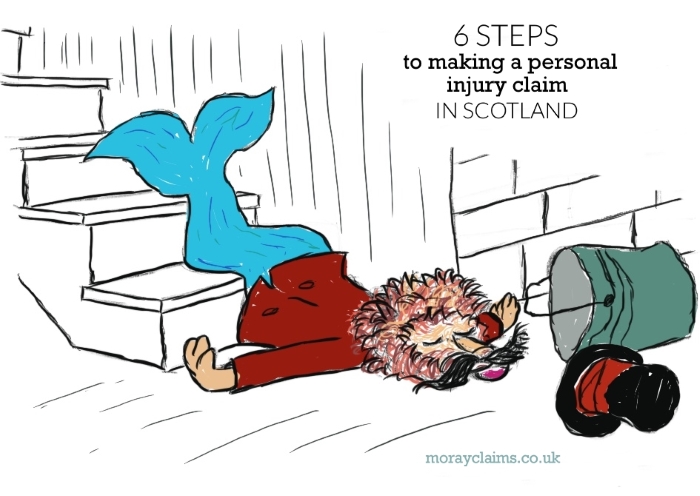 How difficult can it be to send a letter to County Cork in Ireland?
Flor McCarthy of McCarthy & Co, Solicitors, in Clonakilty, Co. Cork is a marketing wizard when it comes to legal services. We sent him payment for a book he had mailed to us at our request.
But the Euro notes we posted to him did not arrive. And still they never arrived.
He probably thought this was a standard trick employed by Scottish solicitors; we thought someone must have intercepted and pocketed our cash payment (of course, embarrassingly, a method of payment we would never advise anyone else to use).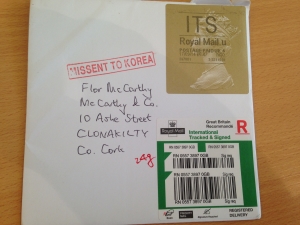 Fortunately, Flor did eventually receive his money, which had gone on a round-the-world trip in the meantime. The envelope bore the stamp "Missent to Korea".
Who knew you could get a ink stamp that says that? (We're now thinking of getting one for the office).
Sometimes "simple" things can become complicated. Personal injury claims can be complicated but, for the purposes of this article, we are going to try and make them simple.
We will set out the basic steps involved in making a personal injury compensation claim in Scotland.
Here they are, with links to other articles on this website which will help you add flesh to these bare bones:
Intimate the claim: You send an intimation of claim letter to the other side, calling on them to accept responsibility for your accident and to make proposals to compensate you for your injuries and other losses.
Insurers' time to investigate the claim: The other side (or their insurers, if they have them) typically have about 3 months within which to investigate your claim and let you know whether they will deal with your claim. In some cases, a compulsory protocol sets that period of time. Nevertheless, 3 months is a good rule of thumb for what is a reasonable length of time for this stage.
Will they settle your claim or not? – You find out whether liability is to be admitted or not – i.e. whether they will settle your claim voluntarily. If they will, you can continue to negotiate with them; if they won't, you will have to decide whether or not to raise a court action so as to keep going with your claim.
Getting medical evidence together: Whether your claim is having to go to court at this point or not, you will need to get some medical evidence if you are going to be able to put a value you on your injuries (and the rest of your claim). In all but the most minor injury cases, it is best to get a report from a specialist doctor. They will need to see your relevant medical records as well as examine you.
Finalising the claim by agreement: In the "negotiated settlement" scenario, you will use the medical report to help you place a value on your claim and then put that to the insurers. Typical elements of such a claim under Scots Law would include: pain and suffering for your injuries (solatium); wage loss (past and maybe future too); services; and miscellaneous expenses. In the "court action" scenario, provided time allows, you would get your medical evidence in place first – before raising the action – because it often takes longer than you expect and that can create timing problems with the timetable for a court action, if you raise the court action first of all.
Will you have to raise a court action? – Even if the insurers have agreed to negotiate settlement in your case, you might still end up needing a court action if you cannot agree on the value of the claim. If liability is denied, you will need to raise a court action anyway. That's when you get your court writ warranted and you serve it by some form of registered post, hoping it does not end up in Korea. Even if you have to raise proceedings, your claim may well settle by negotiation (some call it "litigotiation") before it gets to a hearing at which you have to give evidence as a witness. Most injured people are keen to avoid having to appear in court – though that may not be you.
Summary
For the purposes of this article, we split a personal injury claim into six steps (though you might not need all of them):
First, tell the other party about your claim.
Second, give them and their insurers the chance to investigate and decide whether they accept responsibility to pay compensation to you.
Third, find out if you'll need to raise a court action or not.
Fourthly, get your medical evidence so you can value your injuries and all other parts of your claim.
Fifthly, negotiate settlement if you can, without a court action.
Sixthly, if you're not going to get a reasonable settlement by negotiation alone, raise a court action – still hoping for an agreed settlement but preparing your case fully, to be decided by the court if necessary.
How we can help
We hope it was some help that we broke this down into 6 steps to making a personal injury claim in Scotland.
Should you think a free case assessment is something which would be useful to you – and that we would be local solicitors from your point of view – please send us a Free Online Enquiry.
The sooner someone gets started on the process of investigation and analysis of your claim, the better.
Call us on 01343 544077 or send us a Free Online Enquiry.