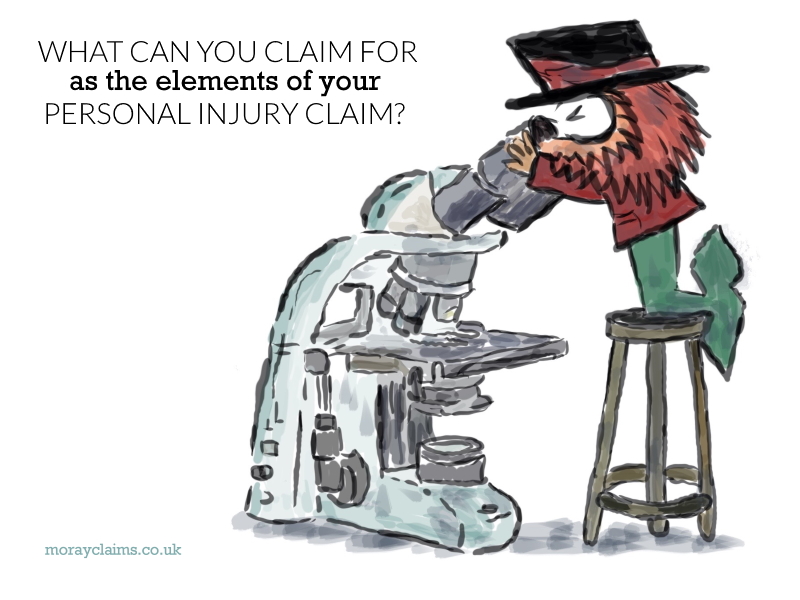 The style of lettering you use for words can have life and death consequences.
Research by the AgeLab at Massachussetts Institute of Technology (MIT) has noted how car dashboard interfaces, if designed correctly, should minimise the amount of time the driver has to spend looking at them.
The longer you take to work out what's on the screen, the less time you're looking at the road.
Some typefaces are rigid and uniform. Their letters and numbers can look highly similar to each other.
But other typefaces have much more open spacing and varied letter shapes. These latter fonts can shave precious milliseconds off the time drivers spend looking away from the road.
Getting this form of visual communication right is important because the consequences for vehicle travellers' safety could be serious. With personal injury claims, one thing you need to get right in order to avoid potentially serious consequences is the valuation of the claim.
With personal injury claims, your compensation is usually assessed on a once-and-for-all-basis.
In other words, you must "get it right first time"; you can't go back later and ask for more.
That's primarily why getting it right is so crucial. In the vast majority of cases, you don't get a second bite at it. Claim under-valuation is a serious consequence which you can rarely correct once the claim is settled.
Valuing a personal injury claim usually involves two main elements.
Solatium (for your injuries), and
Patrimonial loss or special damages (for your consequential financial losses, following upon the injuries):
Solatium is compensation for pain and suffering.
Also for loss of faculty, loss of the amenities of life, or shortened expectation of life.
Its the amount which a judge or jury believes is reasonable to compensate you, the victim, taking into account the particular injuries and the general range of previous court awards.
Previous court awards for solatium provide broad guidance.
They are not binding authorities. No two cases are ever exactly the same, anyway.
If you would like a flavour of the levels of awards that apply in different circumstances, see these on:
All claims require a medical report by a suitably qualified practitioner which details the injuries sustained, medical treatment received and the likely prognosis, to include opinion on future capacity for work where relevant.
Guidance as the proper amount for solatium can be obtained from publications such as Kemp & Kemp on Damages (for England and Wales caselaw) and McEwan & Paton on Damages (for Scottish caselaw).
In addition, the tariffs contained in the English Judicial College Guidelines are commonly referred to by judges and solicitors in Scotland.
The trial judge has a lot of power and discretion in relation to solatium.
It's very difficult to appeal an award of solatium successfully. An appeal court will not overturn a judge's valuation unless it is outwith the range of reasonable awards.
For example, in one case dating from 1994, an award which was only two-thirds of a reasonable award entitled the appeal court to set the judgment aside.
Solatium covers both past and future losses.
Past loss should be shown on a balance of probabilities. In other words, if you can how the loss as more than 50% likely, it's taken to be proved.
Future medical problems do not require to be proved on the balance of probabilities. Instead, the court must do its best to set a 'once and for all' value on the risks and contingencies based on the available evidence.
The claim for patrimonial loss or special damages relates to particular financial losses, expenditure and outlays.
Past wage loss is proved by establishing the net pre-accident wages details. You calculate the net wage loss caused by absence due to the injuries – then subtract any sick pay received – to obtain the net loss.
In some cases, it is a term of a contract of employment that sick pay is repayable to an employer, in which case it should be recovered where the claim is against a third party (i.e. not where the compensation claim is against the employer).
Future wage loss claims depend on the court's assessment of the injured person's employment prospects.
This turns on whether the injured person is likely finished with working for the rest of their life or whether the continuing effect of the injuries will just reduce their future working capacity.
Where there is permanent injury and incapacity with no prospect of the injured person being able to return to work, the approach is to establish a "multiplicand" and a "multiplier".
The multiplicand is the likely net wage at the date of the proof. This can be obtained by reference to wages details of a comparative employee.
The multiplicand is multiplied by the multiplier. The multiplier is the number of years' purchase required to create a lump sum for compensation of the future loss.
It requires consideration of life expectancy and "date of retirement" issues and is calculated using actuarial tables called the Ogden Tables.
In cases where the level of future impairment is less clear, the court may award a lump sum for loss of employability or disadvantage on the labour market.
This will almost certainly mean less compensation than the muitiplier/multiplicand approach.
Where there is a permanent incapacity which restricts but does not rule out any further employment, the courts have often awarded a lump sum based on two to three years' net loss of earnings.
A loss of employability award can be made where the injured person is in employment at the date of proof (trial), but the injury would put them at a disadvantage if they had to apply for work on the open labour market.
Pension loss can also be claimed.
Where the injured person loses pensionable employment there is a loss under this heading.
It must be calculated as a lump-sum award. It is based on the actuarial valuation of the future loss of the employer's contribution to the fund and other associated benefits.
Actuarial evidence will be needed to calculate a reduced future lump sum or annual pension payment losses.
Claims for services in respect of relatives of the injured person can be claimed.
This is in terms of Sections 8 and 9 of the Administration of Justice (Scotland) Act 1982.
Under Section 8, it's about services provided to the injured person; under Section 9, it concerns services provided (or which would otherwise have been provided) by the injured person.
Section 8 claims.
Where "necessary services" have been provided by a relative (Section 8), the responsible person has to pay to the injured person reasonable remuneration for the relative, in the absence of an express agreement by the relative that no payment should be made in respect of those services.
The claim relates to past and future services.
'Relatives' are defined broadly and include cohabitees and in-laws. 'Services' typically will mean hospital visits, assistance with washing, dressing and other domestic tasks.
Where the services were provided over a brief recovery period, the court will tend to make a modest lump sum award.
Where significant or continuing help is provided to the injured person by relatives, the court will expect evidence to be led on the weekly time spent by the relative, together with details of analogous charges for such services on the open market.
Section 9 claims.
Under Section 9 of the Administration of Justice (Scotland) Act 1982, it's a matter of analysing services that are provided to an injured person's relative. A claim arises where the injured person is unable to perform these services. A reasonable sum is payable by way of compensation.
Standard examples include gardening, DIY, home decorating and maintenance (e.g. of cars or appliances). A court will expect to see some evidence of comparable tradesperson rates.
You also have to remember that only the labour element (and not the materials – which would have been used in any event) can be claimed.
In cases of the most serious injuries, services may be provided by a relative or a professional carer, or both. A specialist Cost of Care report will be required. It will consider and value the care provided to date and set out a care plan for the future.
As a catch-all, there's also the opportunity to claim for various other financial losses.
Perhaps the best way to think of this is costs incurred that you would not have had to pay if you had niot had the accident.
It could be for replacing or repairing property damaged in the accident (e.g. clothing or your phone).
It could be the cost of over-the-counter medication, such as painkillers or anti-inflammatories, or bus/taxi/mileage claims for travelling to and from medical appointments related to your injuries.
Summary
While this is not an exhaustive list, you can see that in general a personal injury claim can include:
Compensation for the injury itself;
Compensation for past wage loss;
Compensation for future wage loss;
Compensation for pension loss;
Compensation for services;
Compensation for miscellaneous costs and expenses.
We hope the font used in this article has been easy to read – and that you've not been under time-pressure while reading. The font is called Lato and we chose it for its good ease of readability.
Above all, we hope this information has been a useful overview of how the different elements which together make up the total value of a personal injury compensation claim come together.
How we can help
We hope you have found this article – about how personal injury compensation claims are quantified – to be a help to you.
If you have any questions at all, please contact us. You can call either of our accredited specialist personal injury solicitors – Marie Morrison and Peter Brash – on 01343 544077 or send us a Free Online Enquiry.
All initial enquiries are without obligation and free of charge.
Make A Free Online Enquiry Now
Links you might like
This article has been about how you need to identify and maximise all the different areas under which you can make a claim (identifying the "heads of claim" which apply).
It's also about avoiding losing money on your claim through a failure to identify a head of claim which could apply.
There are other ways you can lose money on your claim, though, and it's important to understand about them too: