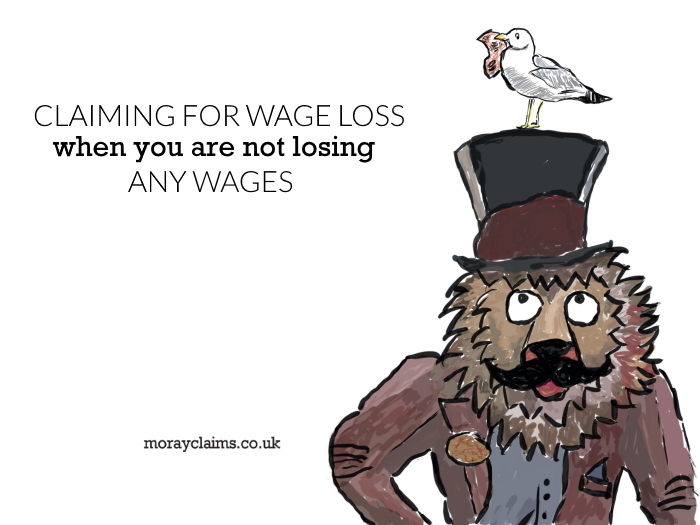 You don't usually get something for nothing.
We've talked about that issue before when answering the question: How does your personal injury solicitor make money if they do not charge you anything?
In the context of a personal injury compensation claim, claiming for wage loss when you are not losing any wages sounds like getting something for nothing – getting a windfall – but it's not like that at all.
To understand how you might claim for future wage loss when you're not currently losing any wages, we need to consider 3 things, which we'll do in the remainder of this article.
Firstly, how is wage loss normally calculated? Secondly, in what circumstances, might you be able to claim wage loss when you're not losing any wages? And, finally, how is the calculation made?
Let's look at wage loss claims generally, for a start.
If you have a personal injury claim, wage loss may be an important part of your claim.
It may be the main reason you decided to make a claim at all.
Solicitors tend to think of the 'pain and suffering of the injuries' claim first. But in many cases the wage loss claim will be more valuable.
Say you've been off work as a result of an accident. By the time you get to valuing the claim, hopefully you'll have made a full recovery and gone back to work.
The past loss of earnings you've suffered can form part of your claim as a whole. The claim is for net wage loss because personal injury compensation is not subject to tax.
Your solicitor will get details from your employer in answer to the following questions:
What weekly net earnings did you have for the 3 months before you were off due to the accident?
How long were you off work as a result of the accident?
Did you receive any payments during the period of absence?
Using this information, you can work out your average weekly wage before the accident. You can use that number to calculate how much earnings you would have expected to receive during the time you were off work. By deducting any sums you actually received while you were off from what you expected to receive, you've got your net loss of wages.
If you've not been able to go back to work and there's no likelihood of that happening, your claim may cover not just past wage loss but also future wage loss. In the most serious cases, you work out your losses by multiplying your number of years to retirement (discounted a bit to account for the uncertainties of life) by your expected net earnings per year.
Between the extremes of early and full return to work, on the one hand, and never returning to work, on the other, there's a wide range of possible outcomes.
You might be able to return to work but only in a less well-paid job than before the accident. You may only be fit enough to work part-time.
Moving on to look at when you might be able to claim wage loss when you're not currently losing any wages, let's move on to the second question for us here. What are the circumstances where you might be able to claim wage loss when you're not losing any wages at the moment?
The person who gets back to work in their old job after their accident but can't perform all the duties.
Take the example of a lady called Gladys.
She worked as a part-time cleaner in a residential home run by the local authority.
She was 51 years old.
As the result of an accident at work, she injured her elbow and shoulder.
In spite of her injuries, she returned to work. However, there were a few 'normal' tasks in her job which she was no longer capable of doing.
Her employers promised her that her job was secure.
Of course, she was back to her pre-accident work and earning at pre-accident levels. She was not currently losing any wages.
Nevertheless, the medical evidence was that she would not ever regain full fitness. She would never be able to do her full normal work again. She was relying on the goodwill of her employers – and no doubt her colleagues, carrying extra work – to keep her in her job.
If she did lose her job with the Council, she would be at a considerable disadvantage in a competitive jobs market.
She potentially had 14 years of her working life left.
These are the facts of a real case.
The lady was Gladys Smith. Her employers, Manchester Corporation. The accident was in May 1971.
The first judge to decide her case awarded her £2,000 for her injuries and a notional figure of £300 to cover the possible loss of future earnings.
She potentially had 14 years of her working life left.
In 1974, when the case was decided, £300 equated to about 4 months' wages.
She appealed the award of £300 and the higher court – the English Court of Appeal – increased the award to £1,000. This new amount equated to just over 13 months' earnings.
Looking at this another way, adjusting for inflation, her £300 award would be about £3,350 today. The £1,000 awarded on appeal would equate to about £11,140.
Gladys Smith's example is now one of the best-known cases in personal injury law.
Practitioners refer to a "Smith –v- Manchester" award when talking about possible compensation for disadvantage on the labour market or loss of employability.
Moving on to the last section, how are loss of employability awards calculated?
The court comes up with a notional figure.
As we've seen, it's not an arithmetical calculation based on an annual amount of lost wages multiplied by a number of future years of loss.
It's an impression or gut feeling.
The law has developed since 1974 in such a way that Smith –v- Manchester claims tend to range in value between about 6 months' loss of net earnings and two years-worth.
Claimant solicitors will try to avoid your future wage loss claim being relegated to Smith –v- Manchester status if possible. The multiplier approach mentioned above almost always produces higher values.
Smith –v- Manchester claims have their drawbacks compared to other methods of calculation.
On the other hand, if you did not know a claim like this existed you might not intuitively think there was such a claim at all. If you've got back to work and in your previous job, you're no longer losing earnings, so you can't claim for future loss of earnings?
Well, now you know you can claim – and you should get advice on your rights and options as soon as possible.
If you've been injured and not made full recovery so that there are still some parts of your job you can't do, there is a possible future wage loss-related claim in there somewhere.
Getting in touch if you need help
We've considered how it's possible to claim wage loss even if you are not currently losing any earnings.
Should you have any questions arising from this article or about any aspects of our personal injury claims services generally, please contact us. All initial enquiries are free of charge and without obligation to take things any further with us.
We are accredited specialist solicitors in Elgin. You can contact us by phone on 01343 544077 or send us a Free Online Enquiry.
Have a look at the article HERE, if you want to understand more about what will actually happen if you get in touch with us about making a personal injury compensation claim.