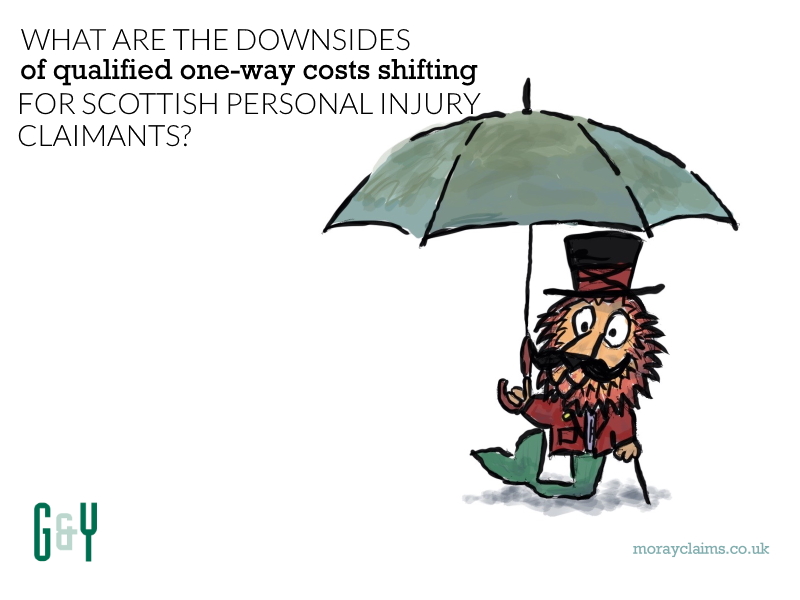 We've talked about Qualified One-Way Costs Shifting (QOCS) before now because it is an important topic.
In Scotland, the "normal rule" whereby an unsuccessful claimant for personal injury compensation will no longer have to pay court costs / expenses if the claim fails will have various exceptions.
In these situations, the claimant will lose QOCS protection and have to pay the costs of their opponent.
The claimant will only be liable for their opponent's expenses in Scotland where they have:
made a fraudulent representation or "otherwise acted fraudulently" in connection with the claim or proceedings;
behaved in a manner which is "manifestly unreasonable" in connection with the claim or proceedings; or
conducted the proceedings in a manner considered by the court to be an abuse of process.
We have waited three years for the QOCS regulations to come in.
They were enacted from 30 June 2021.
In many respects, the regulations mirror those already in force in England and Wales.
The basic principle is the same and the exceptions are largely the same. Abuse of process, behaving manifestly unreasonably and also acting fraudulently or making a fraudulent misrepresentation.
One big difference is that Scotland has not enacted any equivalent concept to England and Wales' 'fundamental dishonesty'.
Although, in Scotland, the courts have always had the power to reflect disapproval of a party's behaviour by an award of costs / expenses, defenders have tried to argue that fundamental dishonesty should be introduced in Scotland but thus far without success.
The Scottish courts have resisted it. The judges consider that they have sufficient powers already.
Going forward, the expectation is that there will be 'satellite' litigation in Scotland surrounding what constitutes 'fraudulent behaviour' or a 'fraudulent misrepresentation' by a claimant.
Another big difference is in relation to Minutes of Tender.
Under QOCS in Scotland, if a claimant fails to beat a Minute of Tender or accepts it "late" they are still entitled to a minimum of 25% of the damages awarded or ultimately accepted.
So there is still a residual safeguard there for injury victims claiming compensation.
Sheriff Principal Taylor's report – which formed the basis of the QOCS scheme for Scotkand – recommended that pursuers (claimants) should still retain a small proportion of their compensation even if they fail to beat a tender.
'Fundamental dishonesty' does not appear to apply in Scotland.
As we have seen in England and Wales, the consequences are drastic.
'Fundamental dishonesty' only applies to the claimant / injured person. If established, they lose any compensation to which they would otherwise be entitled and also QOCS protection, having to meet their own costs and the other side's costs.
Why does fundamental dishonesty apply only to the claimant/injured person?
No one wants to see dishonesty in the claims process.
It's not just a rational question; it's a moral question. It's about the parties giving the court the right information and the parties behaving decently towards each other.
The theory behind fundamental dishonesty is what is known as the "one-way bet".
The theory is that, if you have a claimant who decides to be dishonest about their claim, if they're going to get what they are entitled to anyway it is a "one-way bet".
This is because, if they are found out, they will still get the damages they're entitled to.
If they're not found out, they will get away with receiving the "extra" / bonus.
But you could really say the same about a dishonest defender / opponent. And you do come across examples of people who make up a defence to a claim. It's the same one-way bet. It's the same rationale. It's the same moral issue.
So the fact that – where it applies – fundamental dishonesty is only applied to one party is a concern.
While we do not want dishonest claims to succeed, equally, we do not wish to see allegations of dishonesty being made by opponents as a matter of routine.
Of course, insurers are bound to say in response to this argument: where is the data that opponents are being dishonest in the way their defences are set out?
The difficulty in getting data to back up such claims of "fundamental dishonesty" from the claimant side as against the opponent is that the insurers always have a "make it go away" button – i.e. they can choose to settle the case if they get a whiff of 'fundamental dishnoesty' on their own side of a claim.
The problem is that if you don't have the same rules for both sides then you end up with inequalities.
In turn, inequalities drive behavioural patterns.
In other words, in this context, allegations of fundamental dishonesty being used tactically by insurers.
It needs to be a level playing field.
If it is a possibility for both sides to have fundamental dishonesty alleged against them, you sense that each side would be more circumspect about making an argument for fundamental dishonesty because there's a real risk it could be turned round against you.
There's also a risk of possible voiding of insurance policies.
What we mean is a possible risk in that, where fundamental dishonesty to be found against an opponent, their insurer might be able to use that as an argument to void the policy of insurance, leaving the claimant with no right to claim against the insurer and having to go directly against the opponent – i.e. trying to get paid out of the opponent's resources rather than out of the insurer's resources.
This is something which any "equalising" of fundamental dishonesty would bave to address.
Summary
The signs are that QOCS in Scotland will have less drastic pitfalls for claimants in Scotland than the equivalent system in England and Wales.
The system favours claimants because of the 'one-way costs shifting' in the normal case.
However, from a claimant perspective, there is the continuing feeling that any fraudulent behaviour, manifestly unreasonable behaviour or abuse of process on the opponent's side will rarely see the light of day – being covered by the insurers' 'make-it-go-away" settlement. option.
Accordingly, the public's perception may be slanted towards the idea that there is a significant minority of dishonest claimants out there – with no similar behaviour from opponents.
How we can help
QOCS is new in Scotland and still bedding in. However, it is an important improvement as regards access to justice for injury victims and we would encourage you to get legal advice from a local, specialist solicitor if you think you may need to claim.
If you have any questions, you can call us on 01343 544077 or you can send us a Free Online Enquiry.