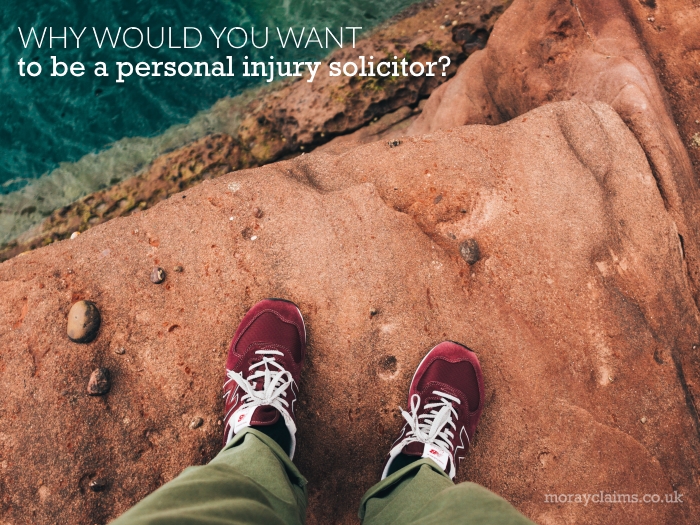 When I was a child, my parents used to get the Reader's Digest and I was fascinated by a regular feature in that, called "Drama in Real Life".
They would have titles like:
One Handhold from Death,
'Pull me out!' and
The man who wouldn't jump.
These articles would tell the story of how do someone survived a situation of great personal peril, which could be anything from a natural disaster to a hotel fire or an accident at work.
Often, other people involved in the situation did not make it out alive.
This would get me thinking about how better precautions or preventative measures might have been taken so as to avoid the injury and loss of life.
As I grew older, I remember feelings of frustration in situations where I felt powerless because I did not know my legal rights.
It has been said that "If you don't know your rights, you don't have any".
What I perceived as injustice in many situations really frustrated me. It got me thinking that, if I knew about my own rights letter, I would be able to help others to know their rights better too.
I didn't really make a positive decision to study law.
In the end, I chose law because I could not think of a good reason not to do it whereas, with everything else, I could.
While studying law, I did not enjoy every aspect of it by any means. There were some subjects I hated.
However, Delict (the Scots Law of personal injury) was my favourite subject at university.
Much of the development of the law has been through decided cases from the courts rather than legislation made in Parliament. In many ways, the cases seemed like an extension of the "drama in real life" stories I had read as a child.
As I was to discover, Scots Law and Scottish cases played an important role in the development of personal injury law. It is arguable that the modern law of negligence was born in Scotland, via the "snail in the ginger beer bottle" case of Donoghue –v- Stevenson.
The incident which resulted in the most famous legal case ever decided (okay, we're Scottish, so we're biased) happened in Paisley on 26 August 1928. Donoghue -v- Stevenson https://t.co/4531APiQ42 #PaisleySnail

— Grigor & Young (@GrigorandYoung) August 26, 2018
After I graduated and was training with a firm to be a qualified solicitor, I knew that personal injury law was the area I wanted to specialise in, if possible.
When I qualified, in 1992, I moved from a large city firm to a small general practice rural firm (now, Grigor & Young LLP / Moray Claims) and it took quite a few years to build up any significant caseload of personal injury work.
I wanted to help people understand and enforce their rights in personal injury matters.
Through continuous ongoing self-education in personal injury matters, I wanted to be the best I possibly could be in advising people about these matters.
APIL courses and seminars in various aspects of personal injury work were fundamental in helping me develop and maintain my knowledge about what you have to be able to do as a personal injury solicitor, in practice.
From the experience we have gained over all these years since 1992, we feel we can provide that service most effectively if we concentrate on helping people who are as local to us as possible.
Local knowledge is worth a lot in many personal injury claim situations.
Over time, I think members of the public have become generally better educated about the circumstances in which it is possible to make a personal injury claim for compensation.
However, there are still a lot of areas where, in my view, public knowledge and understanding is way too low.
Questions about the situations in which you can make a claim are still important.
But it is also important to consider what options are available to maximise the amount of compensation you will receive at the end of the claim (which can include, for example, how much money you might have to pay to your solicitor or a separate funding company out of your compensation, in the event that your claim is successful).
Over the last 5 years or so, my desire to educate injury victims about their rights has mainly been channelled through writing articles for our main firm website (Grigor & Young LLP) – and separate personal injury claims website (i.e. this website, Moray Claims).
During that period, I have written over 200 personal-injury-related articles.
The various links in the article HERE are intended to make the blog articles on this website more easily searchable.
We also answer a lot of questions via this website.
Most of these questions from people we could never help directly because they are geographically remote from us.
However, as I say, the point is that we can help people who have suffered a personal injury and are in a difficult place in their lives. We can at least set them off in the right direction.
Often, that will be by giving them the assurance that we think they have the basis of a claim and by recommending them to consult an APIL solicitor who is local to them (or, at least, local to the location of their accident) – and giving them the means to do that.
How we can help
In this article, I've tried to give my reasons as to why I (Peter Brash) decided to become a personal injury solicitor.
Essentially, it's about helping people get answers to questions in this area of law.
Remember that we are always prepared to answer any questions you may have about personal injury claims in Scotland.
If you don't find the information you need from your own search of our website, get in touch with us and we'll do our best to answer your question and add an article which may assist someone else in a similar position in future. If you've got a question about a personal injury issue, you can be sure someone else out there is also looking for an answer.
You can contact us on 01343 544077 or send us a Free Online Enquiry. All initial enquiries are at no charge and without obligation.
Make A Free Online Enquiry Now
Image credit: Photo by Nikita Kachanovsky on Unsplash