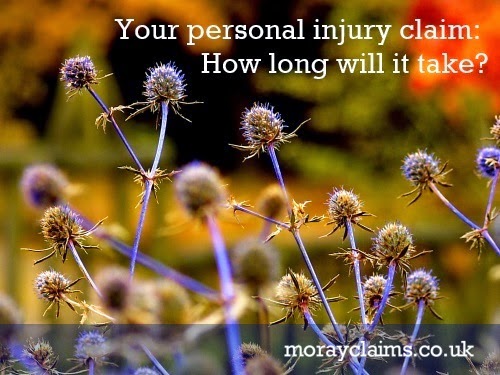 It is extremely difficult to say how long a personal injury claim will take but the factors involved are not all within the control of the other party or their insurers, despite what some people think.
"I know they will probably try to drag it out for years," is a comment we often hear from people considering making a compensation claim for injuries suffered in an accident.
"They" refers to the person or organisation responsible for paying the compensation that is due – which is usually, but not always, an insurance company.
Your personal injury solicitor will constantly be keeping an eye on what is the next step required in relation to your claim.
At any given time, your solicitor should be able to give a best estimate of how much longer it will all take.
Factors which could have an effect on the length of your claim
Some things which will affect how quickly your claim can proceed to a conclusion are:
How complex the case is;
The severity of your injuries;
The length of time it takes to obtain expert medical evidence;
Whether or not liability for the accident is admitted.
Straightforward cases
If your claim is straightforward and you have more or less recovered from your injuries by the time you consult a solicitor, it could be successfully concluded within as little as six months.
This is meant to sound an encouragingly short period of time, but perhaps it does not seem to you a very quick rate of progress.
The effect of the Scottish Compulsory Pre-Action Protocol
In Scotland, most personal injury claims proceed under the Compulsory Pre-Action Protocol, which is a sort of enforceable gentleman's agreement between solicitors and insurers about information that will be provided by each side where a claim is made and the timeframe which will apply at each stage of disclosure.
The existence of the protocol means there are a number of periods of time involved in a claim which it is not generally possible to reduce.
Insurers have over three months to give their full response to a letter of claim from a solicitor, including their views on liability.
If liability is admitted, in many cases it is possible to negotiate settlement of the claim. If liability is denied, the only way to continue with the claim is for you to raise a court action.
The need for medical evidence
Whether liability is admitted or denied, it is usually necessary to get medical evidence for your claim in the form of an expert report from a suitable specialist – for example, an orthopaedic surgeon in the case of an injury involving a fracture.
This evidence is necessary to enable your solicitor properly to value not only the part of the claim which relates to your injuries (in Scotland, known as "solatium") but also other elements of the claim as well.
For example, in a particular case, it might be necessary to know the expert's opinion as to how long you, the injured person, were reasonably off work as a result of the accident so that wage loss can be calculated.
In order to get maximum benefit from an expert report relative to the valuation of a claim, you usually need to have recovered far enough from the injuries that the expert can give an opinion on your likely prognosis – to include your future capacity for work – with a reasonable degree of certainty.
If the expert is having to speculate a lot about your future medical progress, it increases the risk that a settlement of the claim at that time is going to be premature. This, in turn, increases the risk of settling the claim at less than its fair value.
Finalising a claim is usually "once and for all", with no option to go back later for more compensation, so it is important to get the timing right as far as possible.
Complexity in a case can arise in many ways
Multiple injuries, which may be psychological as well as physical, will generally make a claim more complicated and liable to take longer.
Where it becomes necessary to raise a court action because liability is denied, if the opponent is a limited company, it might turn out that the company has been dissolved since the date of the accident. It is not legitimate to raise a court action against a company in that state and a preliminary court action – to restore the company to the Register of Companies – might be required.
Contact us for help
If you think you might have a claim for personal injuries, please get in touch with us for a chat.
It is free and without obligation. We are based in Elgin, Moray, so we are best able to help you if you are somewhere in Moray or at least in the North of Scotland.
Our accredited-specialist personal injury solicitors will do their best at the outset to give you an idea of how long your claim is likely to take, as well as the chances of success.
Peter Brash or Marie Morrison can be contacted via 01343 544077 or complete and submit to us a Free Online Enquiry by clicking HERE (which takes you to a separate page on this website) or fill in and send us the wee form at the top right of this page.
You can use the form as a way to ask one of us to phone you back.