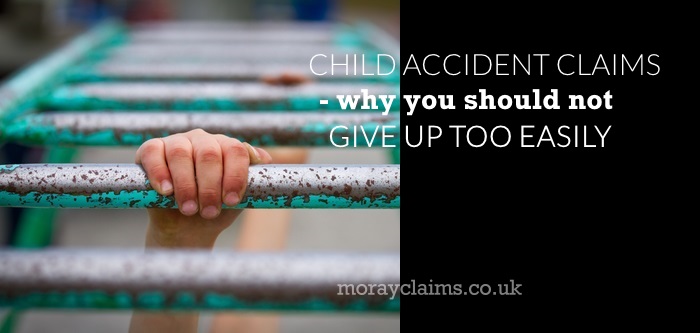 If you have been injured in an accident and you think it was partly or wholly your fault, it might discourage you from making a claim at all.
You need to remember that negligence is a legal concept. Injured people who think they are legally to blame for the accident which caused their injuries are often wrong. It is always worth getting legal advice from a specialist personal injury solicitor.
Where the injured person is a child, often it can appear that they have been foolhardy in their behaviour.
Cases in which children have climbed onto things and fallen or otherwise hurt themselves are nothing new to the law.
In a case from the year 2000, the eminent judge, Lord Hoffman, pointed out that the law appreciates that the ingenuity of children "in finding unexpected ways of doing mischief to themselves and others should never be underestimated".
Lisa Wardle made a claim against Scottish Borders Council on behalf of her nine-year-old daughter.
This was after her daughter fell from "monkey bar" rafters in a shelter in the school playground and injured her wrist.
The school had a number of general measures in place to protect children from falls from height, including playground supervision and a rule prohibiting climbing in the playground.
In his decision in the appeal in the case, Sheriff Principal Bowen also noted that, during the lunch break on the day of the accident, the school's head teacher, Mr Wilson, was told that children were hanging from the rafters of the shelter. He immediately went there and found Lisa Wardle's daughter along with another girl. They admitted that they had been climbing in the rafters and appeared to have been well-warned not to do so again. Nevertheless, the warning did not seem have an effect for long because the accident happened even before Mr Wilson had returned to his office. On getting back there, she was already waiting for him – in pain and holding her arm.
On the face of it, not promising circumstances for a successful claim.
But, in spite of these factors, the claim succeeded.
There were steps the Council could reasonably have taken to prevent children gaining access to the rafters. Boards were put up on either side of the lower rafters after the accident – something which the court decided could and should have been done before the accident and which would probably have prevented it.
Where you have a personal injury claim, contributory negligence is one argument that can be used to try to reduce the size of your claim. Lisa Wardle's daughter was held to be 50% to blame for her own injuries. This meant her damages were reduced by 50% so the sum awarded was £2,000 compared to the £4,000 that was the full value of the claim as agreed between the parties.
You might be surprised she received any compensation at all.
The case is a good illustration that you should never jump to the conclusion that a personal injury claim is a waste of time. It is always worth getting advice from specialist personal injury solicitors on the prospects of a claim succeeding. We hope you can see (from the Wardle case) for child accidents why it can be a bad idea to prejudge your chances of success.
How we can help
If you have any questions about this article or a possible accident claim on behalf of a child, feel free to contact us.  All enquiries are free of charge and without obligation. You can call Peter or Marie on 01343 544077 or send us a Free Online Enquiry.