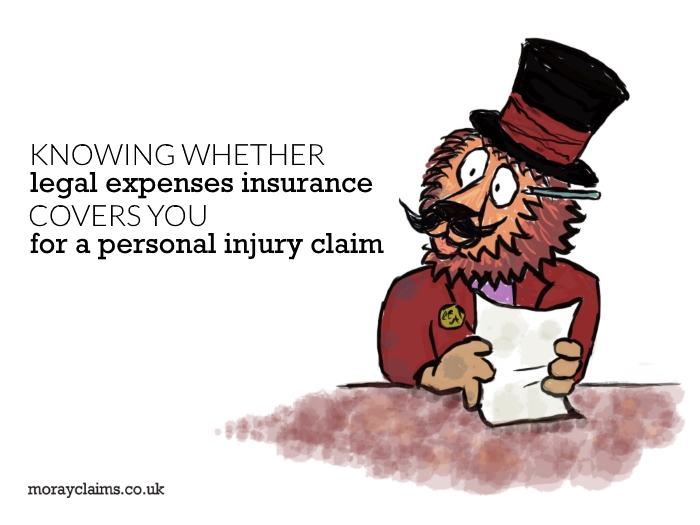 We thought it might be helpful to analyse a clause from a legal expenses insurance (LEI) policy relating to cover for making a personal injury claim.
It's just one type of clause out of many in a LEI policy but it is a foundational one relative to personal injury claims.
What is LEI?
LEI is one way to insure yourself against the risk that a personal injury compensation claim you make might fail in such a way that you could be responsible for the costs (legal expenses) of your opponent.
Typically, that can only happen if you get to the stage where you have to raise a court action to pursue your claim – so legal expenses insurance is insuring you against the risk of losing your claim in court.
While it is possible to buy LEI as a standalone policy, most LEI policies are added to home or car insurance as an optional extra.
LEI policies bought 'before the event' (BTE) protect policyholders in case legal action has to be brought or defended in the future. This type of policy would be taken out before, say, you had had any accident so before the thought of making a compensation claim for personal injury could even have crossed your mind.
Policies bought 'after the event' (ATE), on the other hand, insure you as a policyholder (against paying the other side's legal costs) when you did not already have relevant BTE insurance in place and you've decided to take or defend legal proceedings. These are invariably standalone policies.
Let's have a look in detail at a LEI clause relating to possible cover for a personal injury claim.
The personal injury insurance clause we go on to consider below is taken from an actual BTE policy, connected to home insurance.
The policy describes various types of 'Event' which could be covered under the policy and the first of these is personal injury.
Event 1 – Personal injury
The clause continues:
We will pay the costs of you taking legal action against your opponent arising from an event that we and the legal representative agree is not your fault and which causes your death or bodily injury.
The legal representative referred to may be a solicitor appointed by the LEI insurer or a solicitor of your own choosing. You are not obliged to go with the insurers' own panel solicitor as your representative. There may be good reasons why you may prefer to use your own solicitor (e.g. he or she is more local to you and/or the place of the accident).
When it says not your fault that does not mean that if the event/accident was to any extent your fault you will be unable to claim under the insurance. What matters is that the accident was not solely your fault. Contributory negligence will not prevent you making use of the insurance to claim compensation.
It's morbid but the fact the policy can cover claims arising from your death is important.
It emphasises the need to make sure that others (probably close relatives) are aware of – or able to find – insurance you may have taken out, in the event of your death. The insurance could be an important resource to them in enforcing their rights to compensation arising from your accidental death.
The next part of the clause is as follows:
The cover provided by this Event also includes the costs of making or defending an appeal following a decision by a court in respect of your legal action.
Very few personal injury claims which end up requiring a court action go the distance to a full hearing.
Most settle before that stage – of a hearing, with witnesses giving evidence – is reached.
But, this part of the clause is to reassure you that if your claim is unsuccessful following a court hearing and the advice to you is that the decision could be successfully appealed, the insurance will cover that. On the other hand, if the court decides in your favour but your opponent decides to appeal, the insurance will cover your representation at any appeal hearing.
The clause goes on to discuss other conditions before cover will apply.
We will provide this cover as long as:
the event happens within the territorial limit and during the period of insurance; and
the legal action is brought within the territorial limit; and
we have given our written agreement to you making or defending an appeal following a decision by a court in respect of your legal action; and
reasonable prospects of success exist.
In the above section, in the commonest case, assuming you are in Scotland, the policy will cover you for an injury suffered in an accident in Scotland, provided the court action is raised in Scotland.
Most LEI policies are attached to other policies, such as home insurance – something which tends to be renewed annually. During the period of insurance refers to the date of the accident relative to that annual insurance period. For example, if your LEI policy runs from 07 November 2018 to 06 November 2019, an injury from an accident on 21 November 2018 would be covered under the policy but not one from 04 November 2018.
If you're in the habit of changing your home insurance provider often, it can have a knock-on, complicating effect on associated LEI.
We've seen this where a person has sustained several injuries, say, as the result of poor manual handling practices at work over a lengthy period of time.
You can end up having to try and obtain cover from more than one insurer even though the injuries may be inter-related or cumulative – back injuries are often like that and back injury is probably the most common manual handling injury.
What about the level of cover provided by the policy?
The most we will pay for all claims arising from your death or bodily injury is £50,000.
It's important to note that this not them paying you compensation. The £50,000 limit here relates to how much they will pay out in legal costs/expenses.
Typically, this covers outlays/disbursements of your own solicitor and the full legal costs of your opponent in the event that you lose the court action. Sometimes, it also applies to the legal fees of your own solicitor but in most cases the expectation is that they will be acting on a no win-no fee arrangement.
Is £50,000 enough?
For a Sheriff Court action, it probably is enough. For a Court of Session action, it probably is not enough.
You may have to pay for top-up cover from the insurer. If they won't provide it, you may have to make enquiries with other insurers.
The final part of the clause deals with various excluded types of claim.
The exclusion covers
Any claim which is only to do with stress, emotional or psychological injury, illness or symptoms. (This does not apply if the stress, emotional or psychological injury, illness or symptoms are caused by your death or bodily injury).
Any claim arising from you driving a motor vehicle.
Any claim arising from medical treatment.
LEI insurers prefer to cover claims for physical injury. Claims for mental injury are more difficult, on average. If you have a physical injury to start with and that leads on to mental injury as well (e.g. depression following a serious physical injury), that's not a problem, as the section in brackets at 1., above, emphasises. Claims for "stress", such as "stress at work" claims are difficult claims to make successfully and this LEI policy does not cover them.
Though this policy would not cover you if you were injured as the driver of a vehicle, it would probably cover you if you were a passenger in the vehicle. Passengers almost always have a claim against someone for personal injury (because it's unlikely that an accident was the passenger's fault).
On the other hand, as a vehicle driver, the accident that injured you might have been entirely your fault. It may be that vehicle drivers are excluded here because it's expected that you would take out LEI as part of your motor vehicle insurance (and (BTE) LEI associated with home insurance should not extend that far). This will not be a problem in practice if you were a vehicle driver injured through the fault of another driver: you will have personal injury solicitors queueing up to take on your claim no win-no fee, covered by ATE insurance.
Claims arising from medical treatment are not covered under this – personal injury – section of the LEI policy because they fall under a separate type of Event – medical negligence. Depending on the nature of the LEI cover you have purchased, you may be able to claim for injury sustained through medical negligence.
In our experience, though, you don't always get both. Many LEI policies cover personal injury but not medical negligence.
The main reason is that medical negligence-based claims are more complicated and more expensive to run than the average personal injury claim. This makes them more risky and some insurers just don't want to get involved with that additional dimension of complexity, cost and risk.
How we can help
We hope that this article – breaking down the meaning of a single clause in an actual insurance policy – has been useful to help you see how legal expenses insurance functions in relation to personal injury claims.
Knowing whether Legal Expenses Insurance covers you for a personal injury claim (in this case, 'before the event' insurance) is important because you need to have some sort of insurance in place. If you don't have BTE insurance, you will have to look to other insurance types, such as ATE or legal aid.
Should you have any questions arising from this post, please do get in touch with us. We would like the information on this website to be as complete and as clear as possible. Your questions help us to review the information on this website, for everyone's benefit. Contact us by phoning 01343 544077 or by sending us a Free Online Enquiry.
If you want to ask about our personal injury claim services, don't forget that you can get a free case assessment from us by making contact in the ways described above.
Where a Free Case Assessment is something which would be helpful to you – and we would be local, specialist solicitors from your point of view – please make a Free Online Enquiry via this website.
Make A Free Online Enquiry Now
Links you might like
The following links to other articles on the Moray Claims website might be worth a look, if you found this one relevant: