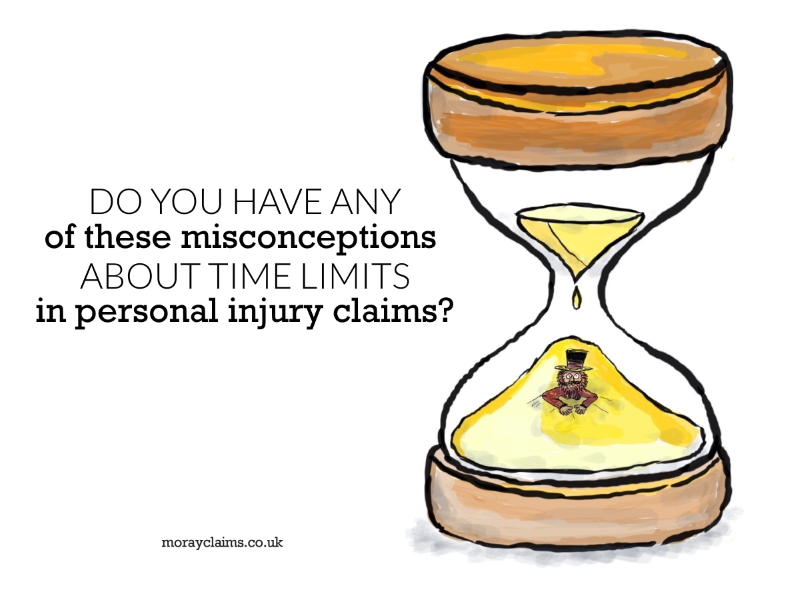 "The room is full of steam from the kettle but you still make the tea."
These were words of my school chemistry teacher.
What was the point?
That a small volume of water produces a large volume of steam.
If you put water on to boil for a cup of tea but then get distracted by something else, you may return to find the room filled with steam but there will probably still be enough water left to make your brew.
This idea that you can forget about something for a while, come back to it and the outcome will still be okay seems to be one that many folk with possible personal injury compensation claims have too.
The problem is that personal injury claims are up against a hard deadline.
In most cases, that deadline is 3 years from the date of the accident/injury.
If you don't settle your claim by negotiation within the 3-year period, you'll have to raise a court action to keep the claim alive beyond the deadline – or lose the right to claim forever.
It's inevitable if you're running a business based on personal injury claims, as we are at Moray Claims at Grigor & Young, that you regularly come up against time bar issues.
In this article, we'll talk round the topic of time bar and highlight 4 misconceptions we see regularly about time bar. These are: the hard or soft deadline, the false comfort of intimating the claim in time; the mirage of endless solicitors; and the 'wrong proceedings' deception.
Misconception #1 – It's not really a hard deadline.
In so many ways, we're used to getting a second chance.
Default on your electricity bill and you'll get a 'red' reminder letter from your utilities company warning of possible court action or changing you to a pay-as-you-go meter.
But they don't threaten to come and cut off your supply completely. At least, not initially.
For personal injury claims, second chances – extensions to the time limit – are possible in some circumstances. For example, an injured child (under 16) has until their 19th birthday before any claim time bars, so they'll always have "more than 3 years" to claim.
But it's incorrect to think that anyone will remind you ahead of time. Or that the onus is somehow on whoever injured you to disprove your claim whenever the time comes.
The onus is on you to make and prove your claim.
In most cases, the time bar date is a hard deadline and missing it means your claim is extinguished.
Misconception #2 – Intimating the claim before the time bar date is enough.
We hear this from people who have initially made a claim themselves.
They wrote a letter to the person who injured them or to that person's employer to detail the accident circumstances, the injury suffered and to blame it on the other person.
This is not good enough for time bar purposes.
It can also apply where you had a solicitor helping you in the past. They intimated your claim but liability was denied. The solicitor then advised you they could not take the claim further because there were not better than 50/50 chances of success.
The intimation of claim they sent on your behalf did not 'stop time'.
We've heard the argument from a potential client that, where a claim was intimated in good time before the time bar, the recipient has a 'moral duty' to keep the right to claim open. They may have a moral duty but they probably don't have a legal duty.
This leads on to the third misconception about time bar because the mistaken 'intimation of claim' argument often comes up at a particular point in time – which we go on to consider now.
Misconception #3 – It will be possible to find a solicitor to take the claim on even if it's close to time bar.
We mainly help people in Moray and a wee bit further afield with personal injury claims. But we get enquiries from all kinds of places.
Distant folk are often 'desperate' to find a solicitor. We may be the umpteenth enquiry they've made. They can't find anyone willing or able to help them typically because their time bar is close at hand (often much less than a month away). .
Before taking on a claim, your solicitor wants to be confident it has a reasonable chance of success. The less time there is until the time bar, the less time your solicitor has to investigate and form that view. If there's not enough time, it's too risky to take on the claim.
How much time do you need to allow?
A number of factors go into the mix and influence the decision.
As a rule of thumb, we'd need at least a month to time bar in a personal injury case and at least 6 months to time bar for medical negligence.
We'd be more likely to take on a road traffic accident claim at short notice than an accident at work claim.
If the injured person qualifies financially for legal aid, that's going to be a more likely take-on for us close to time bar than a no win-no fee scenario – though QOCS should make it more likely a case can be pursued if it's tight for time bar than pre-QOCS.
Misconception #4 – Any type of legal proceedings will do.
We see this regularly where someone has suffered fatal injuries and the police or health and safety authorities investigate.
There may be a criminal prosecution or a Fatal Accident Inquiry (FAI).
The family of the deceased wait to see what the outcome is. They think it's okay to wait.
The problem is that criminal prosecutions and FAIs are not civil claims for compensation. These processes often take more than 3 years to come to a court hearing (criminal prosecutions less so but FAIs can be 5+ years delayed and it's not a new problem).
If the relatives of the deceased only get legal advice about a fatal accident compensation claim after the state-led process is finished, they may already be too late to claim.
Time for a summary of what we have discussed
Summary
The one thing to remember above all is that the onus is on you to do something about your potential claim.
You must not forget about it so long that the claim all 'boils away' into the ether.
It's 'settle by negotiation or raise a court action within 3 years' in most cases to avoid the time bar wiping out your claim. But the time bar period is sometimes longer and can also be shorter (e.g. 2 years) so the best plan is to get legal advice as soon as possible, ideally within the first year after the accident/injury.
Don't delay and don't be deceived into thinking that it is all under control or will all turn out okay in the end without you taking control of the process. The onus is on you.
How we can help
We hope you found this article about common misconceptions about time limits in personal injury claims to be useful.
If you have any questions generated from this article, please do not hesitate to contact us. Have a read of the article HERE, if you want to understand more about what will actually happen if you get in touch with us about making a personal injury compensation claim.
We aim to help people in Moray to claim fair and full compensation for personal injury in such a way that it costs you nothing, whether your claim succeeds or not. We are specialist, accredited solicitors at Grigor & Young LLP, Solicitors and Estate Agents, with offices in Elgin and Forres, Moray.
Give us a call on 01343 544077 or send us a Free Online Enquiry via this website.